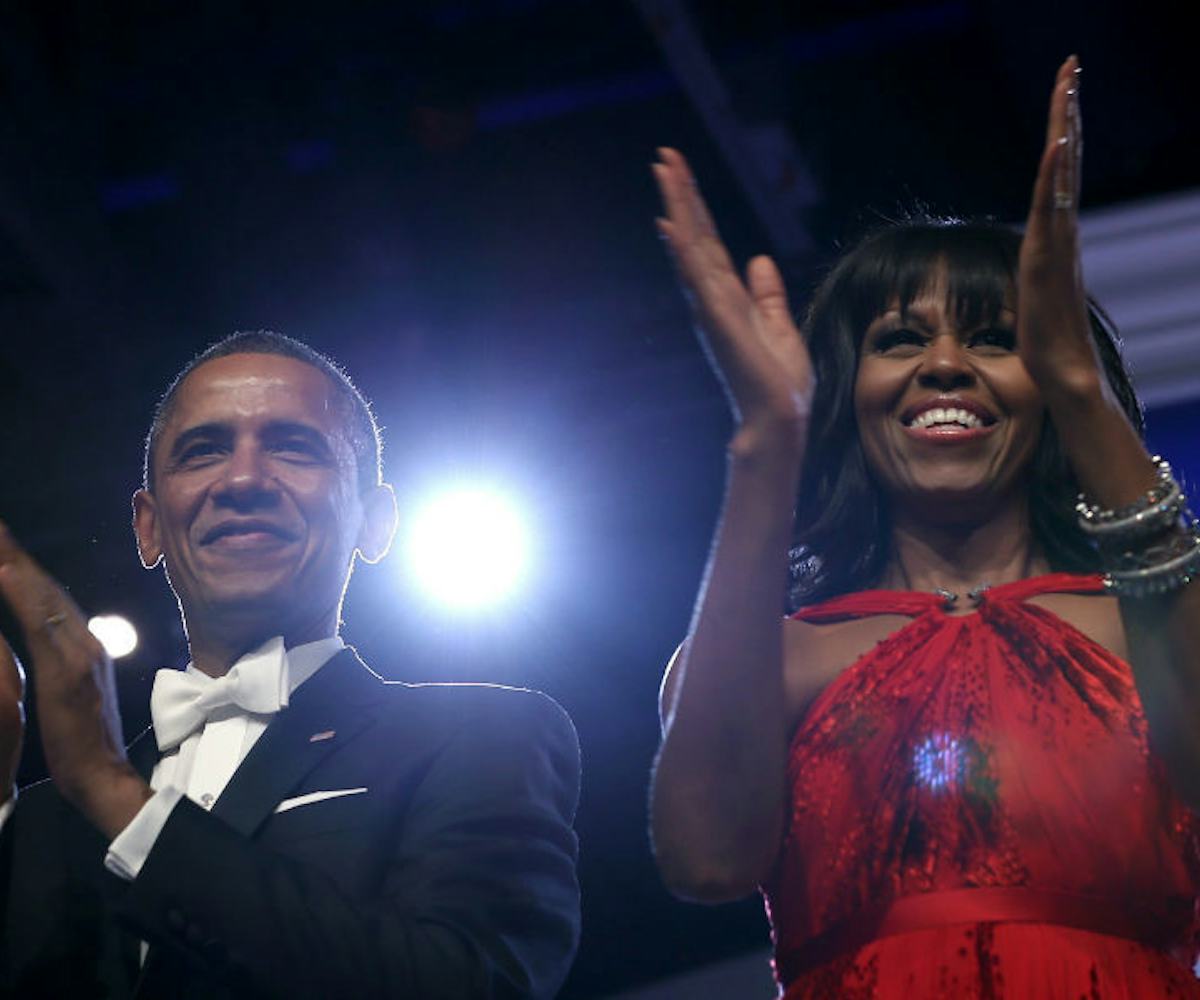 Photo by Alex Wong/Getty Images.
Michelle and Barack Obama's Official Portraits Have Been Unveiled
Remember when the first family could speak in coherent sentences and were poised and intelligent? Well, we were reminded of those better times today when the portraits of Michelle and Barack Obama were revealed at the Smithsonian National Portrait Gallery.  
Both Michelle and Barack hand-picked artists Amy Sherald and Kehinde Wiley to immortalize their likeness. Sherald, who Michelle chose, is from Baltimore and known for painting black figures in grayscale against colorful backgrounds and patterns. Wiley is known for featuring black people wearing contemporary clothing and posed in heroic stances of Old Master paintings. He's painted the likes of Michael Jackson, LL Cool J, Notorious B.I.G., and others. 
Neither Michelle nor Barack has had their portrait done in a professional capacity before, they reveal. Michelle's painting shows her seated with her chin resting on her hand and wearing a Milly dress. Meanwhile, Barack is shown sitting in a chair, wearing a suit, while green foliage and flowers from Kenya and Hawaii symbolically blossom behind him. During the unveiling, Michelle spoke about the impact Sherald's work will have on girls of color. "They will see an image of someone who looks like them hanging on the walls of this great American institution… And I know the kind of impact that will have on their lives because I was one of those girls," she said. 
Barack, who referred to his painting as "pretty sharp" in the most dad-like way possible, reflected on why he gravitated toward Wiley's work. "What I was always struck by when I saw his portraits was the degree to which they challenged our ideas of power and privilege," he said. "He would take extraordinary care and precision and vision in recognizing the beauty and grace and dignity of people who are so often invisible in our lives and put them on a grand stage, on a grand scale, and force us to look at and see them." He's referring to the people who helped build this country. "Kehinde lifted them up and gave them a platform and said that they belong at the center of American life."
And because it wouldn't be a Barack speech without him giving a compliment to his wife, he thanked Sherald for her work and "for so spectacularly capturing the grace and beauty and intelligence and charm and hotness of the woman I love."
You can watch the full unveiling here.