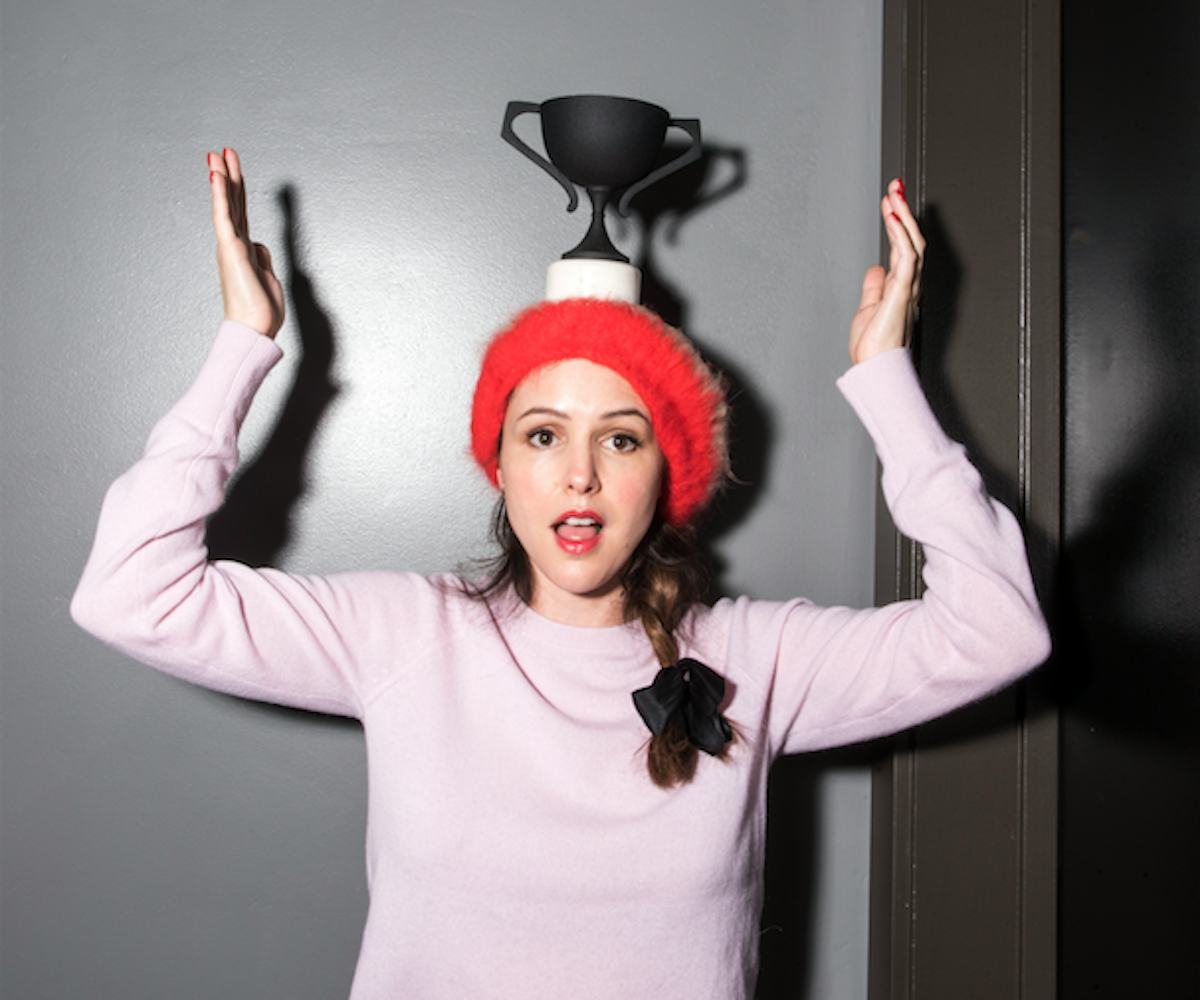 Photo by Lindsey Byrnes
Michelle Morgan Emerges As A Triple Threat
A conversation with the writer, director, and star of 'L.A. Times'
After graduating from Cal State Northridge, where she majored in screenwriting, Michelle Morgan made the logical move to Hollywood. But Morgan, who'd acted in high school plays, decided to put her writing on pause and pursue a career in front of the camera instead. Eventually, she booked a part on ABC's reboot of Nancy Drew, and on the night before shooting the pilot, her writerly instincts took over. After rewriting one of her character's key monologues, Morgan showed up to set confident that she'd aced it. When the cameras rolled, Morgan used her version instead of the one that was written for her, and after yelling cut, the director charged toward her, apoplectic at what he had just witnessed.
"He put his hands on me, and kind of shook me," she says, recounting the incident. "He was like, 'What the fuck do you think you're doing? You're never going to work in this town again!' Like, he really said that." 
He couldn't have been more wrong. I met Morgan in the middle of yet another blizzard in Park City, Utah, just days after her directorial debut, L.A. Times, premiered on a Friday night in front of a full house at the Library Theater. It was just the second night of the festival, and the crowd hummed with electricity. As the writer, director, and one of its stars, it was likely the biggest night of Morgan's life. A show business veteran, Morgan has built a career punching up screenplays for major studios, while writing her own indie movies, like the 2013 Kristen Wiig starring Girl Most Likely. In between, she's appeared in movies and on television, but L.A Times, a fizzy romantic comedy, marks a watershed moment in her career.
Morgan and one of the film's producers, Jorma Taccone, anchor the movie as a couple who split up in the opening scenes and spend the rest of the film testing L.A.'s vast dating pool to see if there's anything better on the other side. Through them, we meet friends and lovers who are also looking for love, or sex, or both, in our hyper-connected world. The audience at the Library Theater laughed throughout, delighted by Morgan's snappy and sophisticated dialogue and amused by her recognizable observations about life in Los Angeles (This being the Sundance, the movie played especially well to the industry crowd). If the ultimate goal of a Sundance debut is for filmmakers to announce their voice and vision to the world, then Morgan has succeeded resoundingly. 
Below, we talk with Morgan about what it was like to premiere at Sundance and how it feels to be a Hollywood triple threat.
Was this a long time coming for you? 
I wanted to direct my own stuff for a long time, but I think that I just maybe didn't have the balls. No one's ever going to ask you to direct a movie if you've never directed anything. And so I had to write a couple of movies that got directed by other people and feel what that is, and then realize what I needed to do. 
Since your movie is about youngish people who live in L.A. and work in and around show business, did you follow that old mantra, "Write what you know?"
I was very practical about it. It was kind of like making an omelet. It was like, "Alright, I'm not going out to the store. I'm going to make an omelet with what I have right now, so maybe we'll use some basil, or whatever." I knew I was a first time filmmaker with a very limited budget. Also, comedies are tough to get financing for when they're small, so I was like, "I'm going to make this really contained." I want to make it very shootable and as easy on myself as possible because I feel like it's better to make a good version of that movie than to go down swinging. I don't want to be something that I'm not. And this was easy—my friends are amusing to me, and I know this world pretty well. 
You cast an amazing group of actors who, for the most part, are unknown. Was that strategic at all? 
I did that kind of on purpose. I've been involved in other projects where I watched how they tried to create a casting formula to ensure success, and there is no way to ensure success with a movie. Like, there isn't a movie by numbers. 
Which is why we watch very expensive movies flop.
Yeah. And I felt very strongly that maybe people want to see some new faces. It will make it harder for me to get money, harder for me to get distribution, but if you're not going to make an indie movie and take a chance on people, then what the fuck is the point?  
What was going on in your head when this thing that you've worked so hard on and for so long, was finally premiering at the Sundance Film Festival in front of a live audience? 
It was my first time ever going through that experience, and I was so scared leading up to it. Making an indie movie goes in waves of horribleness. Like, "If I don't get the cast, I'm gonna kill myself." And then you've got the cast, and then you're like, "If I don't get the money, I'm gonna kill myself." And then you get the money, but then the cast drops out. And then you have to get more money. And then you have to find a new cast. And then you're like, "If we just get to make the movie, I won't kill myself." And then you make the movie, and then you're like, "If it just turns out good, I'll be okay, it doesn't matter what happens." Then you're like, "If we just get into Sundance." So when I found out I got into Sundance, I was like, "My worries are over, I'm just going to focus on shopping and finishing the movie, and it's gonna be wonderful." So I was not prepared for how scared I would be. 
As the writer, director, and star, you're really putting yourself out there.
Yeah. As a writer for all those years, you can hide behind a lot of different layers, and 90 percent of the time, what you see on screen as a writer is not what you intended and is not the way you would have made the film, and it doesn't really feel like your child. So this was my child, and I felt very protective of it, and I was like, "Maybe we don't have to show it to anybody. Maybe let's just have it. And, like, it exists." I mean, people can know it got into Sundance, but they don't have to watch it because then no one will have an opinion on it. And I'm a really opinionated person, so I don't like hearing everyone else's opinions. 
The reactions to it have been pretty positive.
Yeah, it's weird that someone's opinion would impact the way you feel or the way that others perceive it, but it does. I'd be lying if I said that I didn't want people to like me, but I think that if everybody likes you, you must be a very boring person. 
The character that you play in this movie isn't plainly likable. She's complicated and has layers and feels like a real person. 
Yeah, there was one guy that said I was annoying, and I was like, "I kinda want that." These characters are unapologetically who they are because most interesting people that you know are kinda unapologetically who they are. After being noted to death for years, like, "This person needs to be more likable," or "You really need to be rooting for this person," I was like, "Is that really how it works?" I don't really care about that rule if I'm going to make the movie that I want to make. If I'm getting paid to do something, yes, I'll do what you want me to, absolutely, because that is our exchange. But for this, I knew going in that some would really like the movie, and I knew that some people also would really not like the movie, and I was okay with that.
Did you write this film as a satire of a certain generation of Angelenos?
For sure. I think my influences are kind of apparent if you've seen the movie. I'm obsessed with Whit Stillman and Woody Allen and Albert Brooks and Wes Anderson. I think specifically, it's a bit of a love letter to Whit because Metropolitan and The Last Days of Disco are two of my favorite films. They're kind of like my heart.