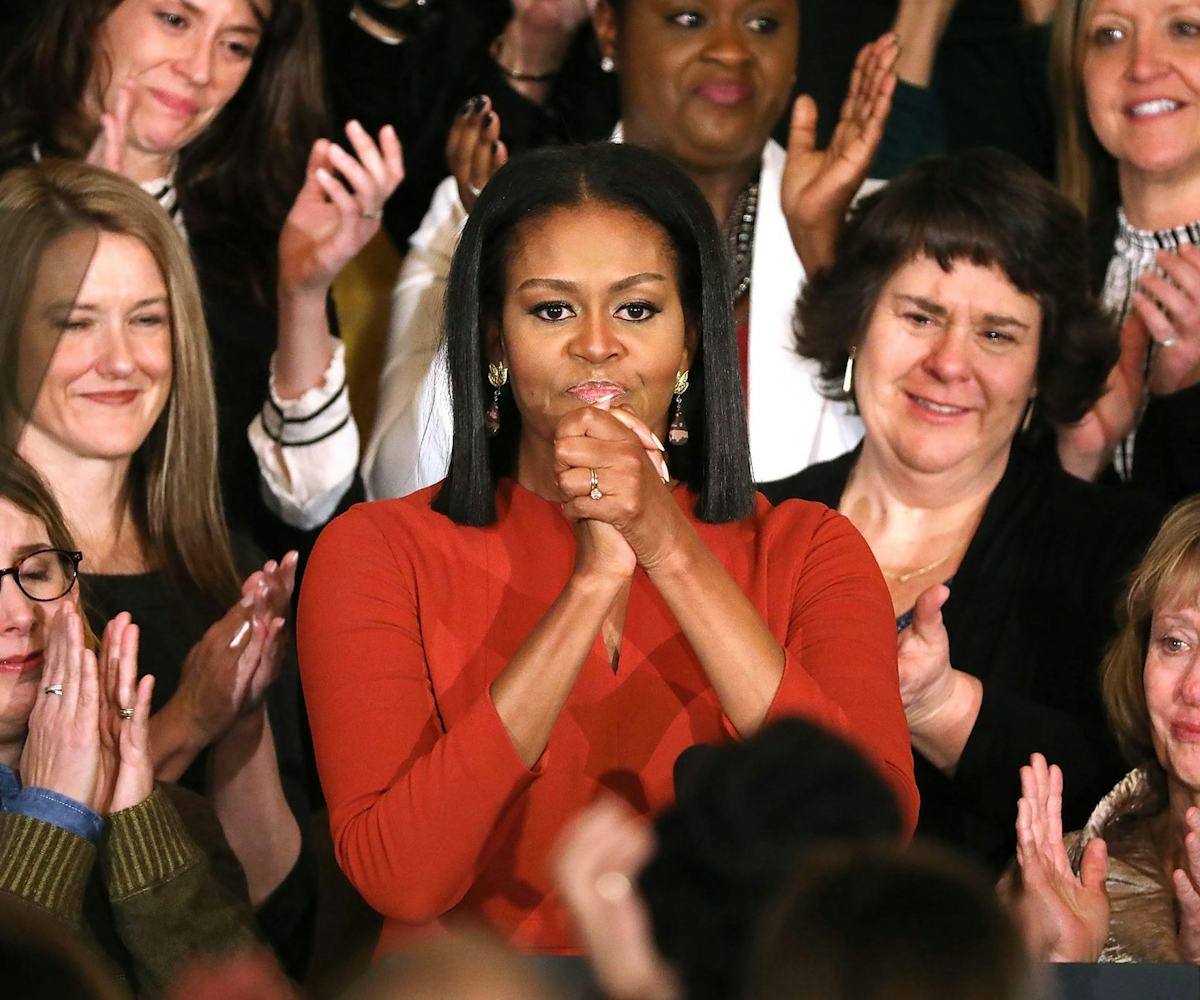 Photo by Chip Somodevilla / Getty Images
Michelle Obama's Final Speech As First Lady Will Leave You In Tears
It's going to be pretty devastating when the Obama family finally says goodbye to the White House once and for all, especially considering who's moving in. As that fateful day approaches, Barack and Michelle are performing their final duties as President and First Lady, and things are getting emotional to say the least.
On Friday, Michelle Obama—who's become quite the master orator as of late—delivered her final speech as First Lady, and there wasn't a dry eye in the house. The intimate crowd that had gathered for the 2017 School Counselor of the Year event in the White House's East Room listened to Obama as she spoke passionately about the importance of diversity, and her wish that we all "lead by example with hope, never fear."
Obama told a crowd that included boldface names like Usher, La La Anthony, Connie Britton, Andy Cohen, Jay Pharoah, Wale, and Kelly Rowland, that her final message to the country's youth is that "they matter, that they belong."
"So don't be afraid. Do you hear me, young people? Don't be afraid," Obama said as she fought back tears. "Be focused. Be determined. Be hopeful. Be empowered. Empower yourself with a good education."
Obama's eight years as First Lady were defined by her crusade to help young people feel empowered, a message she continued to promote on Friday. "As I end my time in the White House, I can think of no better message to send our young people," she said. "For all the young people in this room and that are watching, know that this country belongs to you, to all of you. If you or your parents are immigrants, you are part of a proud American tradition."
We've posted a clip of her speech above, so if you feel like feeling proud and sad all at once, please watch. And if you do find yourself feeling sad, take solace in the fact that you'll get to see Michelle Obama as First Lady one more time, when she stops by to chat with Jimmy Fallon on The Tonight Show next Wednesday.