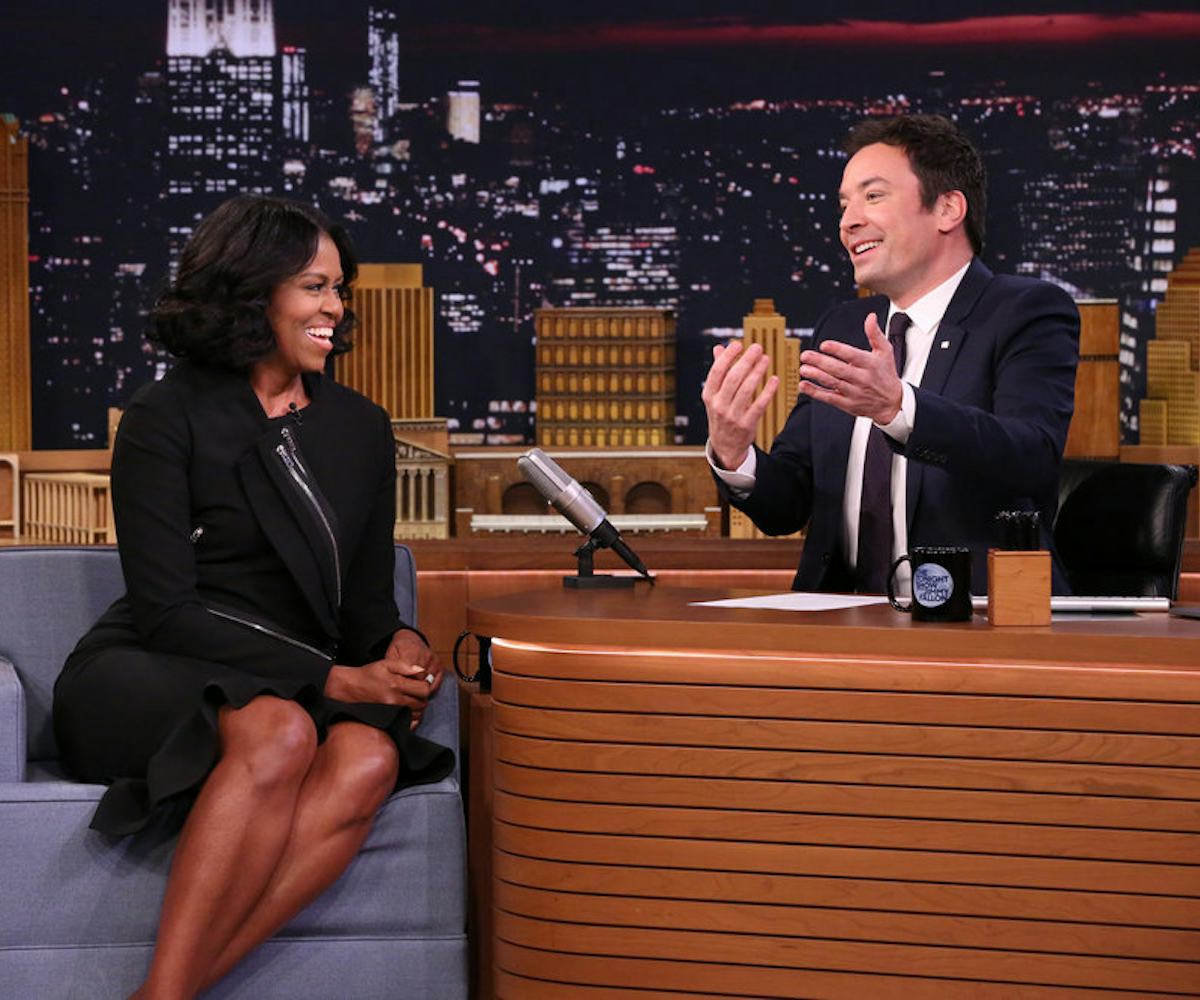 Photo courtesy of NBC
Michelle Obama Makes Her Last Appearance On 'Late Night' As FLOTUS
Following Barack Obama's presidential farewell address this week, Michelle bid viewers adieu with her final talk show appearance as FLOTUS on NBC's Tonight Show Starring Jimmy Fallon. During the program, Michelle surprised people while they were in the middle of recording goodbye messages to her and wrote mock thank-you notes behind Fallon's desk. (Questlove seemed thrilled at the prospect of Michelle taking over.) She also played a game of "Catchphrase" with special guests, Dave Chappelle and Jerry Seinfeld.
Naturally, Michelle's first note was dedicated to her husband. "Thank you, Barack, for proving you're not a lame duck, but my very own silver fox," she said. Fallon, in turn, wrote his to FLOTUS. "Thank you, Michelle, for bringing a whole new meaning to the phrase 'the right to bear arms,'" he read aloud as a picture of Michelle flexing her biceps popped up on the screen.
As for the recordings, a few lucky fans were interrupted while pouring their hearts out to a portrait of Michelle. After they finished speaking, the actual Michelle emerged from behind the curtain to embrace them in a hug. Everyone was completely caught off guard and so overcome by emotion that it brought them all to tears. (We don't blame them, we would cry too!) To go out with a bang, Stevie Wonder closed out the show.
While we may be uncertain about America's future, there's one thing we know for sure: No other First Lady will ever have "grace, grit, style, and good humor" like Michelle Obama. Watch the segments in the videos, below.