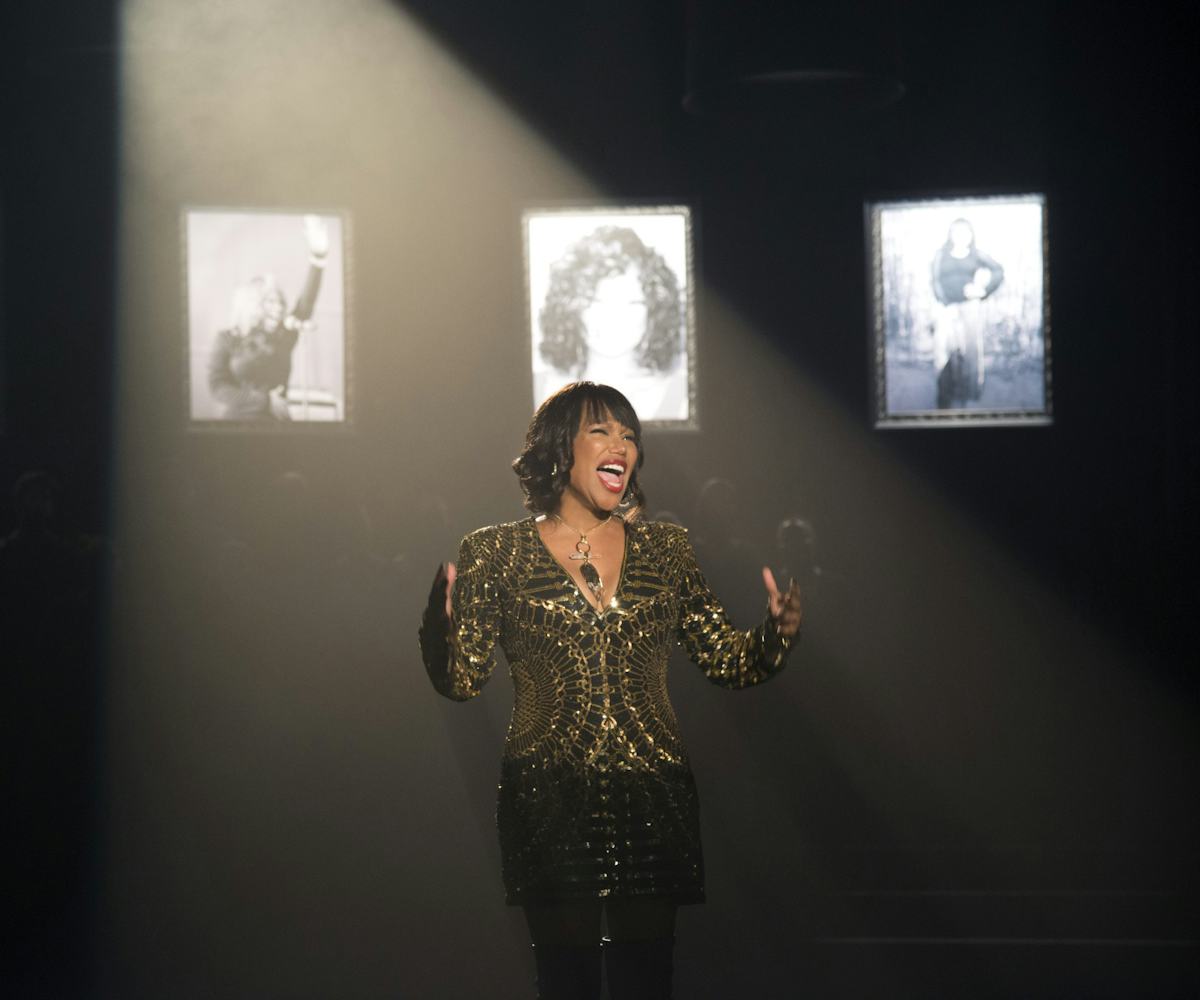 Photo Courtesy Of Lifetime.
Michel'le On 'Surviving Compton' And The Importance Of Telling Her Story
Watch this Saturday and bear witness to her story
We're a few days out before singer Michel'le's biopic, Surviving Compton: Dre, Suge, & Michel'le airs on Lifetime, and buzz surrounding it is louder than ever—partially due to news that Dr. Dre is threatening to sue Sony if the film airs. Michel'le, though, appears to be unfazed. "I'm excited! I'm excited for the world to see my truth and to go through my journey with me," she tells us over the phone.
The film, which Michel'le narrated and produced, tells her side of Dre's sugarcoated Straight Outta Compton story. Hers is a darker tale, which follows her abusive relationships with both Dr. Dre and Suge Knight. When asked why she felt now was the right time to open up, she said she didn't feel like she had a choice. "It wasn't about timing," she says. "It was about an error in history… you can't write people out of history." She's not responding to anything in the movie—she's never even seen it, after all—she's simply sharing what she went through. "I found out through social media that I wasn't in the movie and it didn't hurt my feelings like people think," she says. "I'm not doing this as a vengeful movie."
If anything, it's a chance for her to clear things up—about her life, about her relationships, and about her career.
I feel like sharing this with the world is the best thing I could've done because I no longer have to hide, be extorted, or be somebody that I'm not and act like that didn't happen to me and act like we had a wondrous relationship. It really wasn't that. At the height of my career, what should've been the best time of my life wasn't, and I'm not ashamed of anything that I do.
There are parts of the film that, Michel'le says, were hard for her to relive—specifically, a bedroom scene where she's shown being beaten. "I broke down on set for that," she says. "That was hard because I was actually seeing myself for the first time, the way I was living… I walked away from that scene that night thinking no one should live like that." But she says that the biopic served as a therapy session and as closure more than anything.  
Given that it's Domestic Violence Awareness Month—and with all of the appalling stories about assault emerging in the media—the film is coming out at a very fitting and appropriate time. "It's a strong story about something that's just as relevant as it was hundreds of years ago as it is today, why shouldn't we talk about it?" Michel'le asks. "I just want everyone to watch the movie with an open eye, a conscious mind, an open heart, and just try and find somewhere in there your mother, your grandmother, your sister, your daughter."
As for Dr. Dre and his attempts to silence her narrative, Michel'le continues to remain unfazed:
He can try. I don't know what his powers are, but I know I'm going full force with it. I think he's still in some form of denial, and that's okay. Some of the statements that he's making don't make any sense to me, but that's him and he can live his own life. He gets to deal with his own world. We live in Disneyland, so you can get up and go on whatever ride you want every morning. I do.