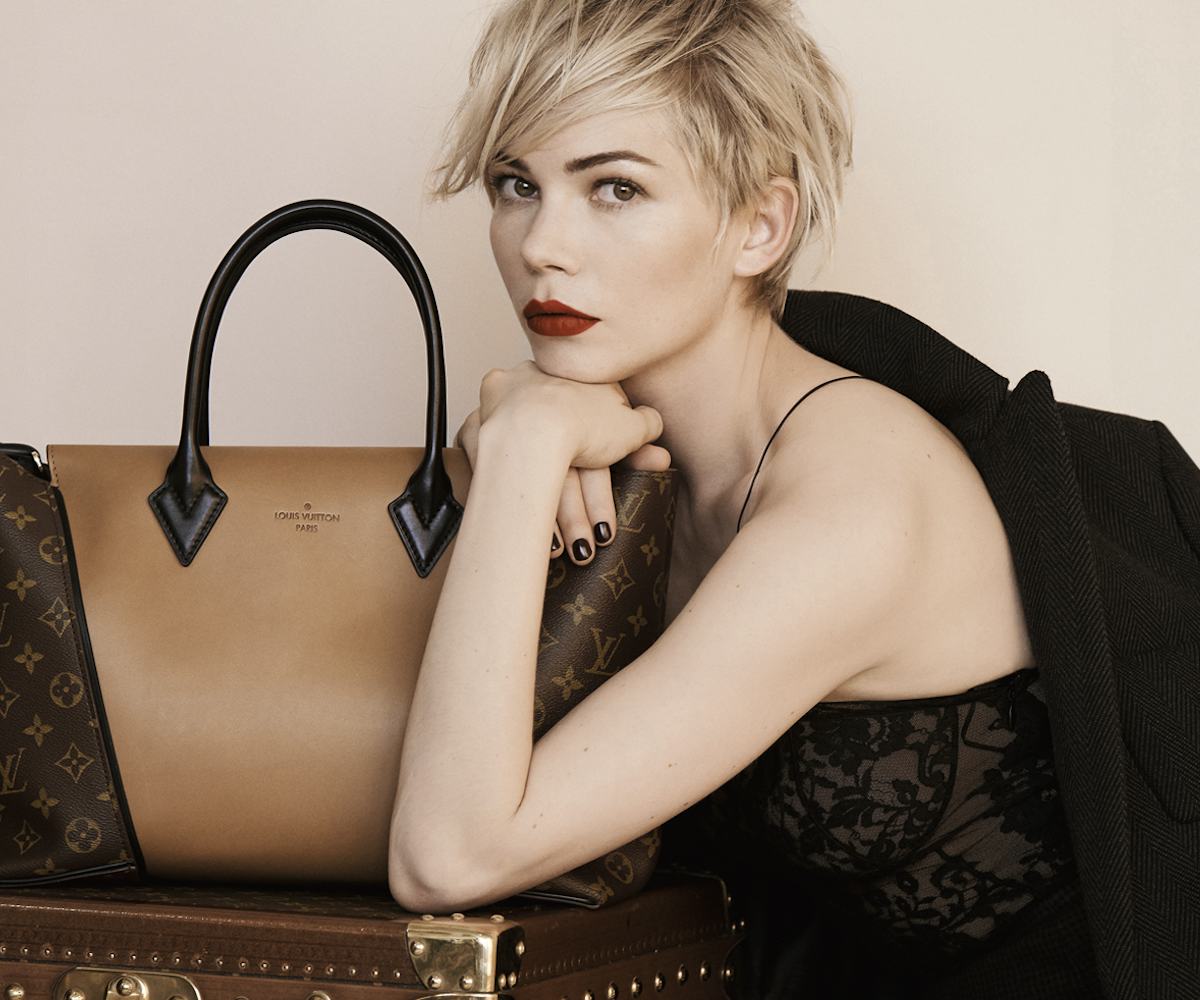 we love this photo: michelle williams x louis vuitton
if you can't afford a bag, here's how to get this campaign-approved ombre lip color.
It was only a matter of time before Michelle Williams nabbed her very own designer campaign. And though we admittedly thought that time would have come, like, five years go, we're still pretty excited that she took her time–because does it get any bigger than landing a Louis Vuitton ad?!
The actress shows off the brand's two new bags for fall–the W and the Capucines–in the Peter Lindbergh-shot series, and though they'd probably make Jen Lindley's eyes roll, we're really into them. Not only because of the bags (which, yes, could store everything from our laptops to the three pairs of sunglasses we insist on carrying around with us at any given time to the latest issue of NYLON), but because Williams is rocking that '90s-esque ombre brick red lip look we've recently been daydreaming about for the colder months.
It's–to use a word that would also make the Dawson's Creek rebel roll her eyes–flawless, and we're ready to rock it ourselves. Here's how you can too:
First, line your lips in a–trust us here–shade darker than the lipstick you'll be using. It should be a brown-red-plum hybrid, like Urban Decay's 24/7 Glide On Liner in Rich Plum, Dolce & Gabbana's Precisions Lipliner in Dahlia, or, if you're really ready to commit, Nars' Velvet Matte Lip Pencil in Train Bleu
Then, fill in with a brick red lipstick–it should be velvet-y matte and not super glossy. For this, try MAC's Lipstick in Dubonnet (Gwen Stefani's personal fave) or, for something a litte  more subtle, Clinique's Chubby Stick Intense Moisturizing Lip Colour Balm in Chunkiest Chili.
The end result? A dark-edged red that is totally ad campaign worthy. –REBECCA WILLA DAVIS