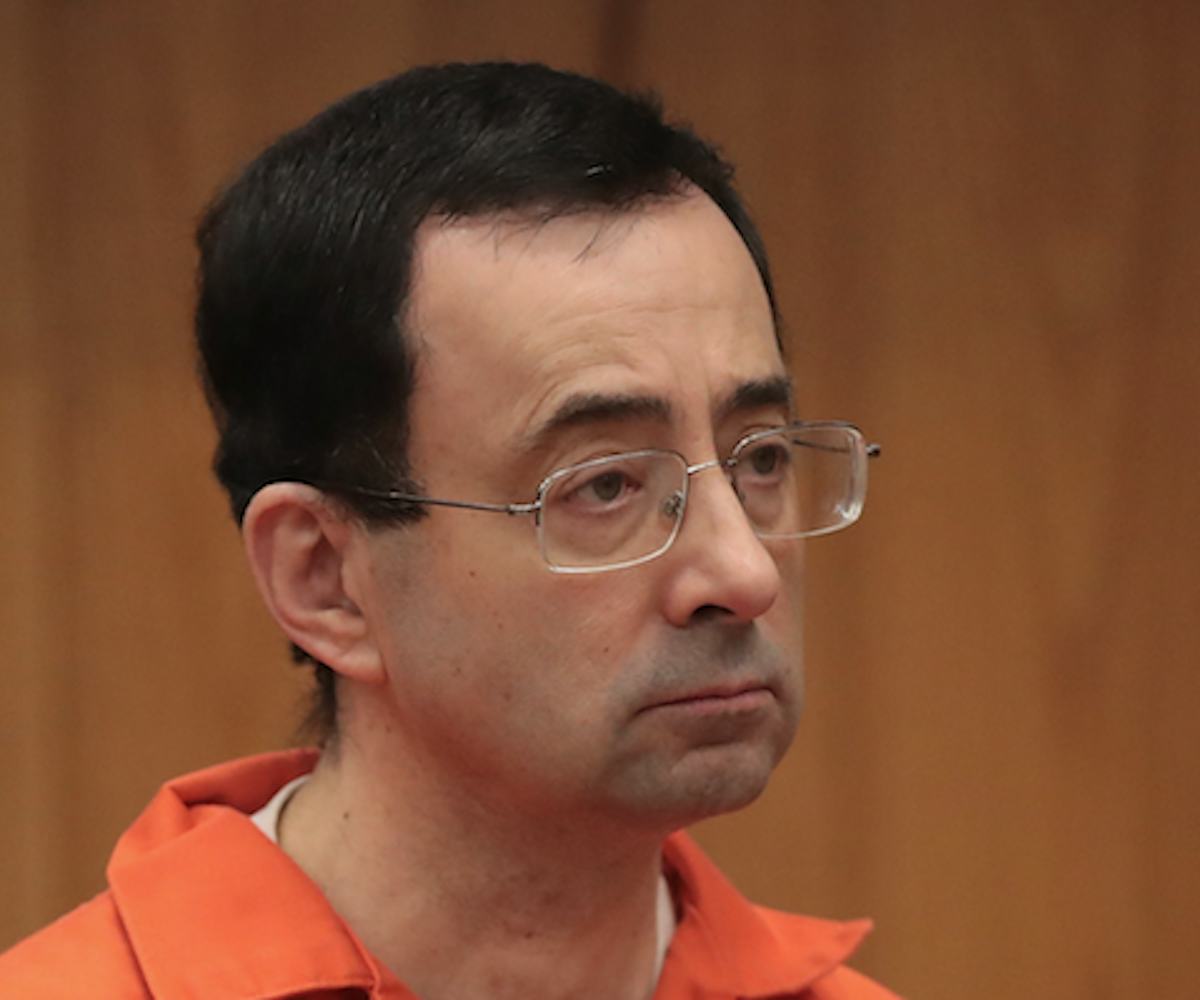 photo by Scott Olson / getty images
Michigan State University Will Pay $500 Million To Larry Nassar's Victims
The university also apologized to the survivors and their families
Michigan State University has agreed to pay over 300 women and girls who accused former USA gymnastics doctor Larry Nassar of sexual assault $500 million in a new settlement announced earlier today. CNN reports that $425 million will be used to settle with 332 victims, while $75 million will be set aside in a trust fund in the event that more victims come forward. Nassar, who was sentenced to over 100 years in prison last January, worked as an osteopathic physician at MSU from 1997 to 2016, during which he abused hundreds of victims. The settlement will not extend to lawsuits against USA Gymnastics, the US Olympic Committee, gymnastics coaches Bela and Martha Karolyi, or other pending suits.
"This historic settlement came about through the bravery of more than 300 women and girls who had the courage to stand up and refuse to be silenced," said John Manly, one of many attorneys representing the victims, in a statement. "It is the sincere hope of all of the survivors that the legacy of this settlement will be far reaching institutional reform that will end the threat of sexual assault in sports, schools and throughout our society."
Brian Breslin, chairman of MSU's governing board, offered an apology to the survivors and their families. "We are truly sorry to all the survivors and their families for what they have been through, and we admire the courage it has taken to tell their stories. We recognize the need for change on our campus and in our community around sexual assault awareness and prevention."
Previously, the university (along with USA Gymnastics and the US Olympics Committee) were accused of negligence and failure to protect its students and athletes after it was reported that trainers, coaches, and MSU police detective were informed about Nassar's abuse. 
Kaylee Lorincz, who was one of the hundreds of survivors to speak during Nassar's trial, said that while the settlement was a win for victims, she is "disappointed in the lack of compassion from MSU and that their tone toward the survivors has not changed." 
In addition to the settlement, Nassar's victims will be honored with the Arthur Ashe Courage Award at the ESPY Awards this July. "They have shown us all what it truly means to speak truth to power, and through their bravery, they are making change for future generations," said Alison Overholt, vice president and editor-in-chief of ESPN The Magazine, espnW, and The ESPYs, in a statement. "By honoring this group who spoke out, we aim to honor all of those who are survivors of abuse."