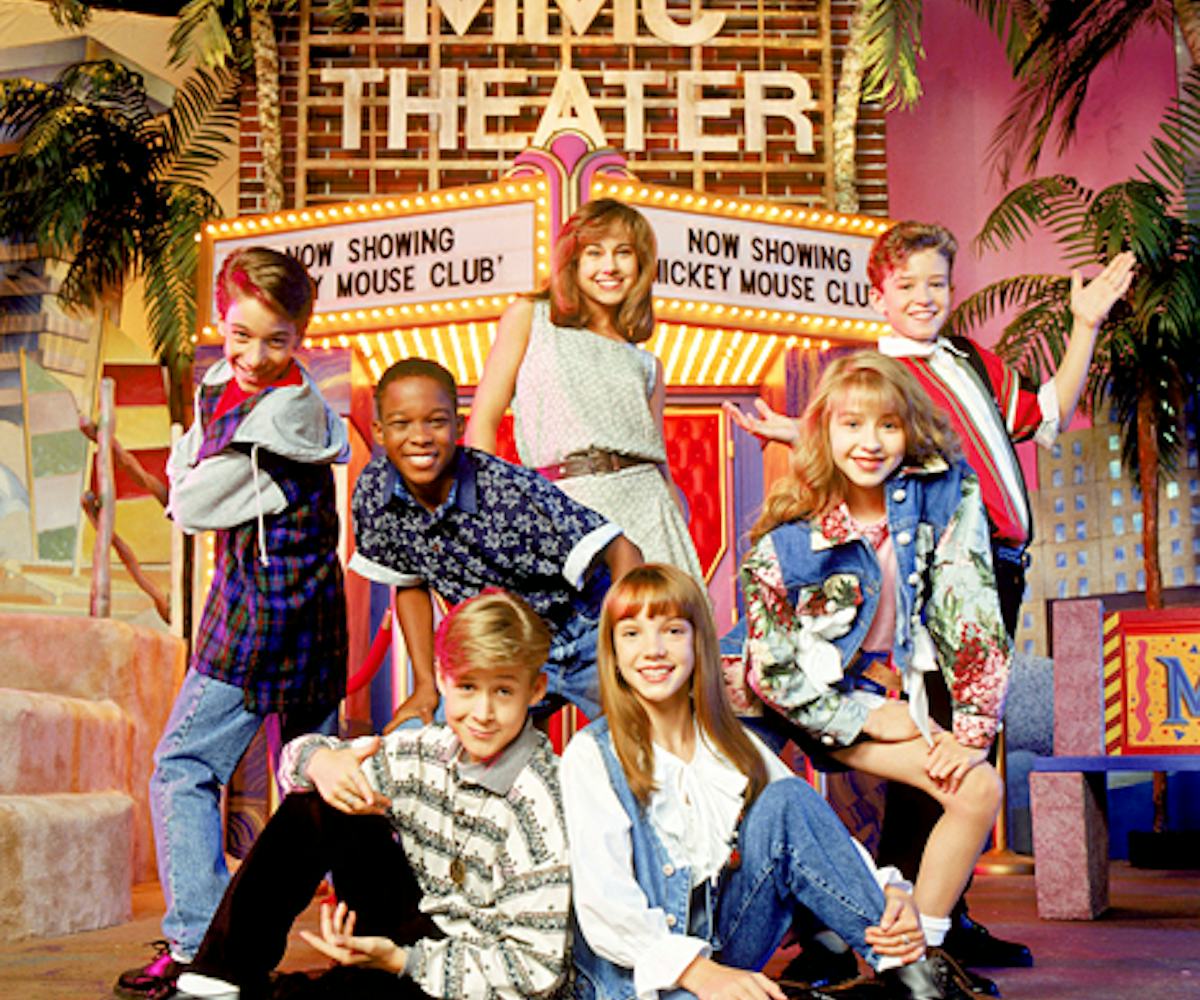 'The Mickey Mouse Club' Is Returning To A Screen Near You
To mark this occasion, here are the celebs who got their start on the show
During the '90s, Disney Channel seemed to have it all figured out when it came down to recruiting promising child stars on The All-New Mickey Mouse Club. Originally established in 1955, The Mickey Mouse Club was the foundation for some of pop culture's biggest icons. Oddly enough, the franchise was discontinued on ABC in 1996, but now Disney is set on bringing it back. It was announced yesterday that the brand is rebooting the program as Club Mickey House, and it will air exclusively on Facebook. 
The forthcoming "digital-first variety show" will introduce viewers to what Disney describes as a "diverse cast of talented young creators," though those individuals have not been revealed at this time. While we wait for more details, let's take a moment to look back on the most famous faces that got their start on the segment. 
Embrace the nostalgia and click through the gallery of Mouseketeers, below.
Britney Spears is a star that needs no introduction, but here it is anyway. After her time on The All New Mickey Mouse Club, the Louisiana-bred sweetheart set the bar for all future princesses of pop with her debut hit record, ...Baby One More Time, in 1999. In between a successful string of album releases (and a starring role in Tamra Davis and Shonda Rhimes' Crossroads), she became a tabloid spectacle with paparazzi chasing her every move. Spears is currently finishing her residency in Las Vegas and is said to be working on a Broadway musical.
Christina "Xtina" Aguilera was pitted against Britney Spears for most of her career, but she also reigned supreme on the pop spectrum during the 2000s. For a while, Aguilera was sort of viewed as the anti-pop star as she dared to show the dark, gritty side of fame during the Stripped era. Aguilera got a big break in Hollywood when she scored a starring role alongside Cher in Steve Antin's Burlesque in 2010. Now that she's done being a coach on The Voice, Aguilera is working on Scott Free's sci-fi flick, Zoe.
Shortly after his stint on the program, Justin Timberlake joined the uber-popular boy band *NSYNC. After seven years of that cycle, Timberlake embarked on a solo career in both music and acting. The rest as we know is history. Rather than stick to the standards of pop, Timberlake veered into R&B territory by working with prominent producers like Timbaland. Along the way, he also starred in feature films such as Friends With Benefits, Alpha Dogs, The Social Network, and Black Snake Moan. He still finds the "It's gonna be May" meme entertaining after all these years. So do we.
Ryan Gosling went on to first become an indie film darling with lead parts in Drive and Lars and the Real Girl. He gained mainstream success after landing starring roles in popular films like The Notebook, Crazy, Stupid, Love, Blue Valentine, and, of course, La La Land. Gosling might have missed the heartthrob phase during his teens, but he's made up for lost time as a grown adult (and father of two daughters that he had with Eva Mendes). As for the singing, in addition to showcasing his musical chops in La La Land, he was part of a rock band called Dead Man's Bones, who released a self-titled album in 2009.
JC Chasez is another *NSYNC solo success story. Before he officially broke out on his own following the band's split (and in Timberlake's shadow), he fell into writing and producing for other artists. Chasez's debut single, "Blowin' Me Up (With Her Love)," was featured in the motion picture soundtrack for Drumline in 2002 and set him up for the release of his solo album, Schizophrenic. As if you could forget, he was a judge on MTV's America's Best Dance Crew for all seven seasons until the show was canceled in 2012. Since those days, Chasez has been more of a behind-the-scenes guy.
Fans of En Vogue are fully aware of Rhona Bennett's R&B legacy. A few years after The All New Mickey Mouse Club wrapped, she secured a recurring role on WB's The Jamie Foxx Show. Following the release of her debut album and a part in a stage play, Bennett joined the girl group known as En Vogue in 2003. Eventually, she went solo under the moniker Miss R&B and has been focusing on her own music ever since.
Before she was on FX's The Americans, Keri Russell was another member of The All New Mickey Mouse Club. She got her big break as the star of the WB teen drama, Felicity, which transformed her into a Golden Globe Award-winning actress. After finding success on Broadway, a part in Adrienne Shelly's comedy Waitress would solidify Russell's status as a movie star on the rise. In addition to being in Comedy Central's hit sitcom, Scrubs, she also starred in Dawn of the Planet of the Apes and Free State of Jones. 
Nikki Deloach probably looks familiar because you've been watching her play Jenna Hamilton's mom on MTV's Awkward. During the earlier stages of Deloach's career, she pursued a journey into the music world as a member of a girl group called Innosense that was managed by Timberlake's mother, Lynn Harless. (She also dated Chasez for a while and, fun fact, he called her "Peaches;" who knew they were so in sync?!) Since then, she's been more focused on acting and raising her son with her husband, Take 5 member Ryan Goodell.
Lisa Whelchel was rich rebel turned daddy's girl Blair Warner on The Facts of Life—only giving into her character's good side because of Whelchel's adamant Christian beliefs. Unsurprisingly, when the series ended, Whelchel recorded a Christian album and turned almost entirely to ministry.
Sherry Alberoni moved from screen to behind the scenes as she found her place in voiceover work. During a long career with Hanna-Barbera Productions, Alberoni's voice was immortalized through prissy Alexandra Cabot on Josie and the Pussycats. 
Annette Funicello paved the path for the future of Mouseketeers as one of the founding members of The Mickey Mouse Club. The actress became a household name for Disney as she transitioned into teen idol status with roles in the Beach Party film franchise during the '60s.