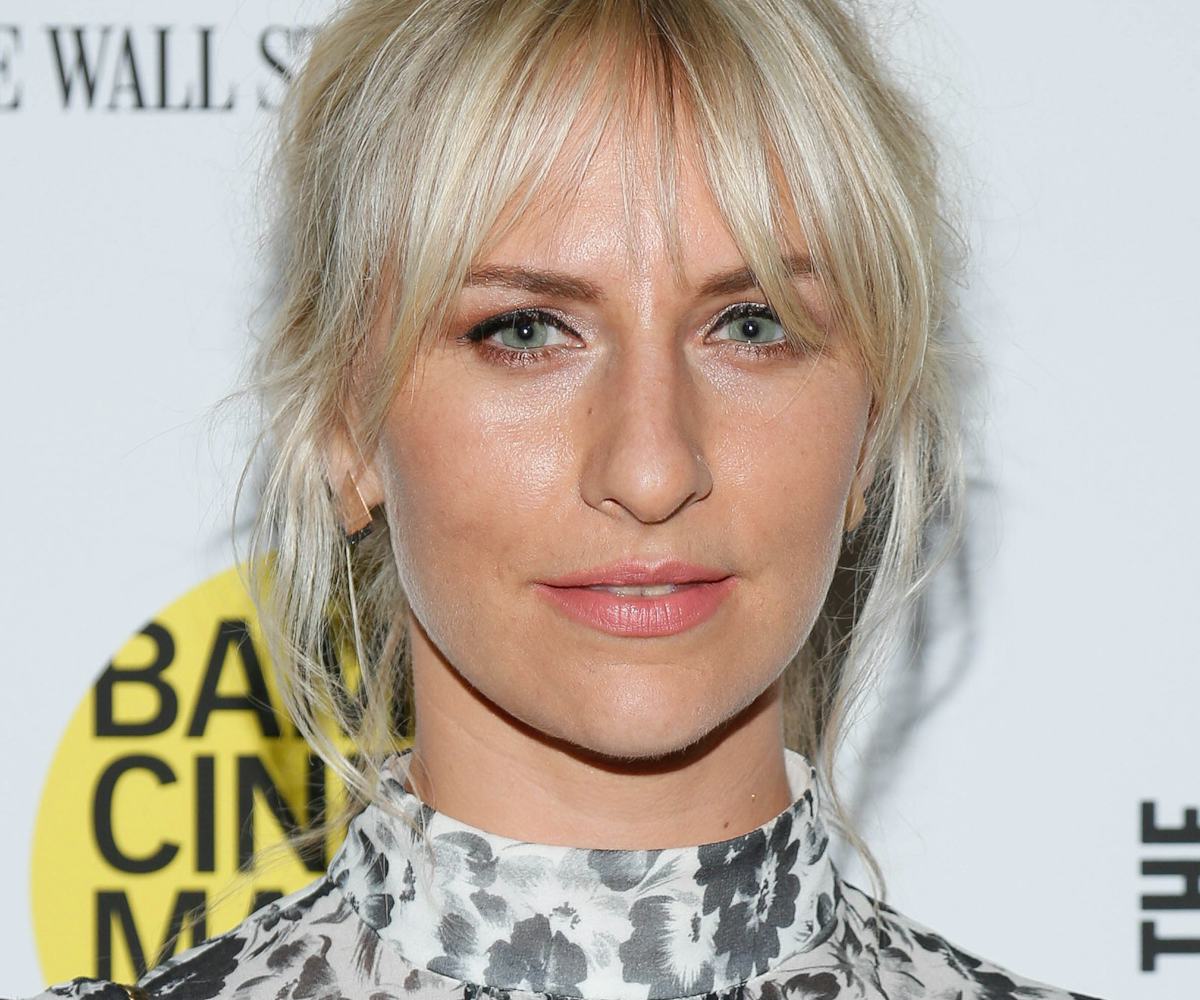 Photo by Rob Kim / Getty images
indie darling mickey sumner on her superb new movie 'the mend'
"I try to push myself to do things that scare me and to take on roles that feel like a challenge," says Mickey Sumner, who holds her own amidst a cast of men on the verge of a nervous breakdown in John Magary's terrifyingly good directorial debut, The Mend. Best known for her role as Greta Gerwig's sensible best friend in Frances Ha, with films like The End of the Tour and The Mend, Sumner is proving that she's one of the most talented and quietly fascinating women orbiting the indie film world. Costarring alongside a charmingly volatile Josh Lucas (Mat) and an bitterly misanthropic Stephen Plunkett (Alan), Sumner plays the refreshingly strong-willed yet sensitive Farrah, Alan's soon-to-be fiancée in the tale of what happens when brothers reunite.
Shot in Magary's real-life apartment—which he shares with his co-writer, producer, and partner, Myna Joseph—The Mend begins when Mat unexpectedly shows up at a party Alan and Farrah are throwing, kicking off an atonal series of events that begin to unravel their lives. As raucous and ambitious as it is revelatory and intelligent, the film explores the psyche of brotherhood's unspoken bond and the senselessness of love, providing a brilliant vehicle for some of the most incredible performances of the summer. We caught up with Sumner to talk about what attracts her to the roles she plays, working with Josh Lucas, and bringing The Mend to life.
Looking at your work with directors like Noah Baumbach, James Ponsoldt, and now John, it's clear you're making really smart choices when it comes to the projects you choose to work on. How do you go about navigating that?
Ultimately, it's the script. For The Mend specifically, I was just so impressed with John's writing and the female characters in his movie. Farrah is a girlfriend, but she's not the conventional girlfriend role. I wasn't there as a function, I was a real person with complex views and ugliness and mess just as much as the leading men. I didn't quite understand the script when I read it, but when I was in it, John had such a vision that I didn't question it. And then when I saw it, I was like, oh my god the guy knows exactly what he's doing, and that was really exciting.
All of the characters in the film walk a fine line between love and hate. They have glaring imperfections and flaws, but that's what makes them human and lovable. Was that aspect of the characters something you were attracted to?
Josh Lucas' character Mat is so disgusting and awful, but then watching it last night, I realized there's still something so amazing and brave about him. I love that he's super-animalistic and out there and just says what he wants. In a weird way, Farrah is like that too. She's really straightforward and she says what she wants. She's direct, and I find that really appealing and wish I were more direct in my real life.
How did you work with John on establishing who Farrah was? Did he give you anything as reference?
He sent me a lot of paintings and colors and a mood board, which was really inspiring. We didn't really talk about movie references, but we talked about Farrah and who she was and her relationship with Alan. We came up with this analogy that Alan is like this melting snowball that Farah is pushing up a hill trying to get him somewhere, but at the same time, he's melting. So that was what it kept coming back to. 
How did you originally connect with John and Myna?
I met Myna at the Sundance Director's Lab when she was there with her own project, and I was working on a different project. We just became friends and stayed in touch. So she called me the summer they made The Mend, asked me to read the script, and said she thought I'd be right for Farrah—within a page I was like, yes please. Even though I was unclear about the tone and exactly what this movie was about, I was so excited to work with both of them.
Considering the opening party sequence lasts almost 30 minutes, the first time I watched the movie I really thought the entire thing would be set at that party. But it's interesting how the majority of your performance takes place in that span of time, so you only have these fleeting moments and small interactions with people to show all the contours of Farrah's personality. But you did that so well that by the end, we feel like we know her just as well as we know the men we've spent the entire film with.
I don't know if I even thought about it like that when we were doing it. But the script was so good that it was just all there. It felt like a play almost, with the choreography and movement throughout the room and the camera moving with us. It was just so well-organized. They knew what they wanted, they knew what they were going to do, and they knew how they wanted it to look, which was such a pleasurable experience. We shot nights, so we were working from like 6 a.m. to 6 p.m., and it was this epic, long party that never ended. It was just really fun.
How did you and Josh interact on set?
Our characters have a pretty contentious relationship and we were civil to each other, but we sort of kept our distance while shooting. We didn't quite keep in character, but I definitely kept my distance. He's a really good actor and it's really great to see him in this kind of role—I think this is the best thing he's ever done. It's awesome that you get actors like Josh in these independent films and believing in a first-time director like John.
What was it like shooting your last scene of the movie during your first day on set?
That was a really crazy day. I'm always nervous the first day and I feel like I'm always going to get fired on the first day, and I had to shoot that last scene without having a really firm grip on the tone of the movie. I thought, fuck I don't know what the fuck I'm doing. But I walked into the room and the guys had just been filming the scene before, and there was this energy that they'd created, and it was so thick and confusing. 
What was it like watching the film completed, having only been there for the beginning and the very end?
It was funny because I'd only read the whole script once when I first got it. When I started shooting, I didn't reread the middle bit but it was awesome to watch it and see what the fuck they got up to while I was away. On one hand, it made me really grateful to not be a guy, and the other hand, jealous like, God, they just do whatever the fuck they want, I want to be in this scene. It was great to see how his script came alive. The music is good and so brave and weird and smart. It allows John to move from tone to tone and genre to genre, and it's just exciting to be a part of something like that.
What's next for you?
I just finished working on a movie in Buffalo called Two for One with Annie Clark and Erika Christensen and that was fun. I'm going out to California in September for a couple months. I just want to continue to work on great movies with great people. Myna, John, and I are working on developing a script that I'm super-excited about, so my goal is to work on that.