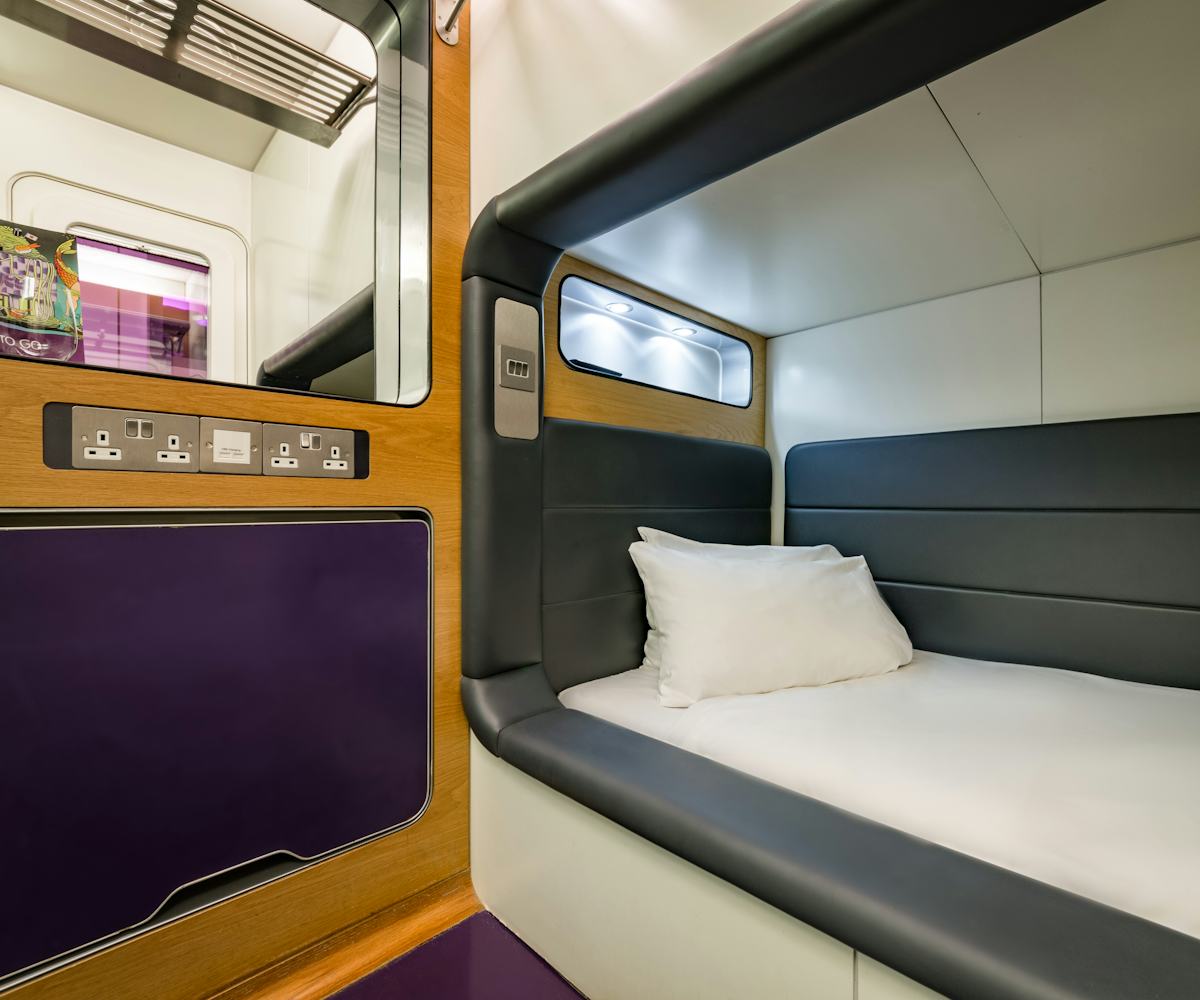 Micro Hotels Are The Best New Trend In Traveling
Definitely try one on your next trip
I'm fumbling in the dark, and I suspect it's my fault. One of the selling points of my stop at Yotel, a micro hotel with a location in the bowels of London's Gatwick airport, is that nearly everything I'd need for a night is within arm's reach. The shower head that, although powerful, can't quite wash off my transatlantic flight stench; the oversized, heavily cushioned bed; and the light switch that I just accidentally pushed—it's all right here. I light up the room just long enough to plug my phone into the parade of outlet options, and then I am out for the night.
Modeled after Japanese capsule hotels, where guests bunk comfortably in an uncomfortably small space, micro hotels are about the less-is-more aesthetic—albeit most have the modern addition of private bathrooms. Yotel, with hubs in U.K., New York, Paris, London, and Amsterdam, has emerged as a major name in tiny hotel market, as has CitizenM, which has locations in the Netherlands, U.K., Paris, and New York. There's also Pod 39 in New York, although many argue that the price point, usually hovering well north of $150, doesn't make it quite the same deal as other chains. (Then again, show me lodging in Manhattan that doesn't cause bank account DTs.) Upscale hotel giants are also entering the micro market. Hilton launched Tru in Oklahoma City in May (with plans to open 150 more locations by the end of 2019). In 2014, Marriott launched Moxy, featuring 183-square-foot accommodations. And even Ace Hotel, the bastion of hipster chic, offers a "small" room option. In most cases, the toilet and shower area are separated by only a thin partition, functionality takes the place of excess space, and the decor is the kind of minimal design elements millennials, saturated in the belief of valuing experience over physical goods, have come to appreciate.  
The appeal from the hotels' point of view is Business 101 simple. More product + more demand = more money. Charge less, sell more. From the consumer side, even if you're not a claustrophile, it's hard to pass up the idea of spending less money on an already financially taxing event like a vacation. Hannah Horvath wasn't the only one praying an internship would turn into a job. Post-collegiate internships are on the rise. The average American minimum wage is $7.25, and with rising college tuition costs, more millennials are opting for on-the-job training and blue-collar work. Who can blame young travelers for wanting to stretch their resources as far as possible?
But there are also psychological rewards to watching one's bottom line. When you call a windowless airport closet your temporary home (even if it is a well-appointed windowless closet—I really liked the dramatic purple lighting), suddenly the whole city is your living room. Would I have fought through my jet lag and spent the day wandering past Buckingham Palace and drinking wine in Kew Gardens with friends if I could have sat like a misguided Holly Golightly, simply staring out the window at the city? Well, I'm a stubborn mofo, so… maybe. But I won't lie, downgrading my concept of a hotel room from destination to part of the bigger picture did make me more eager to explore. In the end, I sacrificed nothing. I still had a soft bed to sleep in, all the tea and coffee I could drink, and a "cabin" (never call it a room) where I could be sure my valuables would be safe. And when I did return after an unexpected brief nap on the train (travel level: expert), I discovered an important truth: Luxury in small doses tastes just as sweet.