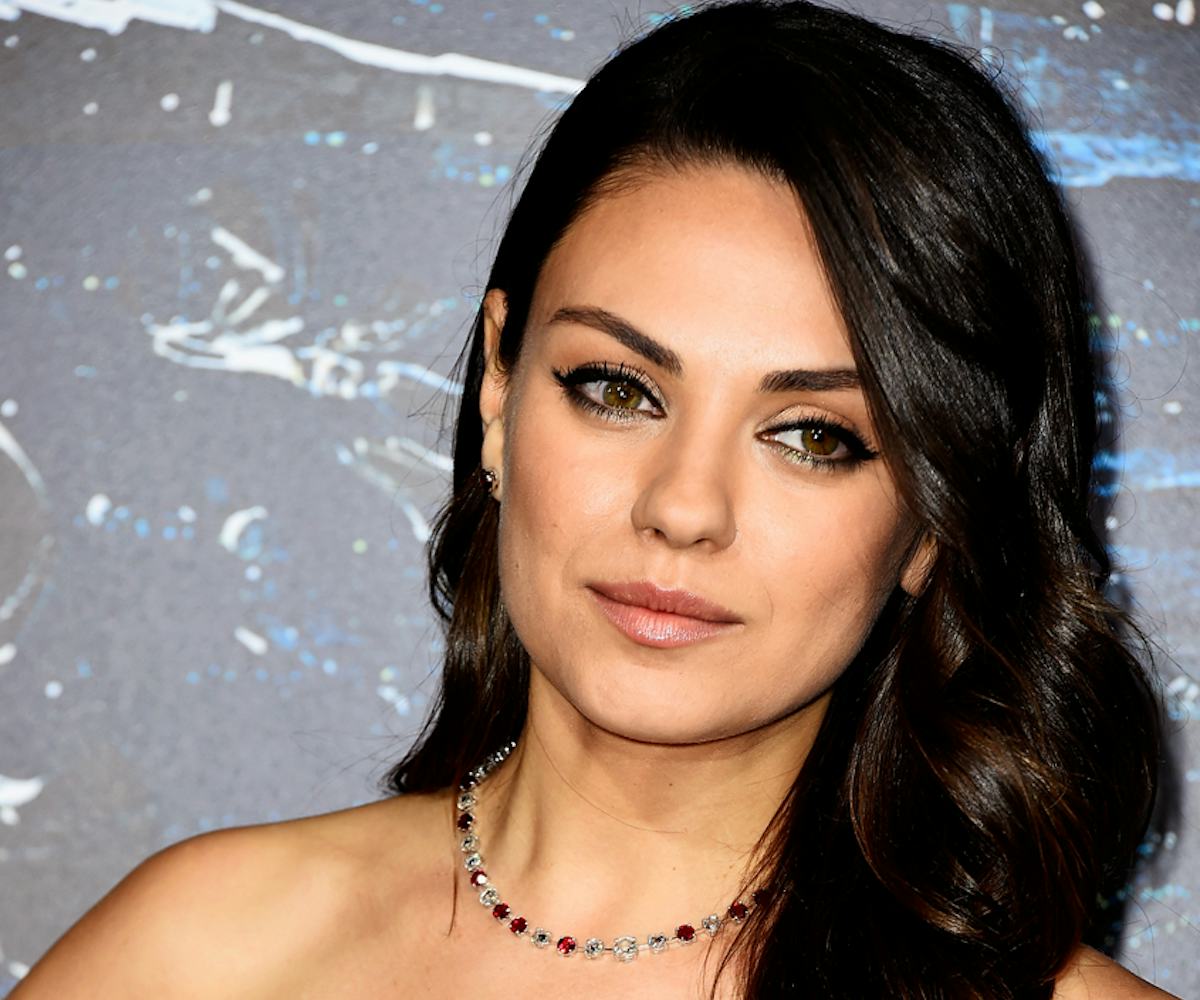 photo via getty images
10 of the best mila kunis moments ever
jackie has always been sassy
by leila brillson and ben barna
Jupiter Ascending hits theaters this weekend, and by all accounts, the new space opera from the Wachowskis is a hot, CGI-inflated mess. It does, however, star Mila Kunis, one of our favorite actresses on this planet or any other planet, and that alone is reason to pay attention. Don't forget: there was a time when it didn't look like Kunis would rise to post-That '70s Show relevancy, but along came Sarah Marshall, followed by a certain raven-colored swan, and the rest is history. And Kunis' enduring stardom has provided us with endless stream of perfect pop cultural nuggets. Here are some of our favorite  
Mila Kunis vs. Chris Stark
The internet exploded when Kunis turned the normally painful junket interview on its head by going off script, wanting to talk about anything but her movie, Oz: The Great and the Powerful. Her adorably nervous interviewer, BBC Radio 1's Chris Stark, was the perfect foil as they educated each other on their countries' drinking habits. The highlight comes when Kunis—the consummate professional she is—races through the stock answers she's been giving all day as Stark, and all of us, watch in total admiration.
Mila Kunis' Pregnancy Rant on Jimmy Kimmel
We're not sure if this bit was Kunis' idea or if it came from the Kimmel braintrust, but either way, she sells it effortlessly. Her rant against expectant fathers saying "We are pregnant" is bang on, and even though it's a comedy bit on a late night talk show, Kunis is speaking for women everywhere who do all the work of childbearing while their partners share the credit. "Stop saying 'we're pregnant,'" she growls. "You're not pregnant! Do you have to squeeze a watermelon-sized person out of your lady-hole? No." Ashton, you've been put on notice.
Mila takes gives painfully awkward interview
When it comes to giving interviews, Kunis is a total pro in not giving af, as evidenced by this brutal interview she gave to The Star-Ledger, where she repeatedly snaps at the journalist for asking her subpar, lazy questions that she's answered in a million other publications. Granted, Kunis sounds like she was just in a bad mood, but the fact that she didn't try and hide it is why we love her.
photo via sony picture classics
Mila Kunis defends Justin Timberlake in Russian
Kunis, who spent her early childhood in the Ukraine, is fluent in Russian and busts it out like a secret weapon in this incredibly awkward clip. In Russia with costar Justin Timberlake to promote their sex buddy comedy Friends With Benefits, Kunis zings a journalist who asks Timberlake why he's doing movies. "Well, what would you rather have him do?" she asks the reporter as a bewildered JT looks on. Um, sing and dance?
Mila accompanies a Marine to his ball
Sure, saying 'no' to an actual Marine who asks you to be his date to the big dance would be cruel and heartless behavior. Lucky for Sgt. Scott Moore, Mila Kunis is neither cruel nor unusual. She is the opposite of those things, and accompanied Moore—after he asked her out on Youtube—to the Marine Corps ball for four hours of drinking, dancing, a picture posing. A good time was had by all, but especially by Sgt. Scott Moore.
The Hills Parody With James Franco
The Hills was a stain on the underwear of civilization, but if this Funny or Die parody starring Kunis and James Franco is what we got out of it, then the whole thing was worth it.
image via funnyordie.com
Her Black Swan coup
Yes, Natalie Portman deservedly won an Oscar for her role as Nina Sayers, but Mila Kunis shocked everyone by also getting the nom for the Gloves and the SAG, too. (The Oscars are notoriously snotty to former TV actors on their first go-round.) Mila won the coveted Emerging Performer award at the Venice International Film Festival, and Natalie's serious turn and pregnancy allowed lighthearted Mila to truly shine.
photo via fox searchlight pictures
Macaulay Culkin?
Guys, she dated Macaulay Culkin for almost ten years. So many people forget that, but never forget. Never, ever forget.
The evolution of her and Ashton
photo via getty images
The fact that Ashton Kutcher was her first kiss: Aww.
photo via getty images
The fact that we watched Kelso and Jackie/Ashton and Mila grow up together: Awwww.
photo via getty images
The fact that we witnessed Ashton grow closer to his old pal after his divorce: Awwwwwww!
photo via getty images
The fact that this whole thing is documented in a series of That '70s Show tribute videos by random people on the internet: Aw?
This Aerosmith Video:
Look, Steven Tyler has had a lot of actresses star in his videos, and while this might not be the best (that goes to Alicia Silverstone), it certainly is the most late-'90s.