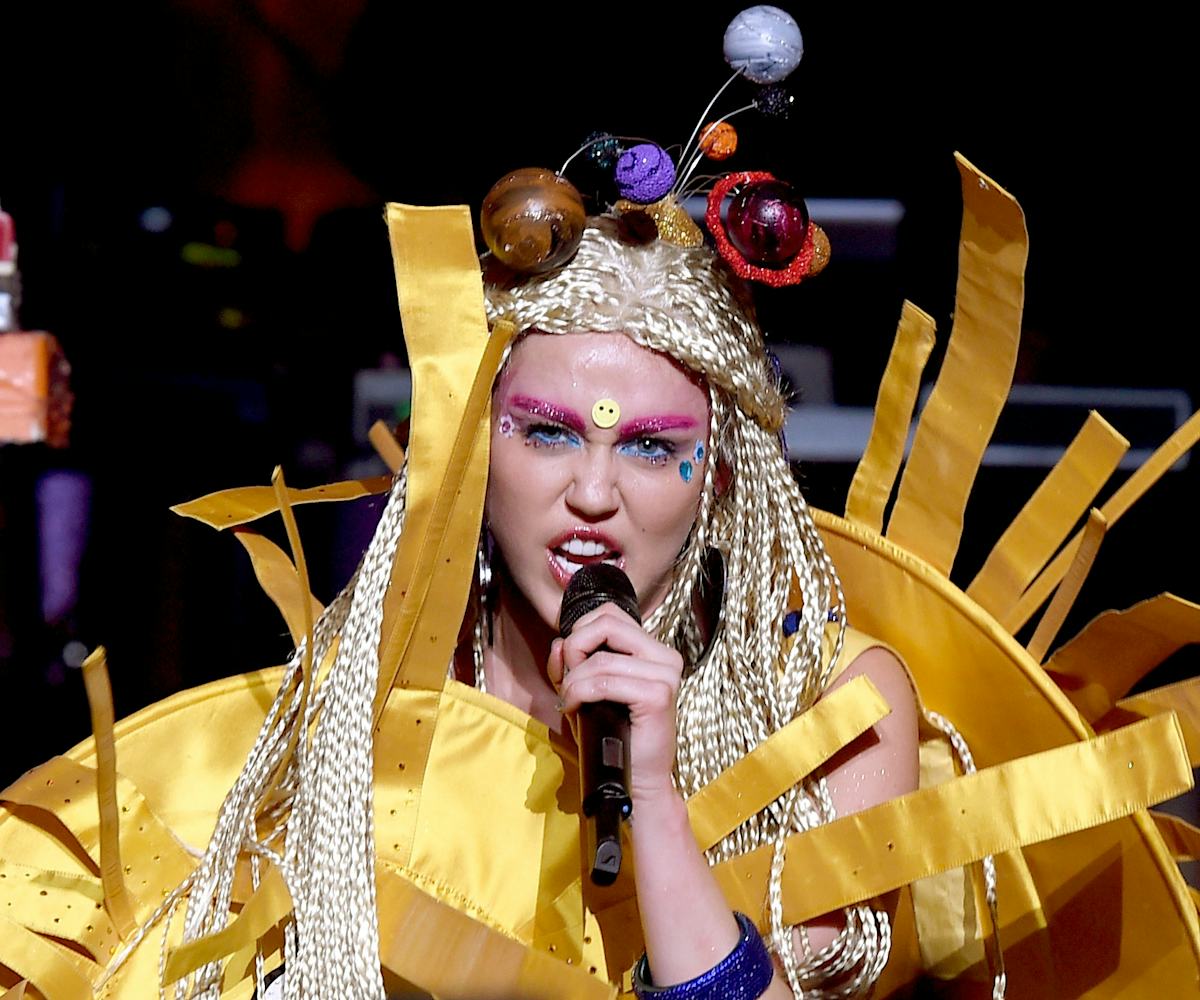 Photo by Kevin Winter/Getty Images
Miley Cyrus Addresses Controversy Over Her Comments On Hip-Hop
"I respect ALL artists who speak their truth"
Miley Cyrus sat down with Billboard recently to talk about everything from gender identity ("I just don't feel like a girl, and I don't feel like a boy") to Donald Trump ("clearly unity is what we need") to her upcoming yet-to-be-named album and the first single, "Malibu." Cyrus, who's been accused of cultural appropriation (most memorably by Nicki Minaj), also talked about her "alienation from hip-hop," and her comments understandably offended a lot of people.
When asked if folk singer Melanie Safka, who Cyrus performed with in 2015, influenced her music, Cyrus said yes, and went on to criticize hip-hop and rap, distancing herself from a genre that she embraced on her 2013 album Bangerz. "I also love that new Kendrick [Lamar] song ['Humble']: 'Show me somethin' natural like ass with some stretch marks,'" she said. "I love that because it's not 'Come sit on my dick, suck on my cock.' I can't listen to that anymore. That's what pushed me out of the hip-hop scene a little. It was too much 'Lamborghini, got my Rolex, got a girl on my cock'—I am so not that."
These comments generated a lot of backlash on the internet, with people accusing Cyrus of bashing a genre that she herself has benefitted from. On Bangerz, Cyrus worked with hip-hop producer Mike WiLL Made-It, and she's collaborated with rappers Snoop Dogg and Timbaland. When Cyrus criticized Nicki Minaj in 2015 for not speaking with "openness and love" about race and pop music (and how the genre favors thin white women), Minaj responded in New York Times Magazine, saying, "If you want to enjoy our culture and our lifestyle, bond with us, dance with us, have fun with us, twerk with us, rap with us, then you should also want to know what affects us, what is bothering us, what we feel is unfair to us. You shouldn't not want to know that.''
In response to the criticism of her Billboard interview, Cyrus posted a message to Instagram Saturday morning saying she respects all artists who "speak their truth" and appreciates all genres of music. "When articles are read it isn't always considered that for hours I've spoken with a journalist about my life, where my heart is, my perspective at that time, and the next step in my career," she began. "Unfortunately only a portion of that interview make it to print, & A lot of the time publications like to focus on the most sensationalized part of the conversation. So, to be clear I respect ALL artists who speak their truth and appreciate ALL genres of music (country, pop, alternative .... but in this particular interview I was asked about rap) I have always and will continue to love and celebrate hip hop as I've collaborated with some of the very best! At this point in my life I am expanding personally/musically and gravitating more towards uplifting, conscious rap! As I get older I understand the effect music has on the world & Seeing where we are today I feel the younger generation needs to hear positive powerful lyrics! I am proud to be an artist without borders and thankful for the opportunity to explore so many different styles/sounds! I hope my words (sung or spoken) always encourage others to LOVE ... Laugh ... Live fully ... to be there for one another ... to unify, and to fight for what's right (human, animal, or environmental) Sending peace to all! Look forward to sharing my new tunes with you soon!"