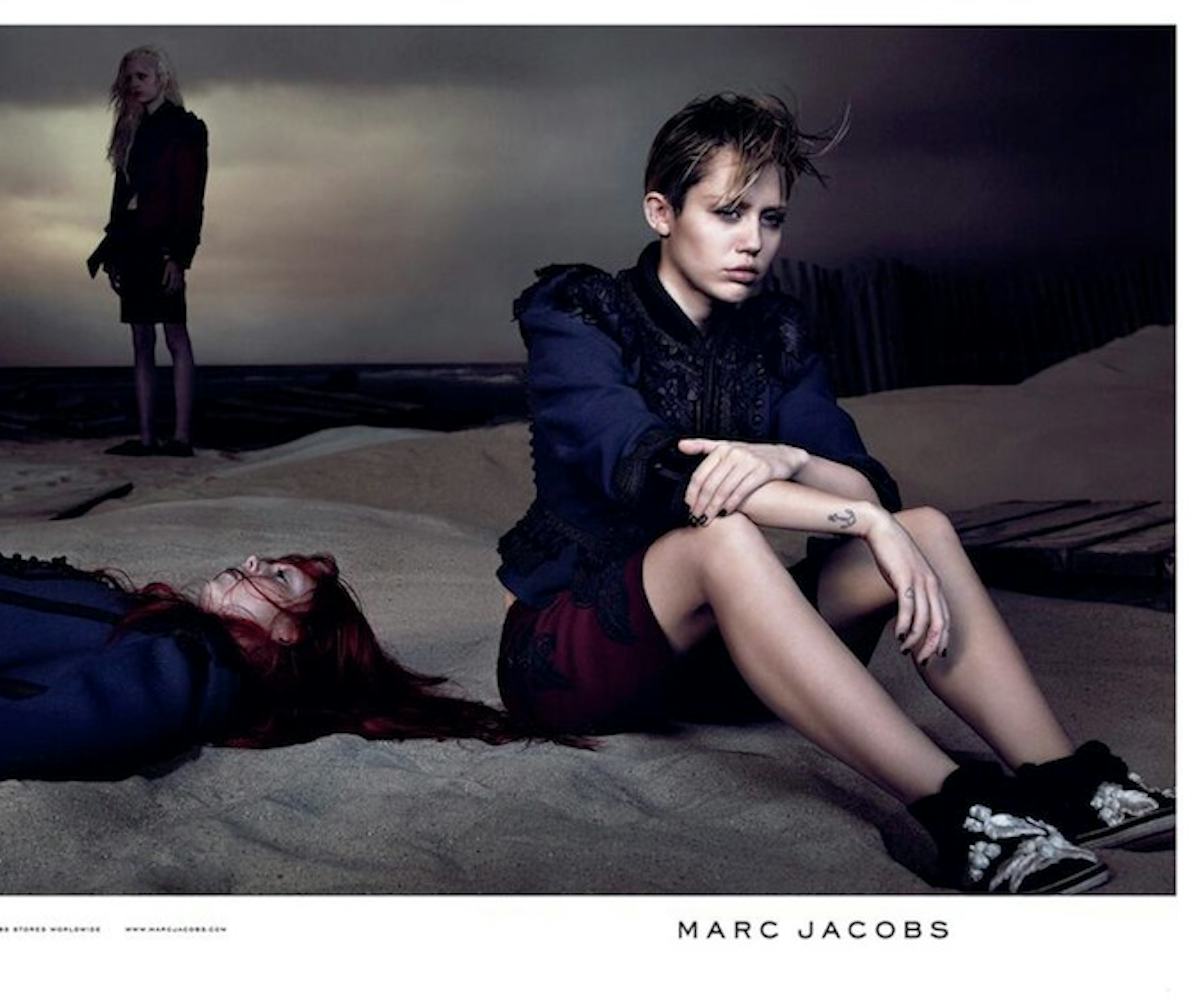 photo by david sims
marc hearts miley
the marc jacobs spring '14 campaign star is none other than miley cyrus!
Stop whatever you're doing and listen up! Or look up, because the new face of Marc Jacobs is Miley Cyrus!
Based on the Marc Jacobs spring '14 show modeling lineup that included Sky Ferreira, Georgia May Jagger, and Charlotte Free, we could have guessed that the brand's campaign would feature a big star, but we're more than thrilled to see that it's Miley Cyrus. Cyrus and Jacobs have been besties for a long time--she wore a fishnet dress by the designer to the Met Gala in 2013 and can currently be spotted nude on a Jacobs approved T-shirt supporting the NYU Skin Cancer Institute--so it was really only a matter of time before she starred in one of the designer's ads. 
The backdrop for Cyrus' modeling turn is a dark, sandy beach, similar to the scene at Marc Jacobs spring '14. Cyrus is shown wearing a navy jacket with black embellishment, burgundy shorts, and black sneakers with white floral embroidery chilling with red-headed model model Natalie Westling and blonde Esmerelda Seay Reynolds in the background. But while the ad's ambiance may allude to the show vibes, instead of the blunt bowl cuts models rocked on the runway, Cyrus and the models have natural, semi-wet hair and luminous, glowing makeup. Even non-Cyrus fans will agree she looks pretty darn amazing. 
Cyrus is the latest in a long list of super-cool It Girls who have posed for Jacobs, including indie darlings (Meg White, Helena Bonham-Carter, and Jennifer Jason Leigh) and big-name celebrities (Dakota Fanning, Victoria Beckham, and Sofia Coppola) alike. So does this mark (no pun intended) the final stage in Cyrus' transformation from tween star to full-blown fashion muse? We think yes, but you can tell us your opinion on Twitter and Facebook. 
P.S. The ads, shot by David Sims and styled by Katie Grand, are appearing in the February issues of magazines already on newsstands now, so you can tear these out and tape them to your walls ASAP.