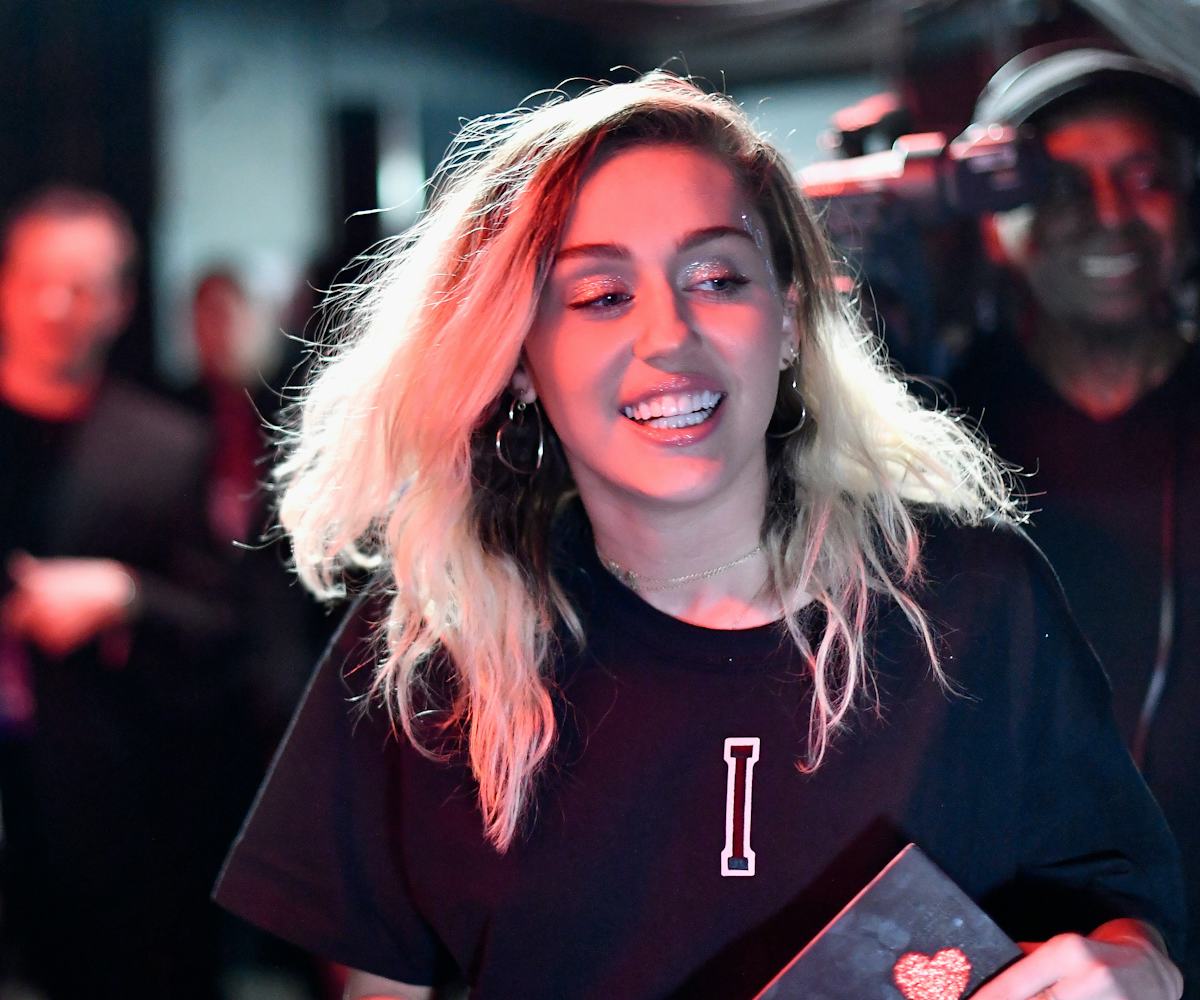 Photo by Frazer Harrison / Getty Images
Miley Cyrus Announces New Song, Talks Future Of America In New Interview
"I like the way I think right now. But don't Trump supporters like the way they think?"
We're not sure exactly where Miley Cyrus went during, what she's now calling, her recent "self-imposed 'media blackout,'" but that doesn't matter, we missed her regardless. Luckily, the pop star is back! Variety reports that the Cyrus scion will be dropping new music this month. Cyrus is also opening up about her upcoming releases and some of her other assorted thoughts, including those on the future of American politics, in an interview with Billboard.
Sources say that a new track, titled "Malibu," will be dropping on May 12. The song will be co-written and produced by Oren Yoel, who partnered with Cyrus for "Adore You" and Dead Petz songs, "Space Bootz," "BB Talk," and "I Get So Scared." News of the incoming jam was actually revealed by way of Cyrus' dad, Billy Ray, who wrote, "Looks like it's time to rock n roll @MileyCyurs #happy Excited to hear more of the new stuff !!!!! Turn it loose !" along with a picture of his daughter in a since-deleted tweet. No word yet on what the track will sound like, although writer John Norris, who got hold of some of her new songs early, characterized them as "somehow animated and serene at the same time," and specifically described "Malibu" as "a breezy love song about [Liam] Hemsworth—gimmick-free pop-rock unlike anything she has recorded before."
And although Cyrus' being relatively quiet about forthcoming music, she's speaking her mind on a lot of other issues. Here's some of what she had to say to Billboard.
On the new record: "This record is a reflection of the fact that yes, I don't give a fuck, but right now is not a time to not give a fuck about people... I'm ­giving the world a hug and saying, 'Hey, look. We're good—I love you.' And I hope you can say you love me back."
On her notorious tongue: "I was crazy about making the tongue slide work. I was so ­embarrassed to be on the red carpet and so many of those fucking disgusting­ photographers would tell me to blow a kiss, and that's not me! I don't want to blow you a kiss. I didn't know what to do with my face, so I stuck my tongue out, and it became a rebellious, punk-rock thing."
On straight men: "I always get in trouble for­ generalizing straight men, 'cause straight men can be my worst nightmare ­sometimes. And I'm with a straight dude. But he's always like, 'Well, don't call me that!' I ask him sometimes, 'Do you like being a boy?' And he's like, 'I don't really think about it.' And that's crazy to me, because I think about being a girl all the time. I'm always like, 'It's weird thatI'm a girl, because I just don't feel like a girl, and I don't feel like a boy. I just feel like nothing.' So when someone's too­ masculine, that really grosses me out."
On Trump supporters: "I like the way I think right now. But don't Trump supporters like the way they think? So I've also got to be open with the way I approach people with my opinions. That's the only way to make real change. And it's not because I want to sell records! I know now the ways that don't work. Because I went really hard during the ­election. But at the end of the day, we lost. We won, but because the system is fucked up, we lost. I thought, 'Okay. I learned my lesson on this one.'"
You can check out the full interview, over here.