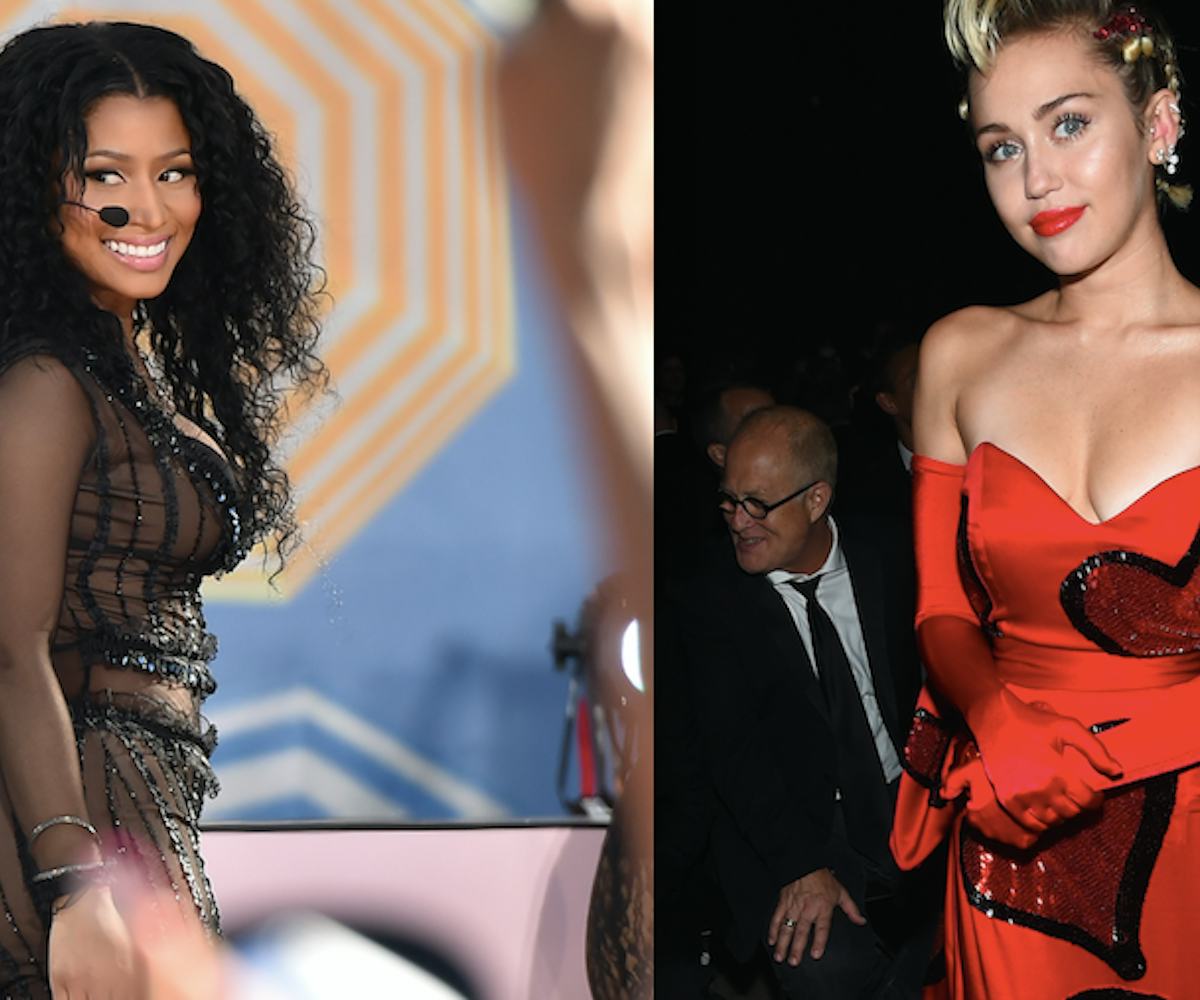 photo by theo wargo and larry busacca/getty images
miley cyrus doesn't agree with nicki minaj's tweets on vma nominations
It looks like the controversy surrounding Nicki Minaj's tweet about the VMA nominations hasn't died down yet.
Back in July, Minaj tweeted her thoughts on why "Anaconda" wasn't nominated for Video of the Year, saying, "If I was a different 'kind' of artist, Anaconda would be nominated for best choreo and vid of the year as well." This sparked a huge Twitter beef between Minaj and Swift, who interpreted the tweet as a jab at her and her own video, "Bad Blood," which was part of the nominated list. Minaj clarified that the tweet was not directed at any artist specifically, but rather it was a show of her frustration with how women of color are treated in entertainment.
The attention surrounding the tweet seemed to die down for a while, but Miley Cyrus just dug it back up. While speaking to The New York Times about the upcoming VMAs, Cyrus criticized Minaj for her tweet, saying, "You made it about you. Not to sound like a bitch, but that's like, 'Eh, I didn't get my VMA.'" Cyrus continued to point out that Minaj could have addressed her frustration differently: "If you want to make it about race, there's a way you could do that. But don't make it just about yourself. Say: 'This is the reason why I think it's important to be nominated. There's girls everywhere with this body type.'"
While Cyrus is speaking her opinion, it seems inappropriate for her to question how Minaj responds to her unhappiness at how black women are viewed and treated in the industry. It can be argued that Minaj "made it about [her]" because it is about her—it's a struggle that Minaj herself faces as a woman of color and an artist. For Cyrus to question and offer advice on how Minaj could have better done that doesn't seem like the right response to Minaj's original point.