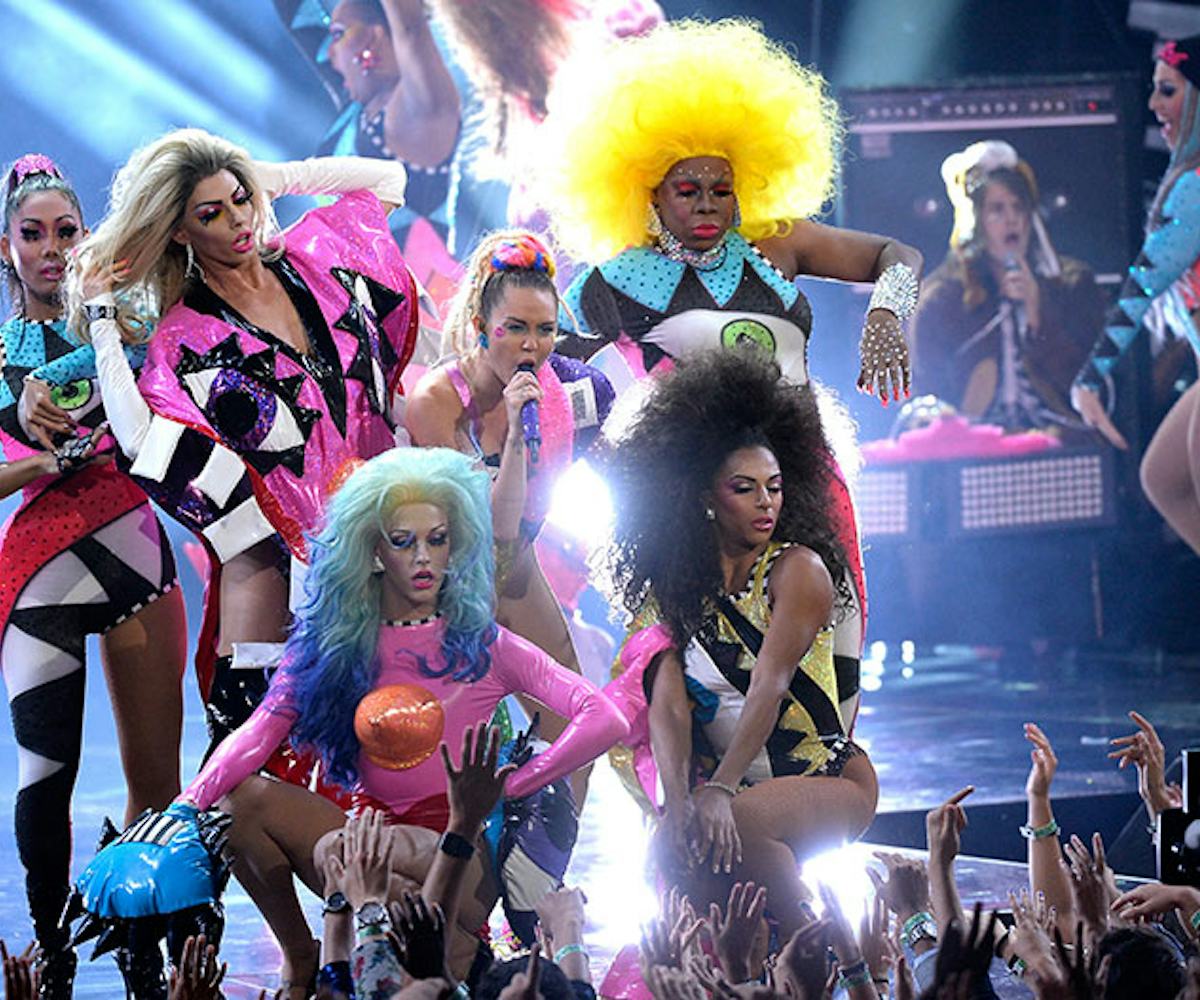 Photo by Kevork Djansezian/Getty Images
how to dress miley cyrus and 31 drag queens
Brad Callahan, for those of us who go deep into Instagram or are interested in the poppy flamboyance of downtown culture, is a familiar name. BCalla, a portmanteau of Callahan's name, is basically the label of every club kid's dream, the line that Macaulay Culkin as Michael Alig in Party Monster would have fainted over. It's an explosion of sexuality (though, maybe not "sexiness," at least in any traditional sort of way), glitter, latex, and Fun Fur. It is, of course, perfect for the VMAs, and even more so for the new queen of the night herself, Miley Cyrus. 
Brad, a pal of NYLON, gave us the scoop about designing for Miley's big night—plus her 31 "backup dancers"—all famous queens from former seasons of RuPaul's Drag Race. Having Miley call you for a major event is every designer's dream, but it's also especially gratifying to see Callahan get the shine he so deserves, due to his allegiance to the underground...and incredible talent, too. 
So, did Miley just call you up on the phone?
Simone Harouche, Miley's stylist, contacted me about pulling for a "promo shoot." I sent over a bunch of options and Miley fell in love with [Warning: Link NSFW] this oversized two-way sequin neon pink trench with a giant monster face in the back that I made for my last season. That's when they asked me to start sketching for a "performance." I had no clue it was for VMAs 'til they announced her involvement and confirmed it with me.
Was it her team's idea?
Yes, they reached out to me—all I did was design the clothes. They even assigned the looks to the queens—although some of the looks are very fitting to their personalities. They weren't really designed with specific queens in mind, except for Pearl, as she is a good friend and I was costuming her tour right before this gig.
Did you do different outfits for all of them?
Yes, there are a few styles and cuts repeated but it's 31 looks, and 31 individual patterns. 
Is this all custom?
All 31 looks are custom. They are split into three sets: The first set is all hand airbrushed and rhinestoned, the second set is all patchwork vinyl, and the third set are 3-D foam-lined pieces. It took a team of three sewers, three assistants, my airbrush guy, and my boyfriend three weeks to complete the garments and then another week of fittings and alterations in LA. 
What sort of mood or vibe was her team wanting to create?
They just wanted something fun, something outrageous. They started me sketching by sending me inspiration images, I reacted to the images and from my sketches a direction was born.
How does one wrangle that many queens? 
Everyone is so excited to be a part of the show and so eager to be on that stage the wrangling wasn't such an issue!
Did you think at all about her twerking performance of her last VMAs?
Yes, of course, but more than anything I've been thinking about all of the iconic moments at the VMAs, and me being plastered to the TV every year as kid, wondering who will wear what and what stunt will be pulled. It's surreal to actually be a part of something like the VMAs, which was such a big part of my childhood.
Can you tell me the story of the collaboration? Are you nervous? Excited?
I'm super excited! How could one not be? Simone sent over some really awesome reference images that were really easy to be inspired by, but I really took inspiration from two of the images: The first being a vintage picture of two little kids at a carnival wearing giant paper mâché heads as backpacks, and the second being that iconic image of Bowie in custom Kansai Yamamoto. My coat from last season was also a big jumping off point: The mouth of the face on the back of it opens and closes as you walk, so we wanted some 3D interactive elements like that throughout the looks. As the sketches developed, I noticed I was adding a personal reference to the '90s cartoon Aaahh!! Real Monsters so immediately I started to binge watch episodes while I designed—Oblina, krumm and The Gromble are definitely in there and having fun. Miley's look was a bit more involved and took several rounds of sketches, but my favorite part of that experience was Miley requesting a gold tooth in her outfit and then immediately changing it to braces because, "She is promoting braces, not grills now." And I could really get behind that train of thought.