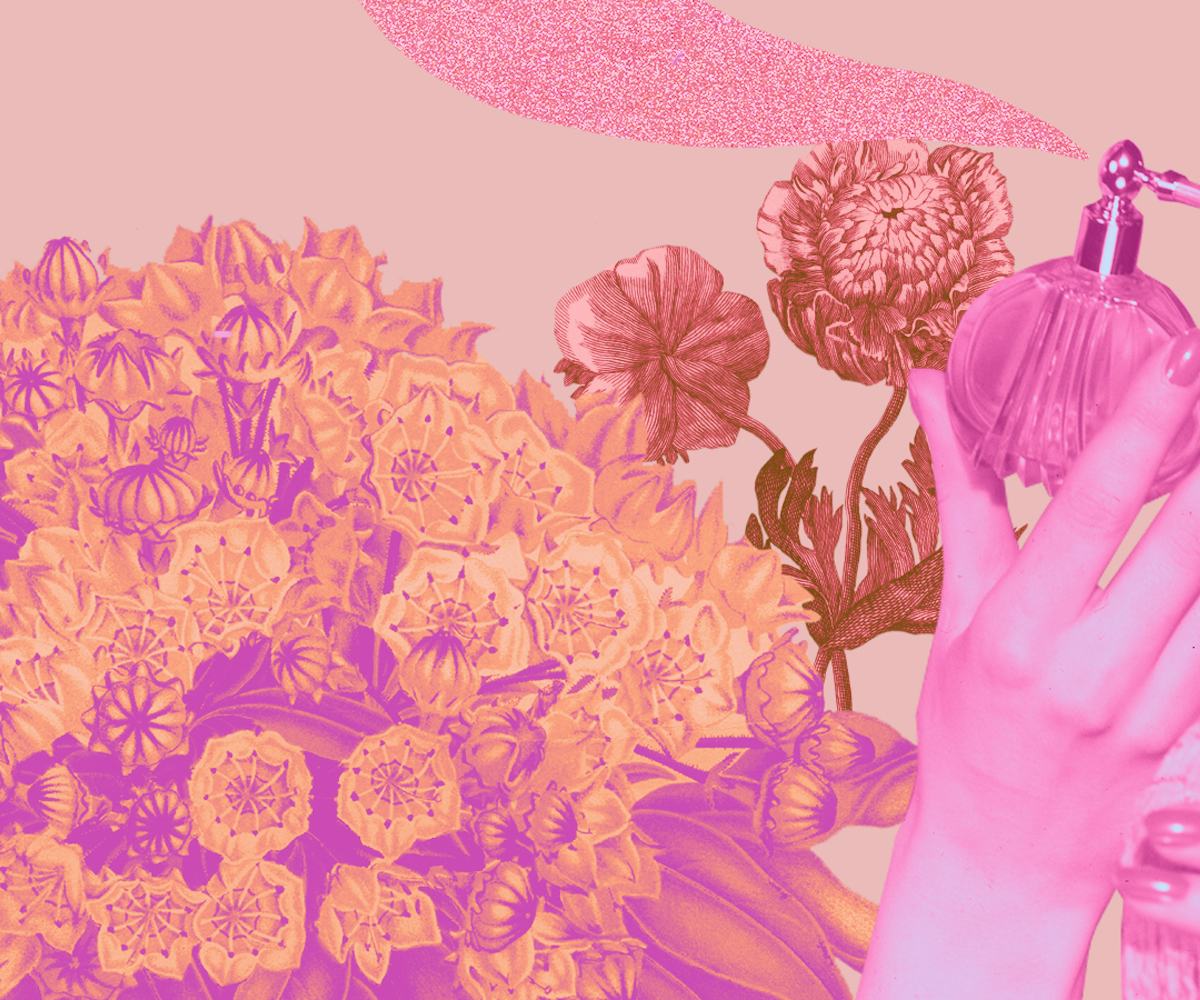 What Does Millennial Pink Smell Like?
Talking with The Dry Down's Rachel Syme and Helena Fitzgerald
On a Wednesday night this spring, I found myself surrounded by a crowd of young women (and a few young men) in the Arlo NoMad Hotel in Manhattan, all of us sipping wine, hovering over samples from Eris Parfums, and waiting in line to draw a tarot card that might reveal our next signature scent. All of us were here for one reason: We had been drawn to the world of perfume by the same gorgeous and irreverent fragrance newsletter, The Dry Down.
Launched by journalist Rachel Syme and essayist Helena Fitzgerald last December, The Dry Down ushers readers into Syme and Fitzgerald's mutual love affair with perfume, cracking open an enigmatic world long inaccessible to outsiders. Their commitment to making scent easy to navigate, relevant, and fun has caught on with readers and retailers alike. In a few short months, the newsletter's number of subscribers has shot into the thousands. Their growing audience inspired Dry Down Live, the event I attended this spring, which sold out in less than a day. Meanwhile, the newsletter's recent partnership with Racked and Twisted Lily—offering the pair's take on scents for spring—is Twisted Lily's highest-selling sample pack for May.
No small part of this has to do with the offerings of intimacy and knowledgeability Syme and Fitzgerald both bring to their project. Syme, who has reported on niche perfumerie for The New York Times and twice received a Perfumed Plume Award award for fragrance journalism, brings a wicked sense of humor to The Dry Down. In her hands, castoreum—one of the musky animalic notes that hints at body odor and sex—becomes simply "beaver ass." When she's not keen on just sharing the joke, she turns artful, as in her take on Diptyque's Olene: "Sticky and sweaty and almost feral… right on the side of appropriate."  
Both women pin particular scents to memories, boyfriends past and present, family members, and snapshots of a rough-and-tumble 20-something's existence in New York. As a personal essayist and columnist for Catapult, Fitzgerald shines in the area of feeling and memory. Here's how she describes one of her favorite leather scents in The Dry Down's latest dispatch:
Metal Hurlant is another Pierre Guillame (swoon) creation, from his Collection Croisiere, and it smells like my bad news boyfriend from the summer when I was eighteen. Or rather, it doesn't smell like him at all, but it smells like the idea of a boy who's a rebel, the outdated and clichéd image of a guy in a leather jacket on a motorcycle riding in to sweep you away into bad choices. It's big and loud and has nothing soft or surprising in it, all metal and gasoline and leather. 
The newsletter's open invitation into Syme's and Fitzgerald's recollections makes the effect of reading The Dry Down intimate and a little goofy—maybe, at times, even a little melancholy—but, because it's impeccably and artfully presented, you have access to insights into the world of scents that you would never have imagined otherwise. 
Syme and Fitzgerald write through metaphor and simile, always trying to get closer to what a scent is by describing what it reminds them of. By taking away the department store stuffiness that many associate with the world of perfume, The Dry Down transforms the milieu from one designed exclusively for the wealthy or brand-conscious into one of play and self-discovery. 
Each issue is littered with links to sites like Twisted Lily and LuckyScent, which offer relatively inexpensive ($4 to $6 a pop) perfume samples of bottles that can cost as much as $350. It's not uncommon to read one of their digests and wind up with an order for six glass vials of scents you never knew you needed, like Montale's Intense Café, for when you might want to smell like ordering a Frappuccino at the mall, or Equus No. 8, for when you need to smell like a horse, as you do.
I caught up with Syme and Fitzgerald earlier this month after they'd had time to digest the success of Dry Down Live and their Racked partnership. We met at Sauvage, in Greenpoint, where, thanks to its cane-backed café chairs and wide, glossy bar with brass accents, it's possible to imagine you're not in New York at all, but in Paris, only steps away from some of the greatest noses in history. We chatted about the origins of The Dry Down, unusual scents for spring, and how to match a perfume to some of our favorite trends.
Can you tell me about the genesis of The Dry Down and where the project is taking you?
Helena Fitzgerald: Perfume has always been a part of our friendship. It's something that we write about professionally but also something that's important to us personally. We would always write each other long emails and texts about perfume, then we'd have hangs where we would try on seven perfumes at once.
Rachel Syme: When LuckyScent made it possible to order samples online... that was big for our friendship. We would both order a bunch of samples on LuckyScent, get our packs, rip them open, and then text each other. At the same time, I started writing for the Times' style section [about scent] and started talking to people in the perfume world. I also felt that the corporate writing about perfume is so PR. You say the notes—this is a top of rose and a bottom of ambergris and a heart note of sandalwood—and it doesn't do anything to bring humor, light, or actual lived experience to [perfume]. 
HF: Because that corporate writing about perfume [has] no door in the wall, if you don't already know what that stuff means, there's no way into it, and there's nothing that's going to attract you to it. This is for people who already know about [perfume], and there doesn't seem to be any process by which to become one of those people. That was, for me, one of the things about starting The Dry Down. This can be playful, this can be something that is about lived experience, that isn't about scientific categorization that is not accessible and very static. We'd wanted to do a collaborative project for a long time, and we wanted to find the right one...
RS: ...and we realized it was already happening, it just wasn't public. We're writers first. This is a writing prompt for us. We found that the more hyper-specific we could be, the more universal it felt to people.
HF: We definitely want to do more events. The event was so much fun, for the sense of community we've been talking about. We want to bring in more bloggers for the Tiny Letter…
RS: ...and for the podcast. We've recorded the podcast, we're just producing it right now. That's definitely the future. What we're most interested in is creating a community around The Dry Down. We want you to know that when you go to a Dry Down event, you'll have this open space to talk about memory and creativity.
You recently wrote a piece for Racked about ideal scents for spring, but one of your pieces of advice for readers is to avoid thinking about only wearing certain perfumes during certain seasons. What are unusual scents for spring you think readers should consider?
HF: My boyfriend's favorite scent right now is by D.S. & Durga called Mississippi Medicine, which is very, like, spice and smoke and patchouli. It's supposed to smell like the medicinal rituals of Native Americans in the South. It's gorgeous. It's the kind of scent that conventional wisdom would say that you should never wear in hot weather, but it smells great on him in the summer; it's just very sharp.
RS: I've been wearing this scent called Dark Moon from a perfumer called Dawn Spencer Hurwitz, who has an independent perfumerie in Boulder, Colorado, and is probably one of the best independent perfumers in the country. She's a genius. The smell is unmistakably chili and chocolate and should not be worn—if you were to do seasonal rules—in this time of year because it's actually a Christmas smell. It smells like hot cocoa and burning cedarwood and mulling spices. It's just so festive and sumptuous, and I've been feeling like I've wanted to drag some of that energy with me into the spring.
What do you imagine millennial pink smells like?
RS: Santal 33.
HF: Because every store that is conscious of millennial pink as a trend has either literally sprayed Santal 33 in the store, or has been passed through by so many people wearing Santal 33 that it lingers in the air.
RS: But also because of the very nature of millennial pink. It's this color that's supposed to be high femme but also gender-neutral. [Santal 33] is a powerful scent, but it's also gender nonconforming. It's clean, it's cool, you have a sense of feeling very modern when you wear it. I would also say Mojave Ghost or Gypsy Water.
HF: Gypsy Water! Gypsy Water smells like millennial pink.
What would you recommend for someone who wants to smell like Mitski's Puberty 2?
HF: There's that moment on "Best American Girl," when everything kicks in. It's that sense of something bigger than yourself lifting you up and carrying you away. So you could do a really dank jasmine or an oud.
RS: It could be that, or that combined with something like D.S. & Durga's Coriander. It's really really clean, and she has that lyric, "Today I will wear my white button-down/ I can at least be neat/ Walk out and be seen as clean."
HF: Do you think it could also be After the Flood?
RS: After the Flood is a really gorgeous post-rain scent. The main note in it is mushroom, which sounds funky, but it's actually beautiful and rich. There's the sense with that record that there are the delicate, quiet moments and then there's the explosion, so I think it would be those two things in concert.
Which scents would you pair with the idea of stealing your partner's leather jacket or wearing a bomber jacket this spring?
HF: There's a really obvious one that both myself and my boyfriend are obsessed with currently. It's the most literal possible answer to your question. It's called Metal Hurlant by Pierre Guillaume, and it's just supposed to smell like a biker. It smells like diesel and leather and a little bit like sweat, but it's a lot cleaner than you would expect from that description.
RS: My answer is also hyper-literal, and it's one that I recommend a lot. It would be Mona Di Orio's Cuir. Her leather is the ideal of leather. It smells like the inside of a suede bag, like a driving glove, like a riding crop. It's leather before it's scuffed. It's the opportunity of leather. For me, that feeling of putting on a leather jacket before you've broken it in is one of my favorite feelings. And that's what that perfume smells like.
You can subscribe to The Dry Down newsletter here.