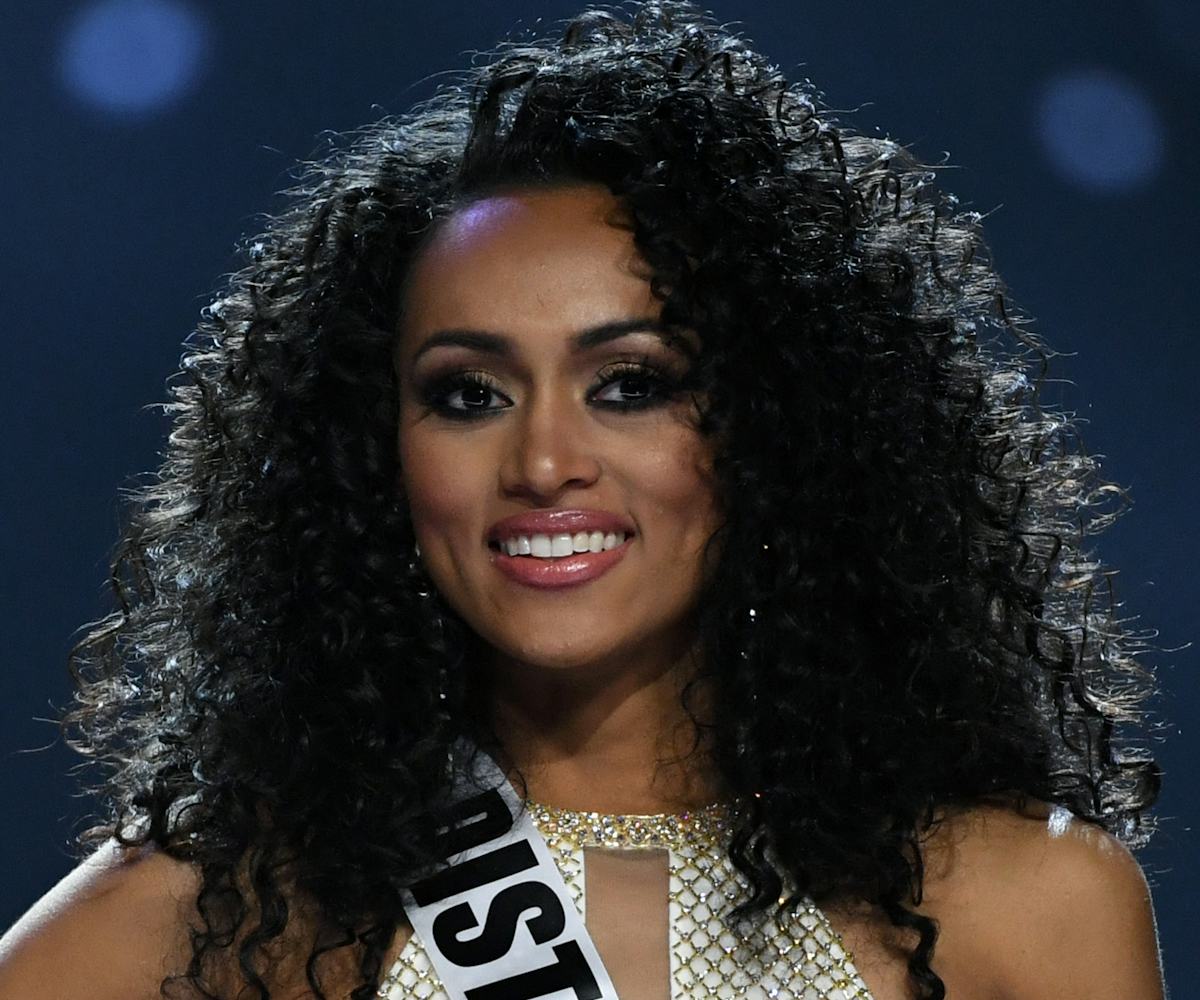 (Photo by Ethan Miller/Getty Images)
Miss USA Winner Has Some Controversial Opinions About Feminism And Health Care
We were all rooting for you, Kára McCullough
Miss District of Columbia, Kára McCullough, made some problematic comments about health care and feminism when being interviewed during last night's Miss USA competition, for which she took home the crown.
McCullough, a scientist working at the U.S. Nuclear Regulatory Commission, was asked if health care is a right or a privilege, to which she replied: "I'm definitely going to say it's a privilege." The response immediately sparked a reaction on Twitter. 
She went on to add that, "As a government employee, I'm granted health care, and I see firsthand that for one to have health care, you need to have jobs. We need to continue to cultivate this environment that we're given the opportunity to have health care as well as jobs to all American citizens worldwide."
When the subject of feminism came up, McCullough received even more internet backlash for perpetuating a common misconception of the ideology. 
"I'd like to transpose the word feminism to equalism," she said, to many eye rolls around the world. "I don't really want to consider myself—try not to consider myself like this die-hard, you know, like, 'Oh, I don't really care about men.' But one thing I'm gonna say, though, as women, we are just as equal as men when it comes to opportunity in the workplace."
Of course, feminism doesn't mean disregarding or disliking men. A lot of men and women who love men consider themselves to be feminists. Feminism simply means you believe women, men, and all genders should be socially, politically, and economically equal. It means exactly what McCullough described. 
Despite her denouncing the label of "feminist," McCullough has supported the empowerment of women in the realm of Science, Technology, Engineering, and Mathematics (STEM). According to Newsweek, she runs a community outreach program that focuses on tutoring children in science and math and speaks about gender inequality in the STEM fields. 
"The ratio of men to women in the nuclear industry is 24:1," McCullough wrote on Instagram on International Women's Day. "That speaks volumes about gender inequality. Without surprise those statistics are driving me. I am working diligently toward my goal to provide students the opportunity to experience and experiment (no pun intended) with these fields of study before college. A renaissance of women industry leaders is only a hair flip away."
It's definitely something to celebrate that Miss USA is a woman of color, a nuclear scientist, and an education advocate, but perhaps it would help her to have a conversation with Miss New Jersey, Chhavi Verg, who when asked the same question about feminism replied: "I do consider myself a feminist. There's this misconception when people believe that feminism is women being better than men, but it's really not. It's a fight for equality."