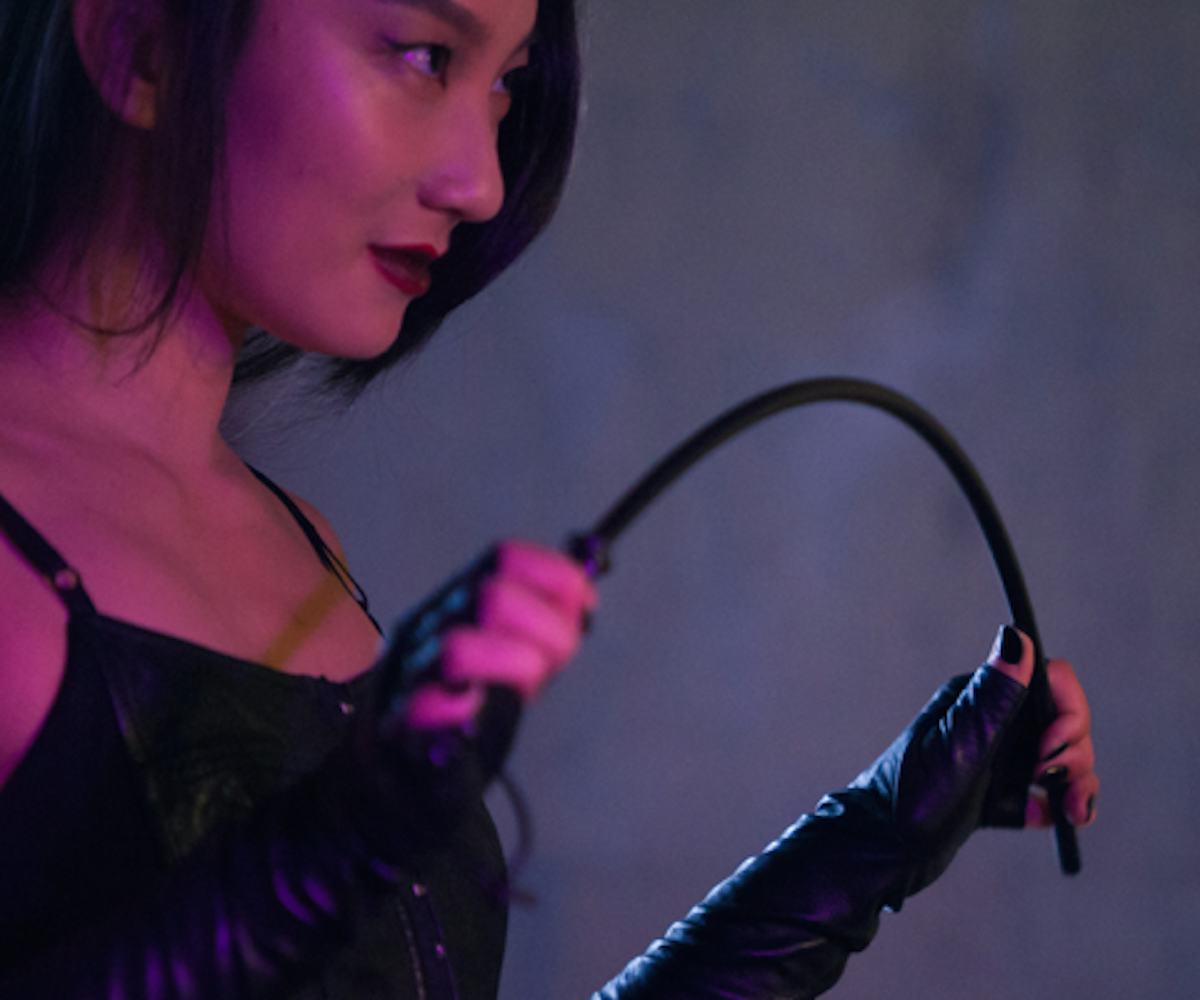 Photo via Collective Sex/@MarcusLikesIt
'Mercy Mistress' Is A Show About Reclaiming Queer Asian Femme Sexuality
We speak to creator Yin Q and star Poppy Liu about the series
As an Asian femme, i.e. someone who embodies an identity not often associated with power or dominance, former professional dominatrix and S&M practitioner-educator Yin Q felt like the story of the Asian femme, a story of "power struggle and pain, or what it means to experience bondage," had gone mostly ignored. Cue Mercy Mistress, a forthcoming 10-part web series based on Q's memoirs, that seeks to illuminate the healing and empowerment that can come from healthy, consensual pain.
Together with Collective Sex—an organization co-run by star Poppy Liu that is focused on decolonizing queer and femme stories about sex, body, and healing—Q recruited a cast and crew of primarily queer, women, POC, and/or gender-nonconforming people in order to emphasize the importance of storytelling through an authentic lens. After all, as Liu points out, so many queer and POC narratives have been co-opted by those who have traditionally run the film and TV industry, so, in a way, Mercy Mistress acts as half entertainment, half education, and, most importantly, essential reclamation of queer Asian femme sexuality. Read our Q&A with Liu and Q, below.  
Can you tell me a little bit about this project and why it was important for you to see this come to fruition? Was it scary to put your personal story out there?
Yin Q: I got into BDSM out of pure necessity... It was a great tool for me to actually reclaim my identity, my body, and agency over sadism. Growing up into a violent household, sadism was all about being an abuser to me. Then masochism came in during my sexual awakening, but it didn't come in a very safe, sane, and consensual way, so I have always found it really important to share the message that BDSM can be deeply spiritual, and it can be deeply healing. It's fun, kinky, naughty, fantastic, dirty sex, but it can be transformative and transcendent, as well.
I was writing a memoir first, and I did get stuck telling my own story. I always felt telling other people's stories was important though. When I started that writing about the people that I've met—the other submissives I worked with, the people that I have personal relationships with—those were the stories I didn't want to betray the truth of. So going into script form—where I could be much more creative and take someone's experiences and traits and mesh them with a bunch of other characters—became really liberating. I didn't feel like I have to be quite as true to form to one person in my life in terms of exposing them. A memoir is a very lonely process. You're writing about your own personal experience, sending it out there, and then hoping someone likes it. Turning it into script was so much fun in terms of being able to hear the voices of the other characters come alive on paper. It was like I had those people became my community. And then, there was my greater community as well—I brought [the script] to Poppy and all these other incredible collaborators and people who have made this series possible. I feel like I'm in a family. I truly feel held. 
It was terrifying because there are certain communities that I am coming out to constantly. Like, I am a parent, so coming out to my parent community about my project was a huge step for me. I showed the parents of my kids' friends some of the work that I was doing, and I nearly had a panic attack. But Poppy and other friends who have always known what I have done were in the room, and it just felt like, "Okay, well this is the reason why I'm doing it."
Poppy, why were you're interested in doing this project?
Poppy Liu: I have so much love for Yin—like, we just love each other a lot. I share that as the first thing because I feel strongly about decolonizing media, especially as queer, femme, non-white people. Part of that act is rooted back in a place of community, love, and healing... But for this project, in particular, it's notable that, in the six months before this happened, I had just finished creating a story that was based on my own abortion story; it's a short film called Names of Women. Even though I am a very pro-choice person and someone who felt really empowered in their decision, not to mention privileged and lucky that I had easy access to getting an abortion, I had this very confusing feeling of feeling really lonely through the whole thing. This was in 2015. And so a couple of months after that, I shared my story publicly at a Collective Sex event, and, for me, to speak about this story the way that I experienced, it undid some of that loneliness. I got so many messages from people, privately and publicly, being like, "Me too, I had an abortion too." And the surprising part was that most of these were like really good friends of mine, and we just didn't know this about each other. So here we are living in these islands of isolated loneliness, not connecting about this at all... 
I share that because I feel like there is a similar framework with telling stories that de-stigmatize BDSM and sex work. It's all connected. When you have an identity that is not represented in the world, one that's really dangerous. Those narratives aren't told by ourselves. Yin and I have been friends for a while, but we didn't know what each other's work was. But a year ago, we had a conversation at a friend's birthday party about the work that we do, and it was this really beautiful moment of being like, "Whoa, we are really feeling each other." I think part of that was not just that we were talking about work that deals with stigmatized parts of our lives and our work, but also how that intersects with being queer Asian people.
What was your dynamic like on set? Yin, how did you deal with watching someone play your life? Poppy, was it nerve-racking to have Yin watch you tell her story?
PL: It was a very humbling experience. When I was doing character work on it, which was mostly just spending a lot of time with Yin, they really generously invited me into different BDSM worlds. A lot of Yin's friends who are other pro-dommes also generously invited me to certain client sessions of theirs and come in as a student. I keep on calling myself a baby-domme, because I am, but to really learn and absorb everything... it was a really, really humbling experience. 
I had a friend who was like, "This is a really special experience to play someone who you know, respect, and love, and who's also alive." You don't have to guess about anything. That person is there, and you're doing this out of so much love for them and wanting to bring as much honesty, truth, and complexity to their story. But it definitely was like, "This is something really, really precious." I held it really close, like, "I want this person to feel themselves represented through this."
YQ: It definitely felt a little narcissistic on my part. Writing the script, I did think about just changing the name and making it a totally different person. But I had been writing memoir for so long and I thought that there was something to in saying that it was my story. Within that character, there are also all of my faults, and I [wanted to create a story that showed] that sex workers are humans, and it's not gonna be this perfect story of a sex worker who is perfectly rounded and does yoga to decompress, you know? Sometimes she needs five drinks of vodka to decompress from a certain client. It's not gonna be neat and tidy. It's also not about somebody who's broken and feels like she needs to victimize herself to everybody in the world.
Why do you think we're finally just getting these narratives now, particularly about sex workers?
YQ: To be honest, in my generation, a lot of dominatrixes did not consider themselves sex workers, especially when I was starting off in the '90s and early '00s. There's a certain generation of dommes who, because they're not having conventional sex with their clients, drew a line between themselves and escorts, massage parlors, and strippers. They thought of themselves as a different category of erotic work. I think that a lot of social media and access to online platforms is a big reason why sex workers can actually unite and form communities now. Something that I've also seen is [the importance of] Twitter. We work indoors, we work isolated, we're working with a particular client, and are surrounded by clients mostly, so to have that social network is really important, and that's why I think activism has grown. [It's important though] because the cultural stigma against sex workers is what keeps us isolated and puts us in danger, both mentally and physically.
What are some examples of things sex workers can do to stay safe on a basic level?
YQ: The most fundamental thing is just to have a community. Have other sex workers that you see face-to-face on a regular basis, at least once every two weeks, if not once a week. You need to always have people that you can call—and lawyers that you can call. There is a national organization of lawyers that supports sex workers and activism on all fronts who are ready to be called upon for pro-bono work. Just knowing your rights, in terms of what to do once law enforcement comes in, is important. That's something I have done regularly—create groups that will have lawyers come in to speak about what your rights are as a sex worker and what to do if a law enforcement shows up at your door or undercover as a client.
However, I feel like one of the reasons I feel really confident about going forward and being able to be an out advocate for sex workers is because I no longer advertise as a sex worker. When I was in the industry, it was very hard to be out. I would do advocacy work, but certainly coming out as a sex worker in public... there's paranoia.
Just from watching the trailer, it seems like a big topic of the series is about unpacking toxic hetero-masculinity. Why did you also want to incorporate this story line? 
YQ: If we want women to be dominant, we have to talk about male masculinity. We have to talk about what it means to be a man and about being a vulnerable man. Also that's been my career—talking to these men who come in and have a deeper story to tell. The reason that they come in with so much shame is because their story is also not being told, because the only narrative they have is about holding guns, being buff, and drinking beer. So I also wanted to also champion the idea of the submissive male as a balancing point. There has to be a balance. Speaking of [star Daniel K. Issac], I think it's ironic that he is gay, Asian male who is playing a straight male unpacking his sexual shame. It's such a wonderful, complex layer to have because he is playing a straight guy when [most Hollywood productions like] Brokeback Mountain are applauded by everyone. 
On that note, I think base level, sex work let alone sex itself is still pretty stigmatized amongst the Asian-American community. Do you think that's changing at all? 
YQ: I think it's changing in the younger Asian-American communities, for sure. I don't think that it's changing in my mother's generation, but maybe my generation and younger, because I feel like we're Americanized, and [in America that's] also something that is starting to come out more. 
PL: I'm first generation Chinese-American, and the idea of the "Asian-American" is so specific, because it's this hyphenated identity. Like being from a place of origin and being here is such a specific type of story, and I feel like the only [times I've seen these narratives have still just] been through a white lens. I also think what's interesting with Asian sexuality, especially as Asian femmes, is that our bodies have been sexualized in so many ways by other people. So there's something very subtle and nuanced about reclaiming some of that and being able to be like, "I'm still a sexual being." Rejecting the patriarchy sexualizing me is not me saying I'm not sexual, it's, like, I am sexual, but it's on my own terms. I think that switch is happening. I feel like I see a lot of men who are like, "Wait, you're feeling yourself, and you're sexual," but they're confused because they're like, "It's not for me," because it's only been portrayed as something that's for other people. 
But there's also something really interesting about intergenerational Asian-ness, especially my experiences as a first-generation person. I think a lot about my parents' oppression. We have both faced different kinds of oppression immigrating here, but because of our different generations, the oppressions we feel are different, and they manifest themselves differently... I think about when I shared my abortion story and went public with it, I sent it out to thousands of people's mailing lists and dropped this video. I got a call from my mom a couple hours later and, to my surprise, she told me her abortion story. And that whole year I hadn't told her my story because I didn't know how to tell her... so I created this film in a way to tell her that. And little did I know, she was like, "Me too," and she said my grandmother doesn't know. And then I think about Yin and her mother, who came to her [dungeon], and I think about what that means as immigrant people and this intergenerational healing.
YQ: I also feel like there are so few Asians who go into media. I think that's changing, and we see that in Hollywood now. But, still, for us to be here is remarkable. I think that we're always stuck on this idea of the immigrants coming here and then going instead into other respectable jobs. But also, as Poppy was saying, I grew up with all these images of Lucy Liu... this idea that the Asian woman is always the consumed. So it's interesting for me to say, "Okay, I am a sex worker, but this is a difference within agency." The same idea, exactly what Poppy was talking about before—of being able to own your sexuality. This is my agency to commodify it on my terms, rather than having something as sort of a victim basis, and that's what's important.
For more information about Mercy Mistress s premiere check out their website.