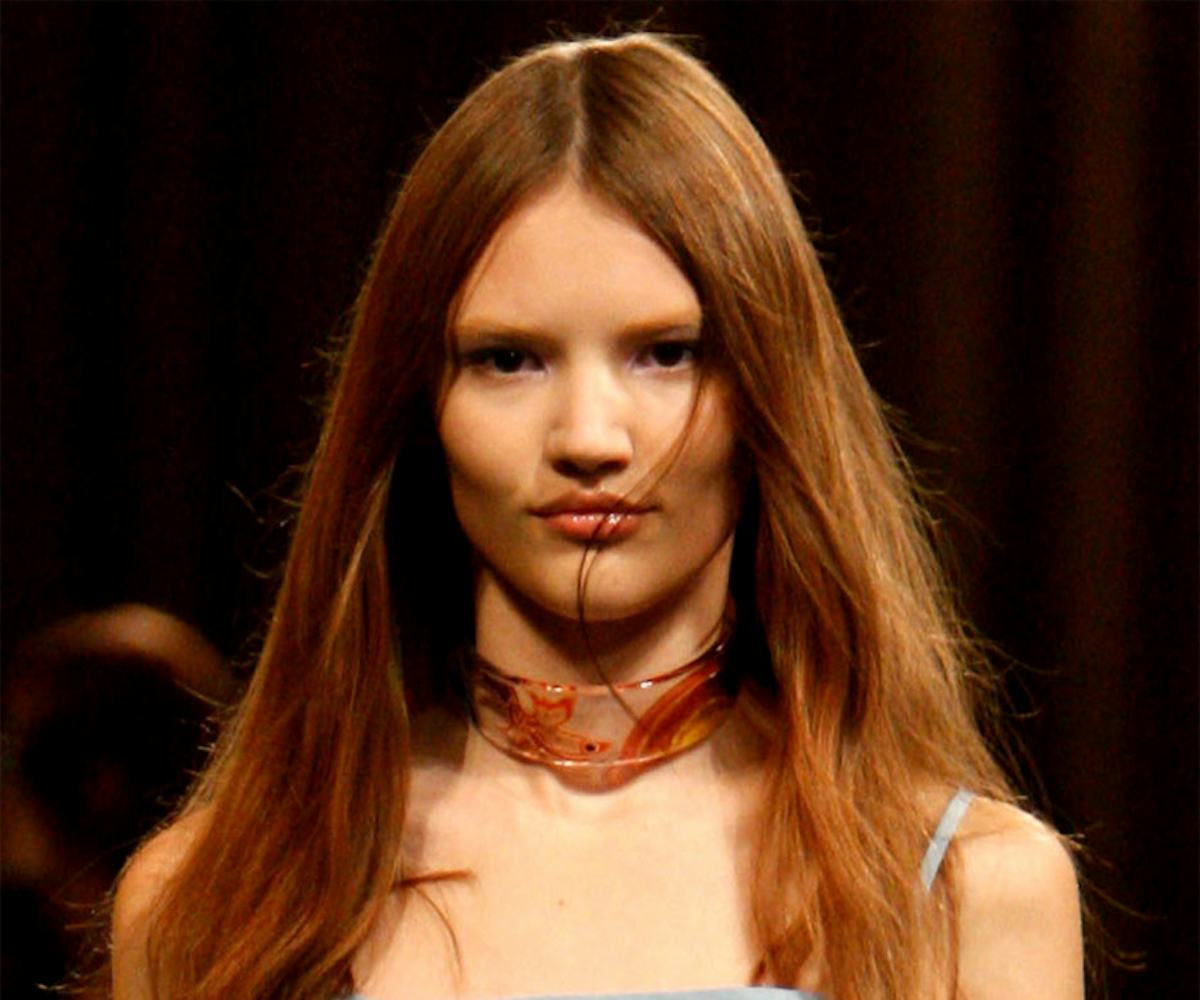 sticky and sweet
never be afraid to wear lipgloss in the wind again thanks to miu miu.
The Miu Miu spring '14 show took place in Paris this morning, and aside from the gorgeous pastel coats and beaded dresses, the thing we're obsessed with is the lipgloss. That's right, lipgloss is back! 
Not only are we glad that our favorite early aughts beauty trend is having a moment yet again, but we're extra-excited about the solution posed by Miu Miu makeup mastermind Pat McGrath to that chronic hair-stuck-on-lipgloss problem we've all faced during windy days: leave it there. McGrath artfully placed a strand of hair over each model's lips to create a schoolgirl cool vibe. Your mind may say "no" to this trend, but your heart knows that this romantic look is a total "yes." 
For us, it's evoking memories our favorite teenage idols, like Cher from Clueless driving her Jeep Wrangler with the windows open, Lyla Gerrity on the sidelines of a Dillon Panthers game in Friday Night Lights, or Lil' Mama dancing through the hallways of her high school chanting about her awesome gloss. The look is young, carefree, and just plain old fun! 
To help you try out the Miu Miu beauty look, we've compiled our favorite lipglosses available now. Shine on!
Lorac Lip Lustre Gloss in Peach -- $15
Chanel Levres Scintillantes Lipgloss in Plaisir -- $29.50
Nars Lipgloss in Orgasm -- $25
Dior Addict Lip Gloss in Fresh Expert -- $31
Lancome Juicy Tubes in Tickled Pink -- $18
Bobbi Brown Crystal Lip Gloss in Clear -- $19
Maybelline Color Sensational High Shine Lipgloss in Glisten Up Pink -- $5.59
Covergirl xThe Hunger Games Lipslicks Smoochies Sizzle Gloss in Turn Up The Heat -- $
Marc Jacobs Beauty Lust for Lacquer Lip Vinyl in Shimmering Pastel Pink -- $28
Sephora Collection Glossy Gloss in Pink Macaroon -- $12