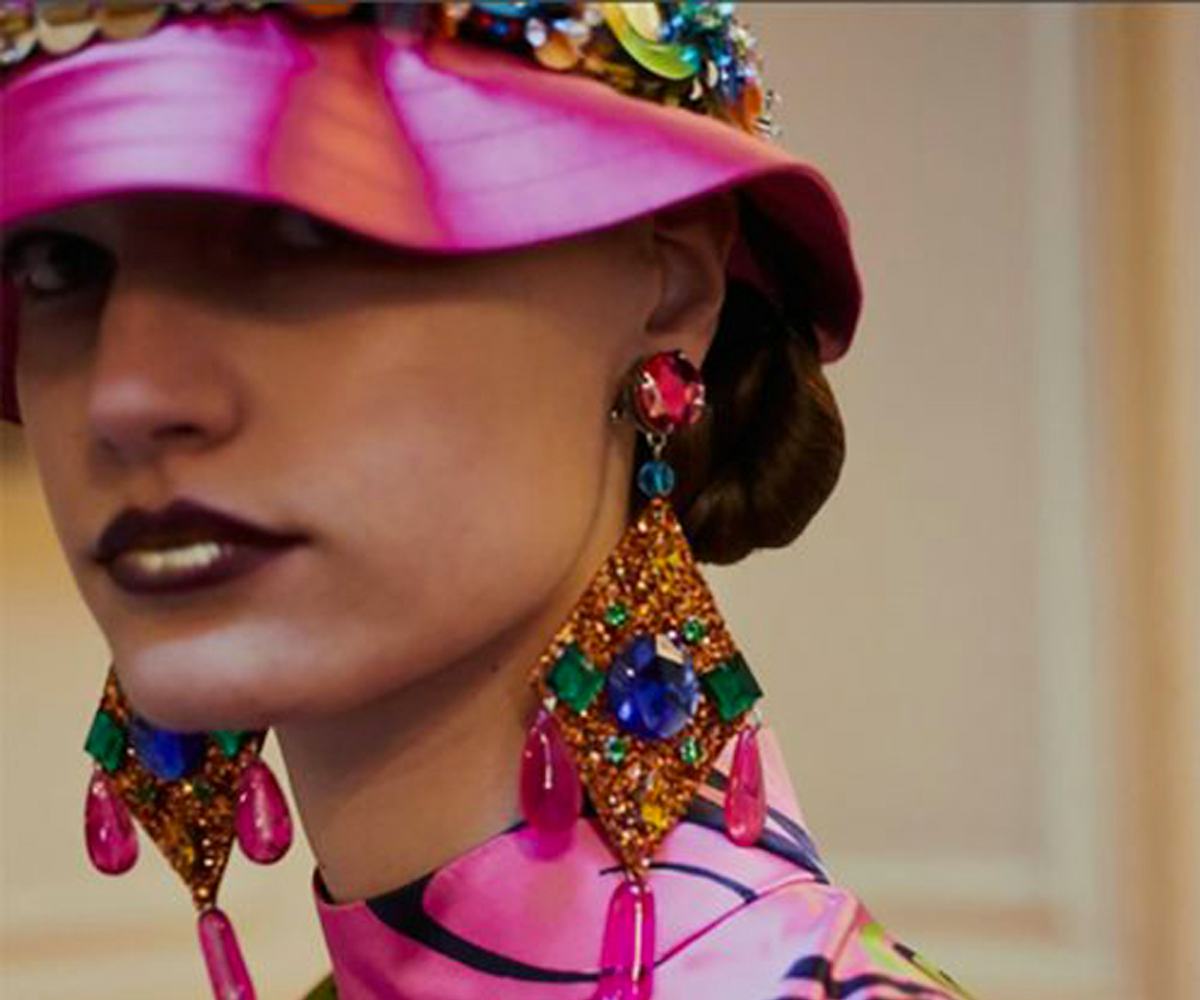 Photo via @miumiu Instagram
Miu Miu's Latest Resort Collection Is A '90s Raver's Dream
Bucket hats and platforms and bangles, oh my!
Prepare to take a nostalgic trip back in time with Miu Miu's new resort collection. The latest from Miuccia Prada brings out the inner '90s club kid in all of us, with an explosion of color in our favorite raver silhouettes.
Over the weekend, the brand presented Resort collection by throwing quite the party. Set in one of the most lavish mansions in Paris, Hôtel de la Païva, Miu Miu celebrated the opening of couture week at their celeb and fashion insider-filled party at the 19th-century mansion known for hosting some of the most decadent parties of the past few centuries. The colorful and dizzying pieces were displayed on mannequins throughout the floor, and guests were able to walk through and check out her newest designs while drinking and dancing to songs DJed by none other than Kate Moss and Katie Grand. 
The clothes themselves were a serious ode to the '90s with a can't-miss-it rave-inspired edge. Baggy pants and multicolored satin bucket hats were paired with backpacks and dresses in planet prints, stacked rainbow bangles galore, and a fair share of chunky platform boots and Mary Janes. All the candy-colored collection needed to take us back in time were some glow sticks.
Check out the video below to take a closer look at the collection through the eyes of a partygoer and click through the gallery below to take a look at the full look book.
Miu Miu Resort 2017
Miu Miu Resort 2017
Miu Miu Resort 2017
Miu Miu Resort 2017
Miu Miu Resort 2017
Miu Miu Resort 2017
Miu Miu Resort 2017
Miu Miu Resort 2017
Miu Miu Resort 2017
Miu Miu Resort 2017
Miu Miu Resort 2017
Miu Miu Resort 2017
Miu Miu Resort 2017
Miu Miu Resort 2017
Miu Miu Resort 2017
Miu Miu Resort 2017
Miu Miu Resort 2017
Miu Miu Resort 2017
Miu Miu Resort 2017
Miu Miu Resort 2017