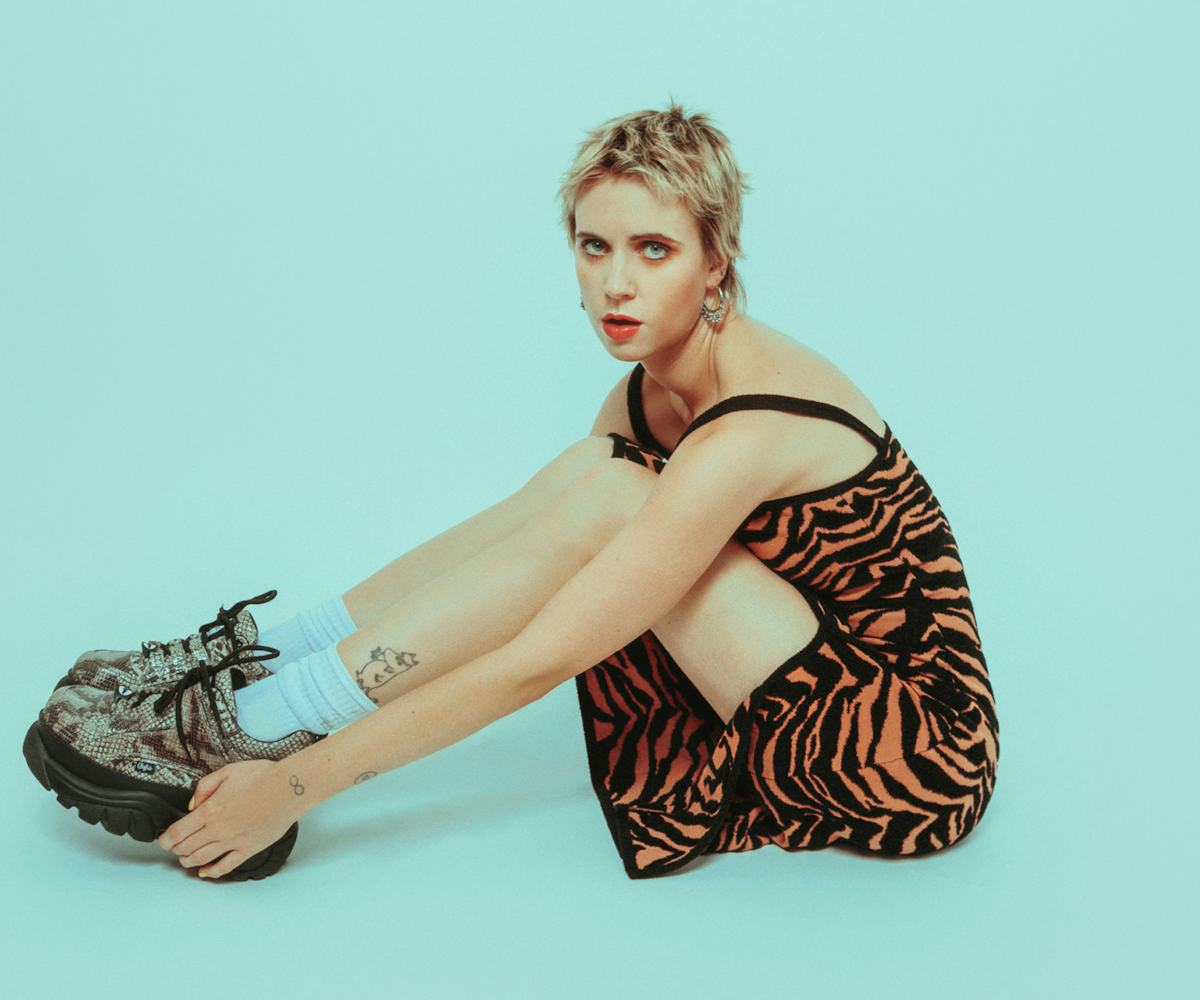 Photo by Savanna Ruedy. MØ is wearing an Adam Selman dress, Buffalo London shoes, Bombas socks, and her own earrings.
MØ Gets Vulnerable About The Dark Side Of Escapism With 'Forever Neverland'
The new album is out today
"Imaginary love and living in a bubble," is how Danish musician MØ describes the theme of her new album,Forever Neverland; but another way to think of the melancholy pop-tinged work is that it's a twisted ode to the self-care-driven desire to isolate ourselves in a world gone mad, and drift off into an escapist fantasy. 
If you're going to write something escapist, there's probably something you want to escape from, and MØ explains that Forever Neverland was, at least in part, born out of a small desire to control the politically tumultuous world around her. "This started around the time of Trump… and the whole world right now politically taking a right turn," she explains. "The whole thing about people not knowing what is right and wrong anymore."
Who wouldn't want to escape from a place where everything feels like a contradiction? Escape—and then head somewhere where everything is more simple, a perpetual childhood, like Peter Pan's mythical home. MØ says, "There's very often multiple reasons and meanings behind the title that I choose." She continues, saying she was also addressing her own vulnerabilities, including insecurities about growing up.
"Ever since I was a little kid, there was something about change that scared me so much, but, at the same time, I've always been terrified of being stuck, so it's kind of like a paradox that I'm living," MØ says, pointing out that she began making this record at the end of her 20s, when her own "youth bubble" was poised to burst.
But, much like the story by which the title is inspired, Forever Neverland is about the dark side of refusing to mature and face your responsibilities—after all, it wouldn't be a true MØ album if it didn't contain an "inkling of darkness," as she puts it.
"We live in a time where a lot of people seem to be Peter Pan-ing with social media, and no one knows what the truth is," she explains. "We can't really deal with how fucked-up political things are these days. So we kind of just ignore that things are crazy, and escape into our own sort of perfect bubble, you know? Put a great filter on it, so it all looks great."
This album differs from MØ's prior punk work in that she uses pop sounds to get across her political message, making it all the more subversive and powerful in the process—and that subversion starts with the album's title.
"It sounds so sweet and great," MØ says about Forever Neverland, "but there's also something ironic about it, because it's stupid. It's like a childish dream. Like, do you want to be stuck with Peter Pan and the Lost Boys in Neverland and never see reality? That's not a good place to be."
MØ says she's using this album to make clear that "denying reality is not the answer." However, she still understands the appeal of wanting to ignore everything and live in a bubble of your own creation. "I'm kind of struggling of this thing of knowing that it's wrong to escape, but also wanting to escape," she shares.
There's a relatable uncertainty to this sentiment—it's a departure from typical punk posturing, and admission that it's hard to be strong all the time, and nobody is invincible. And that's a welcome message during these tumultuous times. So it makes sense that MØ wants fans to understand that it's okay to feel tired by the news, exhausted by the thought of having to fight one more day. "The thing I loved about my old punk band, it wasn't really about being vulnerable, it was about shouting and being fun and being aggressively political, which I thought was really cool and really fit that energy," MØ explains. "I think with this project, I'm allowing myself to be so vulnerable." And, she's allowing us to see that we can be vulnerable too. 
Forever Neverland is out today. Stream it here.
Photos by Savanna Ruedy
Styled by Shawna Ferguson
Hair and makeup by Jessica Plummer
MØ is wearing a Fendi sweatshirt and boots and Adidas leggings. Photo by Savanna Ruedy
MØ is wearing an Alexander Wang jacket, shorts, shoes, and belt, a DLC bra, and her own earrings. Photo by Savanna Ruedy
MØ is wearing an R13 coat and shirt, Zadig and Voltaire shoes and belt, Paul Andrew shoes, and Bombas socks. Photo by Savanna Ruedy
MØ is wearing an Adam Selman dress, Buffalo London shoes, Bombas socks, and her own earrings. Photo by Savanna Ruedy