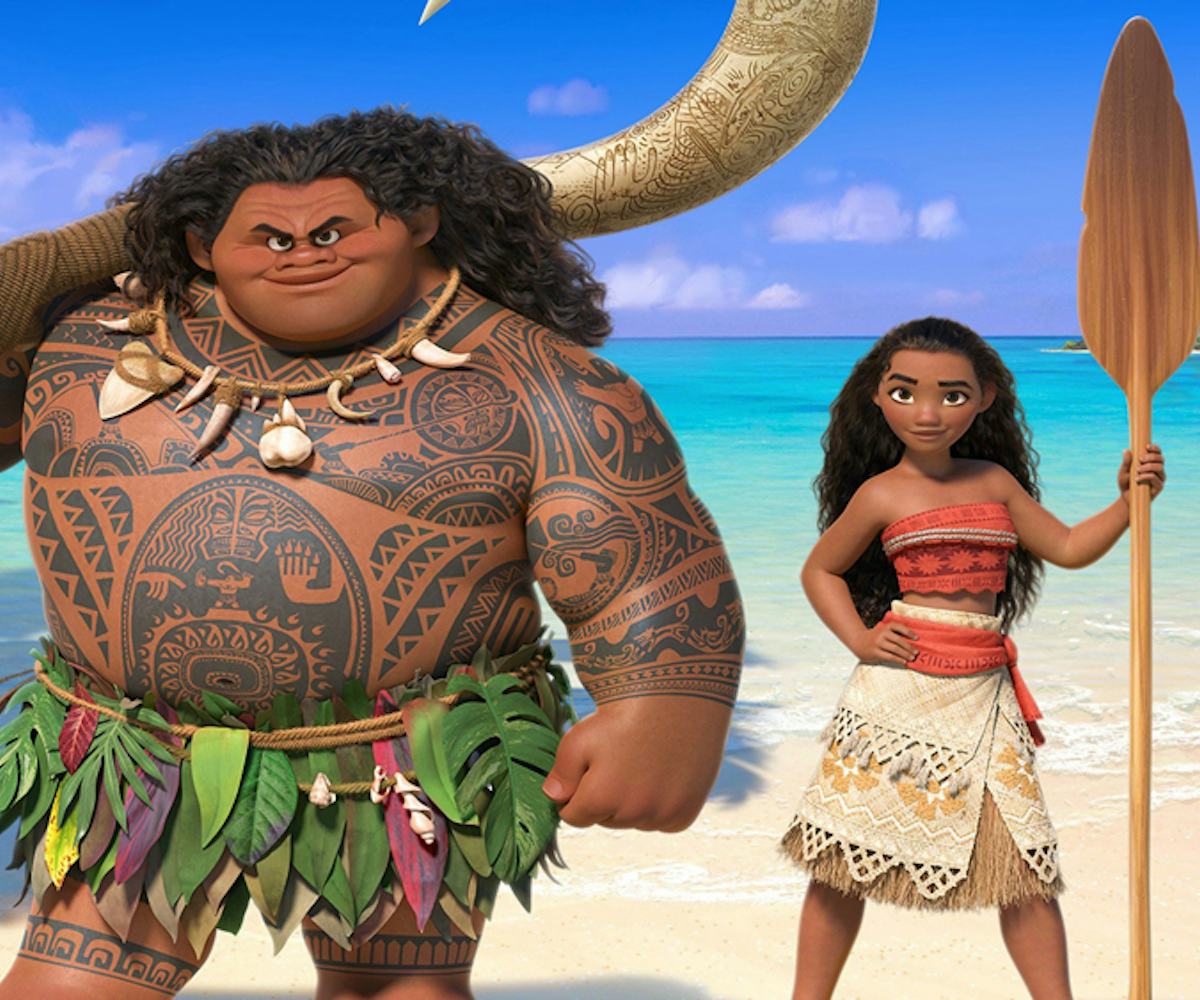 Photo courtesy of Disney
The Reviews Are In: With 'Moana,' Disney Has Another Hit On Their Hands
Later this month, Disney will add another animated adventure to its storied canon, when Moana soars into theaters on November 14. And, if the early reviews are any indication, Moana is a worthy successor to Frozen, Big Hero 6, and Zootopia, three mega-hits that have helped Disney close the once cavernous gap with Pixar in the ultra-lucrative world of big-budget animated myth-making. 
Moana, which features original songs from Lin-Manuel Miranda, follows a plucky Polynesian princess (voiced by newcomer Auli'i Cravalho) on her quest to find a fabled island with the help of her hulking warrior pal Maui (Dwayne Johnson). While the film has all "the hallmarks of your classic Disney adventure," according to Entertainment Weekly's Devan Coogan, Moana herself is "something new, a smart and fiery deviation from your standard European lovestruck princesses."
The film's animation is worth beholding, too. "If Moana boldly ventures beyond the reef, so, too, does the breathtakingly beautiful animation break fresh visual ground," gushes The Hollywood Reporter's Michael Rechtshaffen. "Letting the natural light of the sun and the moon inform virtually every textured frame, the film boasts backgrounds that are awash in phosphorescent greenery and shimmering blue waters."
But, the element that has most critics fawning is, of course, the music of Miranda, whose original songs Indiewire's Eric Kohn called "memorable," in particular "Where We Are," and "How Far I'll Go," which Variety's Peter Debruge thinks are "exceptional."
And if you're not already sold, below you'll find more raves for Disney's latest dazzling animated achievement. 
"Moana sails through somewhat familiar waters, to the point where it sometimes resembles a mix-and-match of prior Disney animated classics. But it justifies its well-tread path via knowing humor (one animal sidekick is Bill Pullman-in-Ruthless People stupid) and a commitment to telling a damn good version of said story. Moana isn't just another solid princess-specific adventure. It's acknowledgment of Walt Disney using its awesome corporate power, either through outright original stories or using stories from other cultures, to craft yet another piece of potent and primal female-centric myth-making. That can be Disney's legacy if they so choose. I'm a sucker for this sort of thing, provided it's good. Moana is very good, and thus I enjoyed the hell out of it." Scott Mendelson (Forbes)
"Appealing equally to the eyes, ears, heart and funny bone, Moana represents contemporary Disney at its finest — a vibrantly rendered adventure that combines state-of-the-art CG animation with traditional storytelling and colorful characters, all enlivened by a terrific voice cast." Michael Rechtshaffen (The Hollywood Reporter)
"Moana does what it does so well that you wish its makers had imbued it with some X factor that separates the classics from the merely beloved. If you don't mind Disney's business as usual dressed up with a little hibiscus, then you'll enjoy this latest journey of self-discovery." Alonso Duralde (The Wrap)
For older audiences, especially those who came of age during the era of Beauty and the Beast, much of what follows will seem like Disney boilerplate, but that would be understating the shrewd yet significant ways Musker and Clements innovate. There's the welcome cultural aspect of the female explorer, of course, plus the fact that the film gives its heroine a healthy, more realistically proportioned physique (reminiscent of the Hawaiian characters in Lilo & Stitch), rather than forcing Moana into the mold of past princesses. Peter Debruge (Variety)
"Visually dazzling and loaded with charm, the movie is also blatant in its quest for cultural sensitivity: It has memorable songs byHamilton phenom Lin-Manuel Miranda and a first-rate mystical soundtrack by Samoan composer Opetaia Tavia Foa'i, in addition to a witty screenplay co-written by Kiwi funny man Taika Waititi, all which yields a lively opus that feels at once old school and modern… Notably, Moana bears no resemblance to the 1925 silent film directed by pioneering documentarian Robert Flaherty just a few years after Nanook of the North. In Flaherty's Moana, the filmmaker staged ancient Polynesian rituals as if they were taking place in the present moment; despite the film's lyrical beauty, it suffers from a corruptive Western gaze. Moana works overtime to keep that damaging force out of the picture, and like its individualistic young heroine, the studio shows signs of growing up."  Eric Kohn (IndieWire)