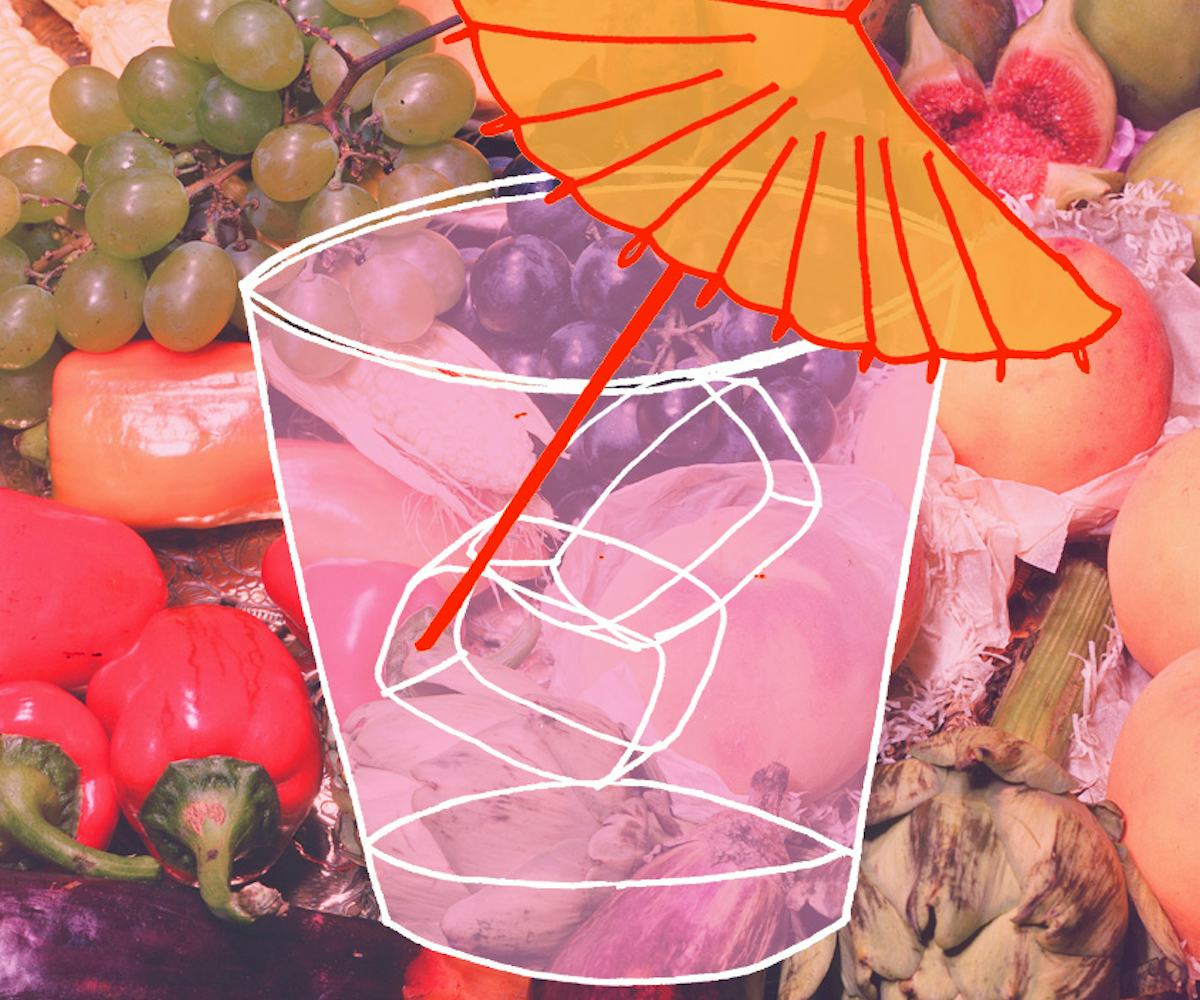 photo via getty images
next-level mocktail recipes
so you can spend january recovering from december.
If December is basically a marathon cocktail party, then the month of January is most definitely the lingering hangover. Going off the sauce for a month or so is a time-tested way to start the new year on the right note (and combat any residual dietary, financial, and general self-worth-related repercussions of too much liquid holiday cheer). But, unless you really dig club soda, teetotaling can be terribly boring. Fortunately, you don't have to resort to Shirley Temples or cranberry juice for an alcohol-free tipple—and in fact, some of the best mocktail makings may already be in your home bar. If the past few weeks of hot toddies and cocktail parties have inspired you to take a break from booze, read on for mocktails that can satisfy even the most devout mixology nerds.
For the lazy: Gussy up your sparkling soda water with fresh fruit, herbs, and quality bitters.
If tinkering around with syrups and infusions isn't your bag, it's cool: A quick muddling of herbs or a drop or two of bitters can elevate a boring glass of club soda into a faux cocktail you'd actually—gasp!—want to drink. The combinations of base liquids, botanicals, and bitters are endless, so swap around to your heart's content. (And yes, bitters do technically have alcohol. But unless you're drinking straight from that bottle of Fee's, the amount is negligible.) A few ideas to get you started:
-Gently muddle a few leaves of fresh basil in a rocks glass. Fill the glass with Boylan's Orange Seltzer. Add a few dashes of lavender bitters. You'll end up with a fragrant, botanical beverage that tastes like a visit to a spa in a glass.
-Fill a glass with DRY Rhubarb Soda. Add fresh-squeezed lime juice to taste (0.5 oz is a good starting point) and top with rhubarb bitters for a riff on a cherry limeade.
-Gently muddle a few mint leaves in a rocks glass. Fill your glass with LaCroix Coconut Sparkling Water. Add fresh-squeezed lime juice to taste. Turn up the heat in your apartment and sip while wearing a bikini.
For slightly more industrious imbibers: Add simple syrups to lend sweetness, flavor, and complexity to specialty sodas.
When it comes to building a good cocktail, simple syrups are a bit like the proverbial icing on the cake. You can use them not just to sweeten a drink, but also to build layers of flavor—and the best part is, they're super easy to make. Just dissolve sugar in boiling water with either a 2:1 or 1:1 sugar-to-water formula, steep your additives in the dissolved sugar for ten to twenty minutes, strain, and chill. Some ways to use them:
-Combine a glass of Fever Tree Bitter Lemon Soda with a half-ounce of rosemary or thyme simple syrup in a glass; garnish with a sprig of rosemary.
-Mix a half-ounce of cardamom simple syrup with San Pelligrino Aranciata Rosso, a blood-orange soda.
-Stir a half-ounce of ginger simple syrup with a glass of Q Sparkling Grapefruit; garnish with a grapefruit peel (or a flamed orange peel, if you're feeling showy).
For G&T lovers:
If you're a lover of the botanicals found in a stiff gin drink, fret not: The same heady scents of lemongrass, citrus, and allspice can also be found in a glass of high-quality tonic water. And yes, by "high-quality," we do mean a step or two up from the Canada Dry gathering dust in your liquor cabinet. For maximum satisfaction, you can make your own, but if grinding cinchona bark in your coffee maker isn't your idea of a good time, don't worry. Plenty of small-batch bottlers have the goods. Fever Tree's elderflower tonic water will add a floral, St. Germaine-esque note to your drink, while Jack Rudy's concentrated quinine syrup (a holy grail among mixologists) means you can decide exactly how quinine-heavy you'd like your faux G&T to be. Just add a touch of soda water and a squeeze of fresh lime.
For Moscow Mule fans:
A Moscow Mule is one of the few cocktails that can survive quite well on its own without any liquor at all. It's as simple as a high-quality ginger beer, a dash of tartness, and a proper vessel. The pungently spicy flavor of the right ginger beer, combined with the appeal of those classic copper mugs, almost makes up for the fact that there's nary a drop of vodka in your drink. Almost. Try Fentimans or Reed's for a ginger beer that's big on spice without the cloying sweetness. (Of course, if you have some extra yeast laying around the house, you can also brew your own.
Either way, it's this easy: Squeeze half a lime into a copper mug over ice. Fill with ginger beer and stir. Top with candied ginger or a slice of lime.
For whiskey sour drinkers (and/or anyone who appreciates an egg white cocktail):
Bittermilk, purveyors of non-alcoholic cocktail compounds, have managed to squeeze everything we love about a whiskey sour into their No. 3 formula—everything, that is, except for the whiskey. Tart, smoky, and a little sweet, the Smoked Honey Whiskey Sour compound is a perfect (and easy) way to take your mocktail game to the next level.
-Option one: add Bittermilk No. 3 to a glass of soda water, to taste. (Go gentle, though: this stuff is pretty concentrated.)
Option two: combine an ounce of Bittermilk No. 3, ice, and one egg white in a cocktail mixer. Shake vigorously for a few minutes until the egg becomes frothy. Pour into a rocks glass and enjoy. Top with soda water to make a fizz. 
For fruity drink fans: try a shrub.
"Drinking vinegar" may not be the most appealing name, but these tart concoctions were all the rage back in colonial times. And there's a reason they've managed to stick around for so long. In modern iterations, the bite of the vinegar is tamed with ingredients like peaches, watermelon, berries, and honey, resulting in a tangy, fruity, and surprisingly refreshing concoction. Shrubs aren't difficult to make at home, but you can also find them on shelves from makers like Shrub & Co. (whose formulas include wildflower honey and cranberry fir) and McClary Bros, whose most popular flavor is Michigan Basil. With these, it doesn't get any simpler: Just combine with sparkling water or the flavored soda of your choice, and you've got yourself a mixologist-worthy drink that won't result in bad decisions. (At least, not the kind you can blame on alcohol.)