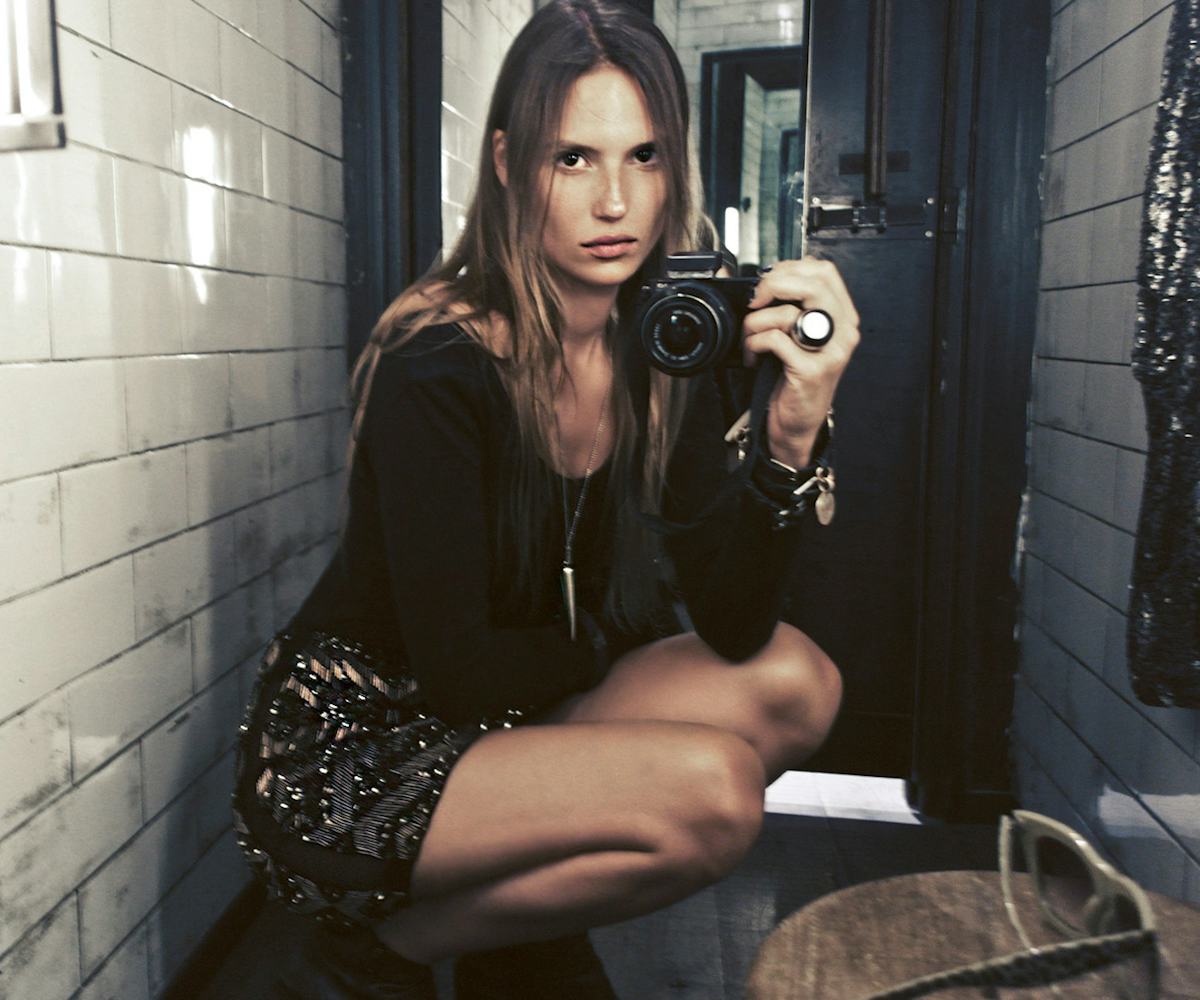 model style: cate underwood
spend a week in the closet of the model photographer.
There's no hiding that models have some of the most covetable style around. They have access to the best behind-the-scenes workings of the industry, like face time with mega-stylists and freebies from designers, so it's sort of no wonder they look so great, but that doesn't mean we want to copy their style any less. On top of our models-who-dress-rad list is Cate Underwood, a Ukranian model and photographer represented by New York Models you might recognize from ads for AllSaints or Grifoni. You should also be sure to check out her behind-the-lens work on her blog or in the pages of international magazines. We fell in love with her style the second we met her (hello, giant black platform shoes and gold jewelry--how could we resist?), so we asked her to photograph her outfits for a week and share the results with us. Spend a week in the life of this model photographer, and get inspired to revamp your fall wardrobe in the image of her grune-meets-pink style.
Day 1 This picture was taken at a store where I was going to find new lipstick. My mood was pretty dark, so a black Yohji Yamamoto long shirt dress, which I found in Berlin, was the best idea. Two years ago I would never have believed that I would be wear
Day 2 After a long,, busy day with meetings I passed by the AllSaints store to find something similar to my AllSaints golden high-waisted skirt, that I'm wearing in the photo. For a top I used an American Apparel bodysuit--I have at least five different o
Day 3 I think this long red jacket from Zara is the only colorful thing I have. I used to wear it on special occasions--I was signing my first apartment lease and the fact that I am moving to New York is really a special step for me. Underneath you can se
Day 4 This was a casual evening with friends on my roof right near the river in Williamsburg with a view of Manhattan. Every time I am up there I have this wonderful feeling that I am a part of New York City. I'm wearing a simple and soft Mauro Grifoni ca
Day 5 Here, I'm wearing my leather jacket from The Ragged Priest, ripped black skinny jeans with white paint spots from Urban Outfitters, Jeffrey Campbell wedges, a handmade belt (which I saw on Mick Jagger at one of his latest concerts!), and my same acc
Day 6 This is me ready to go to a business brunch at Sons of Essex, where I order my beloved lobster eggs benedict. I'm wearing a cream-colored long dress, which I found at a flea market quite recently. I was searching for the perfect one for a year, so w
Day 7 This is how I look when I am going out for drinks with friends. Our place to meet is a bar called Tutu's with really good Bloody Marys. I'm in leather pants, a black shirt, and a purse from AllSaints with Jeffrey Campbell shoes that are the most com