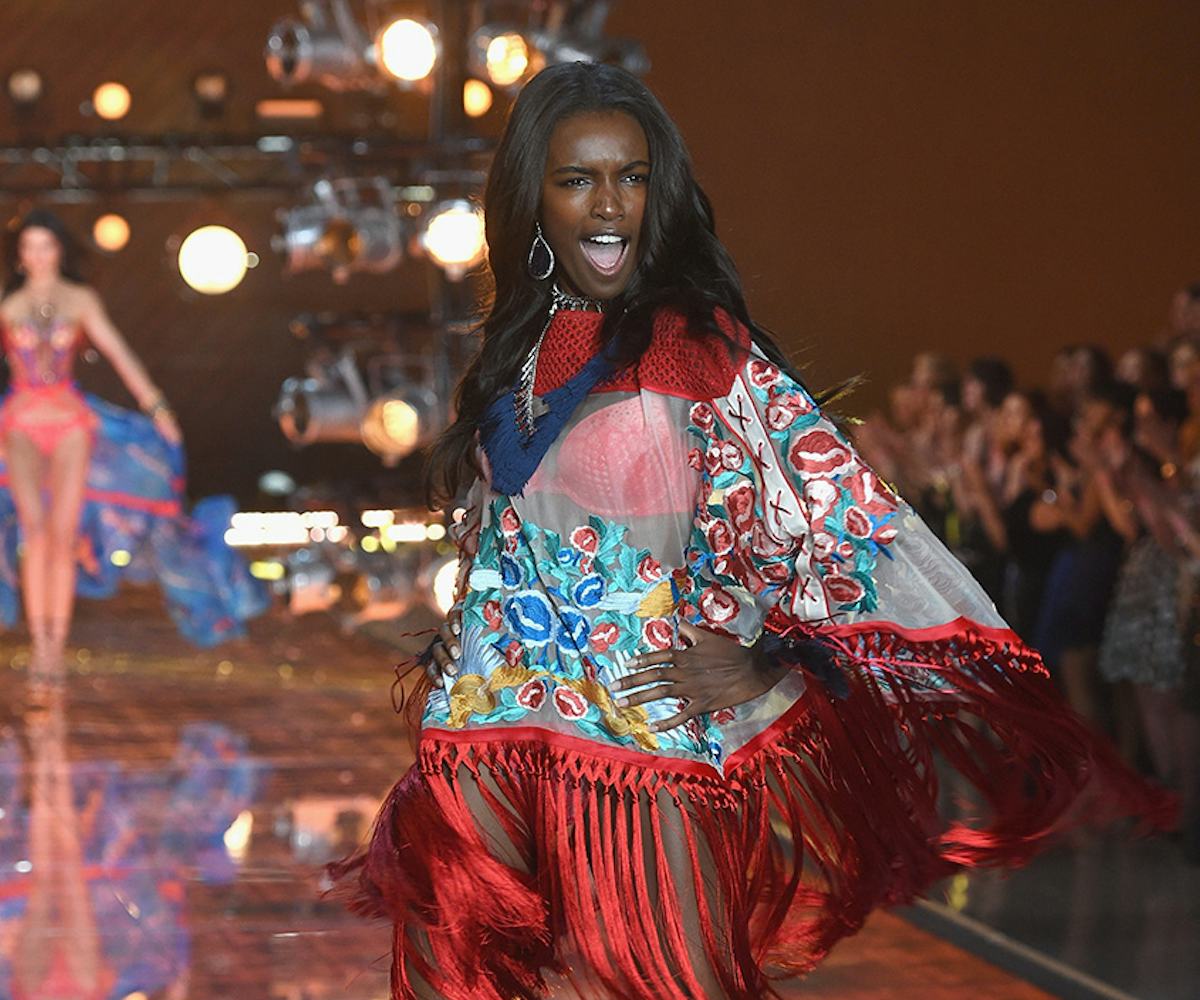 Photo via Dimitrios Kambouris/Getty Images
9 Models Who Are Actually Role Models
The modeling industry is unfortunately known for creating idealized images of bodies, appearances, and aesthetics that can, more often than not, ignite insecurities and project unattainable goals across society. It's an industry laced with racism, body dysmorphia, and a general attitude of disregard that can prove physically and emotionally harmful for those in it. Luckily there's a good number of models fighting from inside the system to make a difference.
As the faces of brands, and fashion and beauty campaigns, models hold positions of visibility that allow them to address large audiences. When they talk, we listen, whether it be about body positivity, institutionalized racism, or simply about the importance of education, and whether they address these issues through Instagram posts, interviews, TED talks, forums, or through their actions entirely. With public attention, there comes an opportunity to shed light on various causes and problems, so modeling can actually lend a hand to advocacy.
Their actual, on-paper jobs may be to simply model clothes or cosmetics, but that doesn't stop these nine models from going above and beyond to use their voices for good. These empowered women are so much more than just pretty faces, and their words and deeds show that they're ones to warch—on camera, and off.
Barbie Ferreira
The latest star of Aerie's unretouched ads, Barbie Ferreira is an advocate for body positivity. "I've always struggled a ton with my body image, and I wanted to help other people not feel so ashamed about themselves. It's a completely unnecessary part of everyday life," she told Glamour. She identifies as a curvy model, and although she isn't quite anti- "plus-size" as a label, she argues that it still helps to enforce discrimination in the industry. "'Plus-size model' puts me into a box. It gives me the traditional plus-size jobs, which are amazing, but it's time to open up the doors so that people of all body types are able to be in all lanes of modeling, not just one niche." The 19-year-old dreams of becoming an actress but, until then, is continuing to fight for more diverse representation on-screen and in front of the camera.
Leomie Anderson
When faced with a makeup artist who was ill-equipped with foundation to suit her skin tone, Leomie Anderson took to Twitter to comment on the hardships of being a black model. After dealing with white hairdressers who didn't know how to style her hair, and having to bring her own makeup to fashion shows, the British model put together a "Black Model Survival Kit," both to raise awareness of discrimination that happens behind the scenes at fashion week and to help out fellow models of color. She also dishes out advice for boosting self-confidence on her blog.
Karlie Kloss
This 23-year-old model dropped her Victoria's Secret Angel status in favor of getting a college degree. Karlie Kloss started classes at NYU's Gallatin School of Individualized Study this past fall, but this isn't her first venture outside of the modeling world. In 2012, she partnered with Milk Bar's chef Christina Tosi to create Karlie's Kookies, which benefit both FEED and aspiring young designers through CFDA. Plus, as she's been taking coding classes herself at New York's Flatiron School, she also started a scholarship for young girls called #KodeWithKarlie.
Ashley Graham
Sports Illustrated swimsuit model Ashley Graham is fighting against stereotypes that "healthy" doesn't come in all shapes and sizes. The 28-year-old has starred in advertisements for Lane Bryant and released her own line of plus-size lingerie with Addition Elle. She has also actively fought against the persistence of labeling in the fashion and modeling industries. "Curvy models are becoming more and more vocal about the isolating nature of the term 'plus-size.' We are calling ourselves what we want to be called—women, with shapes that are our own," she said in her TED talk.
Geena Rocero
At age 30, Geena Rocero revealed in a TED talk that she was transgender, and had undergone gender confirmation surgery at age 19—a secret that she kept from most of her friends and connections. Despite fears that her confession would hurt her career, Rocero was applauded by her agent, her agency, and her fans. She went on to found Gender Proud, an advocacy campaign that fights to end prejudices against transgender individuals and bring awareness to the difficulties transgender individuals have to go through to update their gender markers.
Nykhor Paul
Sudanese model Nykhor Paul has also, like many models of color, worked with makeup artists who didn't understand how to accommodate her skin tone. In an Instagram post, she called out the industry for its anti-blackness attitude, saying, "I'm tired of complaining about not getting book[ed] as a black model and I'm definitely super tired of apologizing for my blackness." She elaborated to Cosmopolitan, stressing the importance of having runway shows hire more black models and of having stylists that are prepared to do their makeup properly: "If fashion is art, then people really need to check themselves. If you're entering with prejudice, you need to evaluate yourself as an artist."
Cameron Russell
Supermodel Cameron Russell is the first to admit that she won a "genetic lottery" when she gave a TED talk. Her presentation, however, also stressed that appearance isn't everything—that being a model is not something to aspire to, but rather something that more or less happens based on luck. With a degree from Columbia University behind her, she created a grassroots public art collective based in Brooklyn, New York, called Space-Made. She is also the founder and director of Interrupt Mag, a digital magazine for the "(un)scene" that runs personal essays from women of all different backgrounds.
Andreja Pejić
After Andreja Pejić came out to the world as transgender, she opened up more discussion on the disadvantages that trans individuals are faced with around the world. "Education about transgenderism in schools and institutions is vital. Laws need to be put in place to protect individuals from discrimination. As Janet [Mock] and Laverne [Cox] have pointed out many times, the murder and abuse of trans women of color in this country must stop," she told Bustle. With a Make Up For Ever campaign and a Vogue interview about the increasing acceptance of transgender models, Pejić is making her voice heard as she advocates not just for representation, but for the rights and acceptance of trans individuals.
Charli Howard
When self-proclaimed feminist Charli Howard called out her modeling agency for calling her "too big" at a size two, she was pointing out something that tons of models experience in their day-to-day lives. She used her own experience to start a discussion about the industry's need for greater body and race diversity, and she has since signed on with Muse models. According to an interview with Vogue, the model's open Facebook letter is also being used in the U.K. for a general inquiry into underweight models. As she continues modeling and advocating for these issues, Howard is also launching her own blog on beauty and feminism.