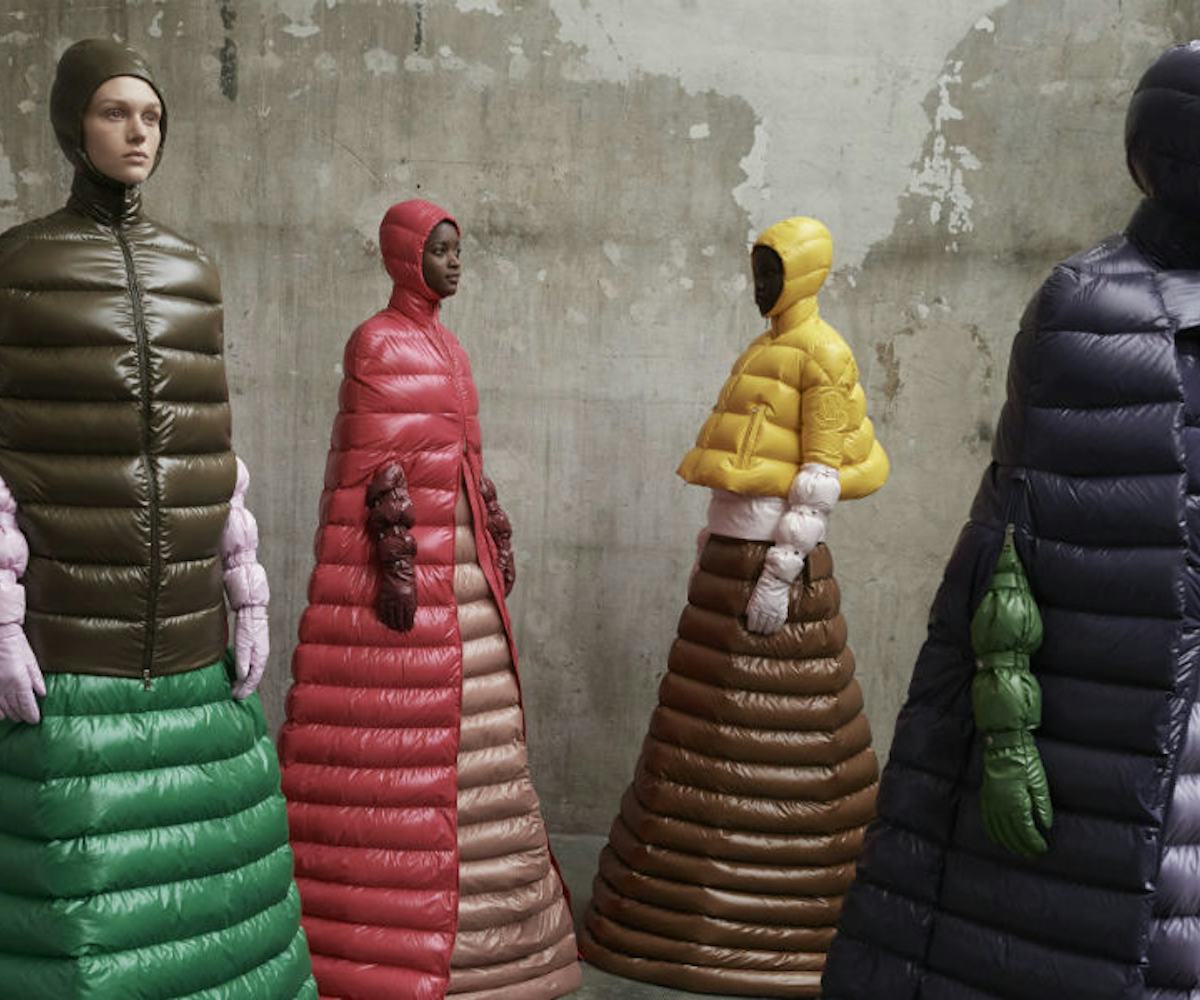 These Moncler Coats Will Make You Look Like A Glamorous Marshmallow
It's 'The Handmaid's Tale' meets fashion
This is the wrong time to read this story if you're in New York City, where the birds are chirping and the weather has hit a baffling 70 degrees. It's spring, we sing, anytime global warming rears its sometimes-beautiful head, completely forgetting the snow that blanketed the city a mere four days ago. Not to be a Debbie Downer, but it's still, technically, winter. Today is a tease and the temperature is going to drop again in the next few days. Sad, but it's best to be prepared. And luckily, outerwear brand Moncler has you covered—literally, from head to toe.
Yesterday, creative director Remo Ruffini introduced the Moncler Genius project at Milan Fashion Week. Described as a "republic of imagination," the company recruited different designers—including Valentino's Perpaolo Piccioli and designers Simone Rocha and Craig Green—to create eight different collections that will be rolled out monthly. While each line was unique in their own way, Piccioli's A-line puffers were our personal favorites.
The structural creations came in varying colors and styles. Some were tiered, others came in a straight-down cape silhouette, and the rest were flared out toward the bottom. "I wanted to focus on authenticity and the essentials," the designer said about the coats. The essentials meaning full head-to-floor coverage against whatever tundra invades your city come winter. It's the down jacket meets The Handmaid's Tale meets high-fashion. New Yorkers will never complain about the vicious winters again after these become available. Just kidding, we will, but at least we'll look cute (and be warm) while doing so. Blessed be the insulation.
Check out the full collection ahead.