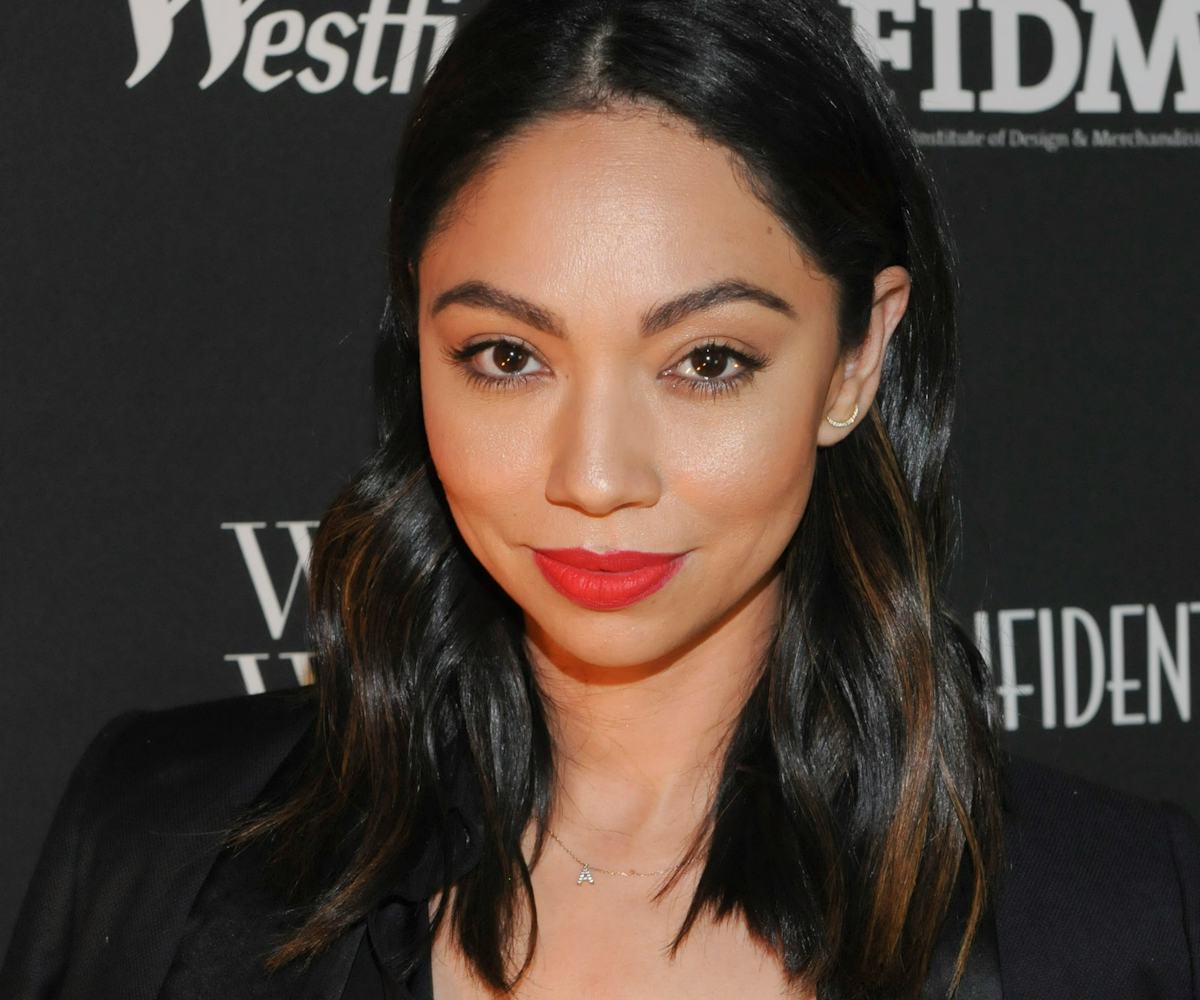 Photo by Vivien Killilea/Getty Images
Keeping Up With Monica Rose: The Stylist Behind The Kardashian/Jenners
She's responsible for some of Gigi Hadid's and Chrissy Teigen's best looks too
What do Gigi Hadid, Kendall Jenner, and Chrissy Teigen have in common? Aside from successful modeling careers and massive social followings that rival Beyonce's Beyhive, they have an enviable sense of style and the ability to send people hitting the "purchase" button on clothing they're wearing faster than one can say "Kate Middleton Effect."
Behind those killer looks is one Monica Rose, an L.A.-based stylist. She is the secret weapon to celebs like Kylie Jenner, Khloé Kardashian, Chanel Iman, La La Anthony, and Kourtney Kardashian. Skipping the traditional stylist's route of working as an intern or an assistant, Rose first made fashion waves after working with Kim Kardashian on her Complex cover almost a decade ago. She has since catapulted to fame, and is responsible for some of the most standout looks on the red carpet and photographed street style moments (think: Hadid's model-off-duty ensembles during Paris Fashion Week).
Her love for all things monochromatic is evident in the choice of all black, white, and gray looks she assembles for her clients; her timeless aesthetic seen in staples like leather jackets, long coats, and sky-high booties; the '90s vibe ubiquitous in the velvet chokers and grunge-like ripped jeans. The result: A new crop of modern-day It Girls, dressed to the nines, in looks that are unabashedly sexy (crop tops, bodycon silhouettes) and edgy—a far cry from the traditional playing-it-safe game of typical celeb stylists.
Most recently, she solidified her spot as today's most daring stylist when she sent Hadid out to the Daily Front Row's Fashion Los Angeles Awards in a sheer white dress topped over a bodysuit. Despite many showstopping moments, she is not ready to retire dressing the industry's most-followed style setters. The newest addition to her already impressive roster of clients? Rising model and daughter of legendary supermodel Cindy Crawford, Kaia Gerber.
We caught up with the stylist to the stars to find out how she got the gig, get some pro tips, and discover the one item of clothing she will never be caught dead in.
How did you get into styling?
I started styling back in 2003. At the time, I was working at a retail store on Robertson [in L.A.]. I would do anything creative and productive just to keep myself busy. Back then, not too many people knew about styling as a career. Keep in mind, this was way before social media as we know it, and it wasn't public knowledge that celebrities were being dressed by professionals. I was so fascinated by the idea and knew deep down that I could do it, so I kept my head down and kept pushing forward until I found my way.
What was your first gig?
I networked and met a few photographers, which transitioned into testing for free just to build my book. I met one photographer, Lionel Duley, that I admired, and he booked me on my first editorial. He helped me build my book and get me representation at an agency. I was so happy to be on board; I worked so hard and went above and beyond. I had no idea what I was doing and learned through trial and error. I would not have done it any other way.
What is your favorite part about this job?
Seeing my clients get excited for looks that I create. It's such a blessing to be able to do what I love every day and work with clients that I love and inspire me. I truly value my clients' work ethic—it makes me want to go above and beyond and it is very fulfilling to be a part of that. I love that I can make them feel good and confident to go in front of the camera and be beautiful. It's important to me to always make them happy.
Where do you get your inspiration from?
I grew up as a teenager in the '90s, so my aesthetic always has some element of the '90s with a modern twist.
What's your favorite styling tip?
I take everything in at the waist and I always use my tailor to fix everything. I think that's why my styling can translate as very polished. I try to perfect every look with my tailor.
What's your favorite wardrobe staple?
A black motorcycle jacket.
An item you will never be seen in?
Flip-flops.
Your favorite event to style for?
Hard to say. There have been some good ones as of late.
Favorite spring trend?
A good cognac brown bag or shoes.
If you had to wear one outfit for the rest of your life, what would it be?
My black Karen Walker oversized sunglasses, cropped Laer brand moto jacket, and vintage jeans.
Who are your style icons?
A mix between Bianca Jagger, Jane Birkin, and Kate Moss.
See some of Rose's all-time favorite looks, below.
Bella Hadid at the Elle Style Awards 2016
"This was one of my favorite pieces from Julien Macdonald's collection. I picked it for Bella because I thought it was so unique, fashion-forward, sexy, and fitting for the occasion."
Dress by Julien Macdonald; boots by Altuzarra
Chrissy Teigen at the 88th Annual Academy Awards
"Chrissy and her beautiful baby bump were pure perfection."
Dress by Marchesa; clutch by Swarovski
Gigi Hadid at the Daily Front Row Fashion Los Angeles Awards 2016
"Gigi's showstopping moment."
Dress by Yanina Couture; shoes by Stuart Weitzman
Kendall Jenner at the 2014 MuchMusic Video Awards
"Major risk-taking moment here, and Kendall absolutely killed it."
Dress by Fausto Puglisi
Gigi Hadid during 2016 Paris Fashion Week
"Distressed denim adds the perfect amount of edge."
Jacket by A.L.C; jeans by OneTeaspoon; shoes by Saint Laurent; sunglasses by Illesteva; purse by Karl Lagerfeld
Gigi Hadid in New York City in 2016
"These boots were made for walking."
Turtleneck by BLQ; skirt by The Kooples; shoes by Stuart Weitzman
Kendall Jenner at the LAX airport in Los Angeles in 2016
"Airport Steez."
Coat by Raquel Allegra; shirt by Unravel; jeans by IRO; shoes by Balmain