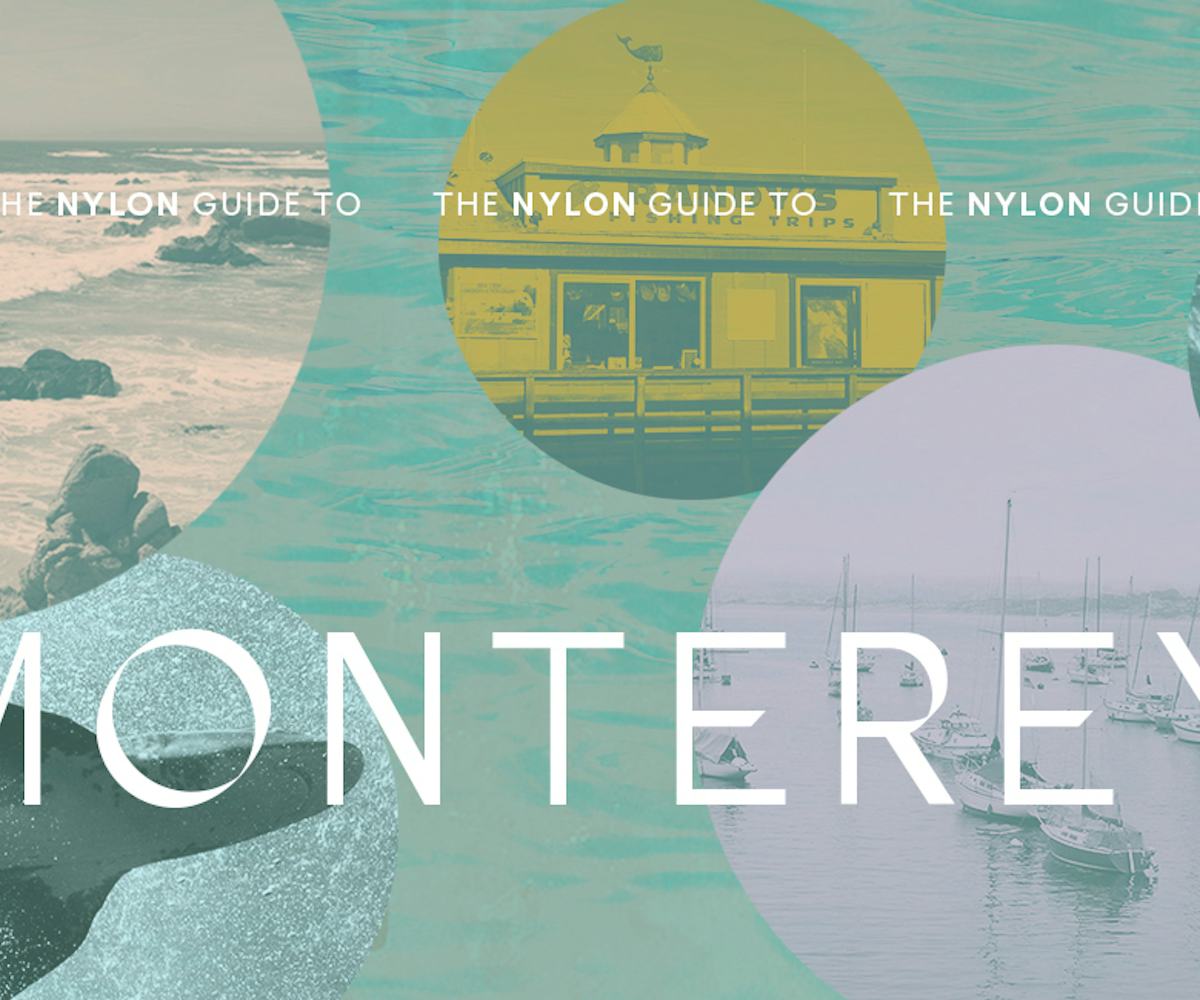 Photos from Wikipedia Commons
The NYLON Guide To Monterey, California
Our big little recommendations for where to stay, eat, and drink
If you've seen HBO's Big Little Lies, you've likely considered, if only momentarily, visiting Monterey, California. You're not alone. The show's depiction of the scenic waterfront, the dramatic cliffside parks, and the small-town charm have led many to travel to this coastal gem since it first aired, even if the reality differs from the show, because there's less, you know, intrigue and drama. But the tourism business is booming there: In fact, according to a new report from the Monterey County Convention and Visitors Bureau, tourism contributed $2.85 billion to the county's economy in 2017.
While the stunning landscapes that dominate the show's most breathtaking scenes are typically found away from the Monterey's downtown area, the city center has plenty to offer, too. Split into two main sections—Cannery Row, a waterfront street that used to house canneries and inspired the John Steinbeck novel of the same name, and Fisherman's Wharf, where you can to this day watch fishermen unload their catch, while spotting sea lions and otters in the water—Monterey has plenty to offer to visitors.
Ahead, our guide to where to stay, eat, drink, and shop at and what to do to live out your Big Little Lies fantasy—sans murder.
Where to Stay
Portola Hotel & Spa at Monterey Bay: This newly renovated property, steps away from the Fisherman's Wharf, offers warm chocolate chip cookies upon check-in. I repeat, warm cookies. The modern lobby (pictured above) brings Monterey's coastal beauty and wildlife inside with a greenhouse-like rooftop, manzanita trees, and a library filled with coffee table books on nature, while the outside holds an outdoor pool with cabanas. True fans can take partake in the property's (which also hosted the cast and crew for Season 2) newly launched Big Little Getaway package which includes a tour map of the filming sites and complimentary tickets to the Monterey Bay Aquarium (Jane and Ziggy visited on the show).
Monterey Plaza Hotel & Spa: If views are what you're after, look no further than this stunning waterfront property on the historic Cannery Row. With an award-winning restaurant, modern rooms with balconies overlooking the water, and complimentary bikes that you can take to explore attractions like Lovers Point Park, a beach park overlooking the oldest operating lighthouse on the West Coast that's the backdrop for several Big Little Lies scenes. Speaking of that, if the modern fire pits scattered around the hotel look familiar, it's because it's the site where Laura Dern's character confronts Reese Witherspoon and Nicole Kidman about her daughter's birthday party in one of the early episodes. For the best views, head up to the penthouse Vista Blue Spa featuring two outdoor whirlpool spas overlooking Monterey Bay; it's also where I had one of the best massages I've experienced in a long time.
Where to Eat
Schooners Coastal Kitchen & Bar: If you were any closer to the ocean than this restaurant, featuring a patio suspended over the Monterey Bay, you would... be underwater. All to say, ask for a table outside so you can take in the smell of the sea and spot some otters while indulging in all the fresh sustainable seafood and craft cocktails.
Alvarado Brewery & Grill: For something more casual, check out this gastropub that puts out delicious, locally sourced dishes like duck confit poutine, spicy brussels sprouts with kimchee, and pork belly pizza with pickled chiles, oranges, and hoisin. And, of course, don't miss the house beers!
1833: One of the most well-known eateries in the area, this pharmacy-turned-restaurant serves international takes on seasonal fare (tempura oysters and maitake mushrooms, salmon belly ceviche, red Thai Dungeness crab...) in one of its several historic rooms that include a library, a sun room, and a patio with a redwood tree, all decked out with authentic details like Edison bulbs, old books, and leather banquettes. Barrel-aged cocktails and absinthe are not to be missed if you find yourself at one of the two bars.
Montrio Bistro: This European-American bistro is where the locals go for consistently good food made from local organic produce. And while the restaurant has been recognized for years for dishes like its 48-hour bacon, cabernet-braised short rib, and honey-jalapeño brussels sprouts, it's becoming more and more mentioned for its innovative farm-to-spirit cocktails.
Parker-Lusseau Pastries: If you have a sweet tooth, make sure to stop by this bakery and dessert shop, run by a husband and wife duo that has worked at the likes of Tavern on the Green and Sarabeth's, that puts out the most decadent double lemon tarts, triple chocolate cakes, and freshly baked canelés and kouign-amanns. For those with more of a savory palate, there's croissant sandwiches, homemade quiches, and straight-out-of-the-oven bread.
Where to Drink
Jacks Monterey: For a well-crafted cocktail, grab a spot in front of the fireplace in this California restaurant and order a mezcal martini, a turmeric-infused vodka and carrot juice cocktail, or a dessert concoction (like a Toasted Pecan Pie in a glass).
Water and Leaves: If you go to the location of the Big Little Lies "coffee shop," you'll be surprised to learn that, in real life, it's actually an Italian restaurant. Good thing, this cute coffee/tea shop is just around the corner on the Fishermans Wharf. The digital tea machines steep teas to exact temperatures and times needed for each organic, fair-trade variety, while the coffee comes fresh from a "boutique roaster" in San Francisco twice a week. Did we mention there are six flavors of locally sourced raw honey on tap to sweeten any beverage?
Sovino Wine Bar: This wine bar may be nothing to look at, but it boasts a large selection of wines, offered by a tasting, glass, or bottle, from both Monterey County and other growing regions of California and gets packed at nights. Before going, make sure to check out its calendar for events that range from live music to wine bingo and paint and sip.
Tidal Coffee: While the iced coffee is excellent at this coffee shop on Cannery Row, the outdoor area where you can have said coffee is even more mention-worthy thanks to its breathtaking views of the bay.
What to Do
Monterey Bay Aquarium: I almost returned my admission ticket when I realized it was $50, as I'm not much of an aquarium person. Turns out, it was totally worth the price of admission. The floor-to-ceiling tank is just as impressive as it appears in Big Little Lies (no editing there), as is the jellyfish corridor. Note: If you purchase the tickets through your hotel (I did at Monterey Plaza), you will get two-day tickets for the price of one that will also allow you to skip the line. Check the schedule ahead of time if you want to see a penguin- or otter-feeding or any other special programming.
17-Mile Drive: If you're in Monterey for a short time and can only do one thing, let it be the nearby 17-Mile Drive, the stunning route that runs along Pebble Beach and passes by coastal cliffs, dramatic overlooks and vista points, white beaches, and the famous Lone Cypress and The Ghost trees. Tip: Make sure you have cash for the $10.25 per vehicle admission fee.
Big Sur: If you have time for a day trip, don't miss the even more scenic drive down Highway 1 to Big Sur. Seriously! Begin your mini road trip at Garrapata State Park, a cliffside reserve covered in wildflowers in spring, where Shailene Woodley's Jane comes to that frightening, abrupt halt while on her run. Observe the views from up high or make your way down a set of stairs to the shore to see the crashing waves that often appear on the show up close. Next, stop by the iconic Bixby Creek Bridge, yes the one that appears in the opening credits for the show, that offers a view that I guarantee will take your breath away. Stop by for lunch at Nepenthe Restaurant, a casual eatery perched high above the Pacific and offering some more views of the water and Santa Lucia Mountains, before hitting the road again to see McWay Falls, an 80-foot waterfall that falls directly into the ocean, and the hard-to-find Pfeiffer Beach with its famous purple sand. Yes, you should play the Big Little Lies soundtrack on repeat the entire way.
Where to Shop
Lilify: This artisanal goods shop is what I want my apartment to look like. Stocked with the minimalist dinnerware of my dreams, botanical soy wax candles, natural soaps and lotions, and accessories from local designers, Lilify is where you stop by to grab a chai latte (the store shares the space with Bright Coffee) and walk out with gifts for everyone you know.
Farmer's market: I knew I was in California when on my way to Monterey, I saw signs for cherry vendors. (Yes, I stopped by one, and this was my face.) All to say, if you're not from California, farmer's markets are a must. The one at Old Monterey Marketplace, held every Tuesday, offers almost four blocks of organic produce, arts and crafts, handmade jewelry, clothing, flowers, and pastries. Don't leave without stopping by the food stands, particularly India Gourmet which makes killer chicken tikka masala naan wraps.