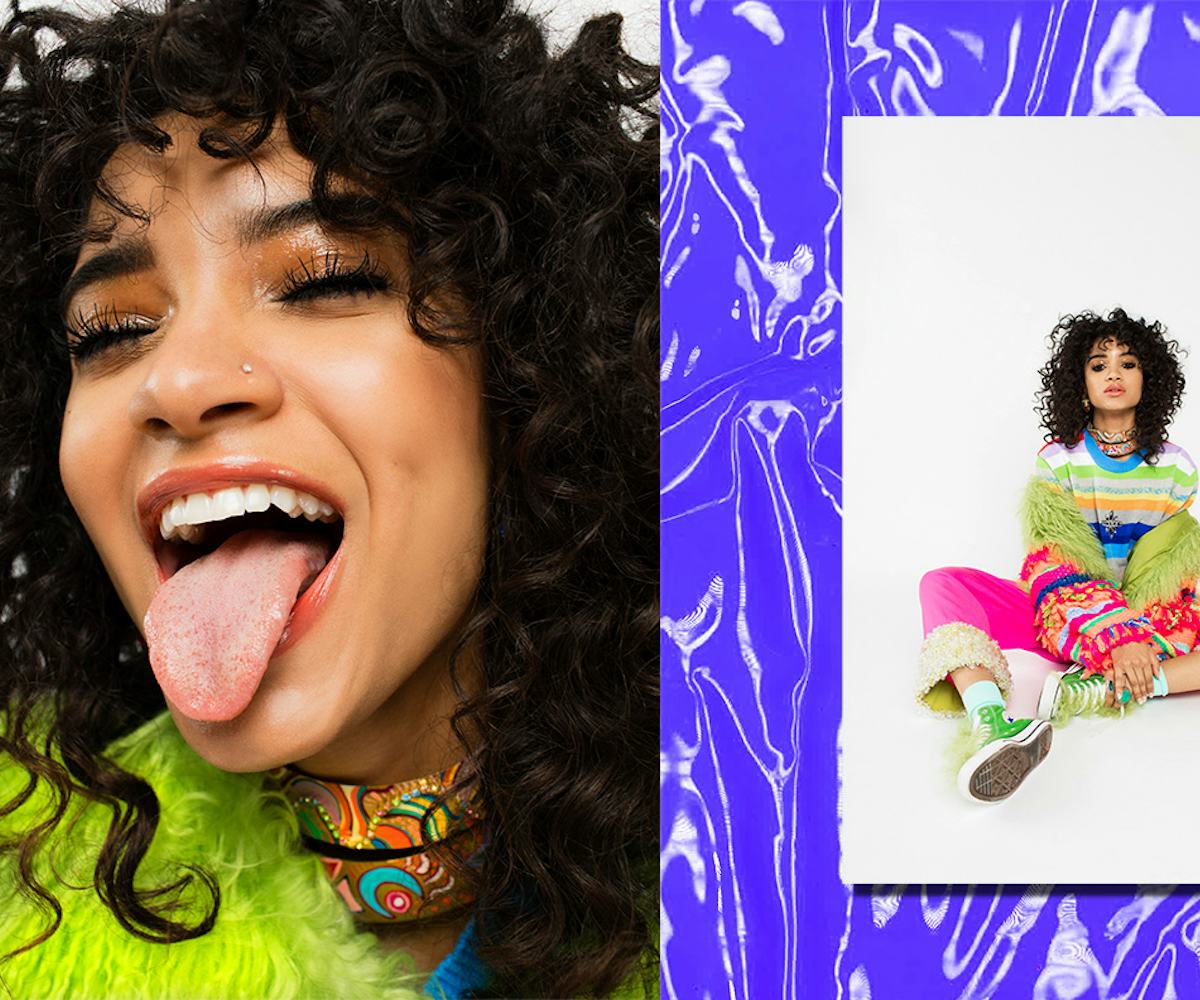 Photo by Tory Rust/Graphics by Jimmy Carroll
Layer Up! This Winter, More Is More
Catch us layering all the colors, textures, and prints
When the weather outside is cold and dreary, we tend to find ourselves in a bit of a wardrobe slump. Wearing our comfiest baggy sweater becomes an everyday affair, and we tend to hide ourselves in bland, dark colors evocative of the bleak winter days and nights.
We're here to get you out of that slump. Right now, it's all about more—more layers, more colors, more mixing prints and textures—and less being, well, boring. Oh, and keep those colors nice and bright. We promise, it'll cheer you up.
Stylist Miranda Starcevic shows us how it's done in the slideshow, below. 
Photographer: Tory Rust
Art Direction/Graphic Design: Jimmy Carroll
Stylist: Miranda Starcevic
Makeup: Clara Rae
Hair Stylist: David Cruz @ Art Department
Models: Muna and Derlyn @ New York Model Management
Casting: Eric Cano
Photo Assistants: Zandra Höberg + Marion Aguas
Stylist Assistant: Riley Norris
If you have to wear black, jazz it up
Sometimes a ton of color just isn't for you—we get it. But still, even if you're going to opt for an all-black ensemble, jazz it up a little bit. "Mix in prints and glitter, or go crazy with the accessories," says Starcevic.
Muna is wearing a Pay's sweatshirt, Colin Locascio dress, Patricia Field bag, and ASOS sandals. Derlyn is wearing a Pay's sweatshirt, ASOS dress, Skinny Dip bag, Dr. Martens boots, and Happy Socks socks.
Mix textures
Rather than just mixing up colors and prints, Starcevic recommends mixing textures of all sorts. "One of my favorite things is wearing an outfit that feels amazing—soft, fuzzy, and warm." Mix up woven knits with pom poms, and whatever else your heart desires.
Derlyn is wearing an ASOS sweartshirt, Miranda Starcevic dress and DIY Converse, and a Kenzo earring and bag.
Color is the new black
Spring will be here before you know it, and it's time to start prepping. Ditch the dark, moody colors you've been hiding in all winter, and allow yourself to wear something more vibrant and wild. "Stop caring so much, and break the rules," says stylist Miranda Starcevic. Mix your stripes together, along with beads, knits, and faux furs for a truly outrageous (yet still totally wearable) look. "There's one thing to know," she says. "If you go 'outfit crazy' you'll want to keep the makeup pretty low key. You don't want to over do it (well, not too much)."
Derlyn is wearing Miranda Starcevic faux fur coat and DIY Converse, Kenzo top, Ariel Tidhar pants, and Susan Alexandra necklaces.
Layer unexpected silhouettes
Pairing unexpected silhouettes will definitely keep things interesting. If you find yourself in a dilemma and unable to decide between wearing a dress or wearing pants, Starcevic suggests going for both. "To keep it 'casual,' add a hoodie," she says. "Now, you're ready to go grocery shopping."
Muna is wearing a Cailyn Culp dress, ASOS sweatshirt, Miranda Starcevic pants, Kenzo shoes, and Susan Alexandra bracelets.
Break up monochromatic with denim
We all love a good monochromatic look, and the more layers the better. However, if you're looking to break it up a bit, Starcevic wants you to throw some denim into the mix. "If you want to spice it up a little, go for two-tone," she says.
Muna is wearing a Kenzo coat, ASOS top, Sam Wladis pants, Lack of Color hat, and Happy Socks socks.
Customize your denim
More is definitely more in terms of denim. Rather than pair vibrant colors and glitter with just any old jean jacket, load up your denim with custom embellishments. "Customize your denim with some cool patches—start collecting!" says Starcevic.
Derlyn is wearing Miranda Starcevic jacket and shirt, Kenzo shoes, Ariel Tidhar hta, Happy Socks socks, and vintage sunnies. Muna is wearing a Colin Locascio jacket, ASOS hoodie, Miranda Starcevic top and skirt, and Marc by Marc Jacobs shoes.
Look for styling surprises
When it comes to styling looks, sometimes inspiration comes from unexpected sources. "One of my favorite quotes is from American Beauty: 'It's a great thing when you realize you still have the ability to surprise yourself.' This sweatshirt looked so amazing inside out, I just had to go with it," says Starcevic. Start wearing your clothes inside out, upside down—you never know what you'll discover!
Derlyn is wearing a Pay's sweatshirt (inside out), ASOS dress, Susan Alexandra jewelry, and Happy Socks socks.