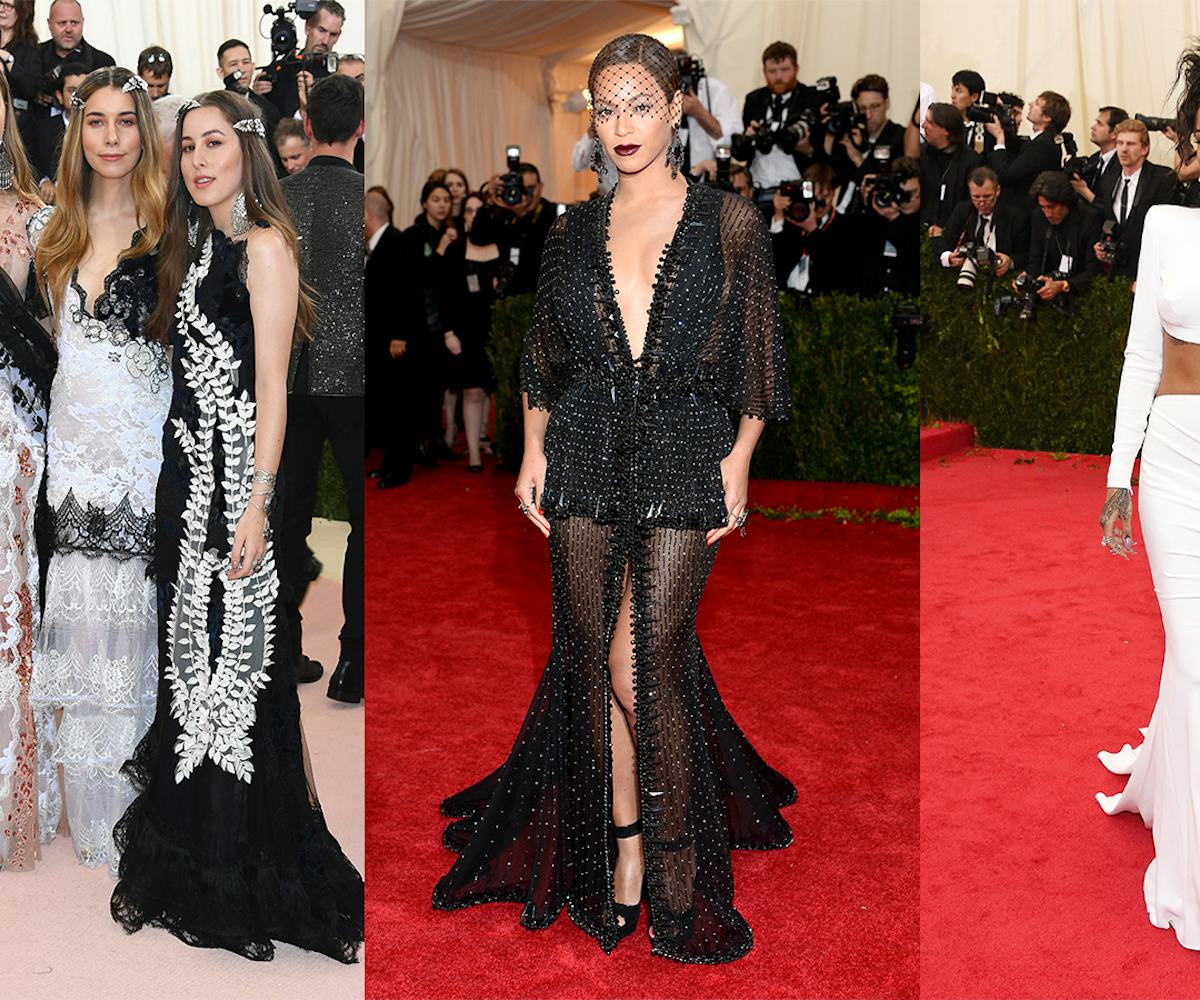 The 20 Most Incredible Met Gala Looks Of All Time
Just in case you weren't already excited for tonight
To say that we're excited for tonight's Met Gala—aka fashion's party of the year—would be an understatement. Every year, we're blown away by the striking gowns, intricate getups, and, of course, a couple of surprises here and there. And we're sure tonight's Rei Kawakubo theme is destined to bring us some of the most outrageous, avant-garde looks ever seen at the Gala, all in a nod to Kawakubo's brilliant work.
While we gear up for tonight's festivities, we can't help but feel nostalgic for some of our favorite looks of the past. Below, we rounded up some of the craziest, breathtaking, and most elegant ensembles of all time.
What can we learn from these 20 numbers? That sometimes more is more and, on some occasions, simple and minimal can be just as powerful. Oh, and that attending the gala with your equally as stylish sibling(s) turns you into a superhuman fashion force.
Check out our all-time favorite looks, below.
Willow and Jaden Smith, 2016
It was confirmed that the Smith siblings are fashion icons in the making when they attended last year's gala in these futuristic Chanel (Willow) and Louis Vuitton (Jaden) getups.
The Haim Sisters, 2016
Remember that time the Haim sisters proved to us that they were actually ethereal fairies from heaven when they arrived at the Gala in head-to-toe Rodarte? We sure do.
Zoe Saldana, 2016
Zoe Saldana stole the show (and filled the room) with this absolutely breathtaking feathered gown by Dolce & Gabbana.
Nicole Kidman, 2016
All hail Nicole Kidman, moon goddess and witchy queen, in this incredible Alexander McQueen caped dress.
Mary-Kate and Ashley Olsen, 2015
The fashion twins gave us total Victorian goth realness in Christian Dior.
Solange, 2015
This Giles dress Solange chose in 2015 is more art than fashion. How apropos.
Anne Hathaway, 2015
Donning Ralph Lauren, Anne Hathaway proved that a hood is appropriate for a red carpet.
Blake Lively, 2014
Blake Lively was pure glamour in this Gucci gown.
Rihanna, 2014
While some of Rihanna's Met Gala choices have been meme-worthy, we're swooning over the simplicity and elegance of this two-piece Stella McCartney look. 
Beyoncé, 2014
While this was quite an infamous evening for Beyoncé, Jay Z, and Solange, Queen Bey was sheer elegance in this sparkling, black Givenchy look.
Rooney Mara, 2013
Everything about Rooney Mara's 2013 look is perfection, from her simple hair and vampy lip down to her stunning ruffled lace Givenchy gown.
Sarah Jessica Parker, 2013
Leave it to Carrie Bradshaw to interpret a punk-themed evening with an insane Philip Treacy faux mohawk headpiece.
Florence Welch, 2012
Florence Welch was a tiered ethereal cake in this insane gown by Alexander McQueen.
Beyoncé, 2012
Beyoncé left us breathless with this sheer, ombréd, feathered Givenchy gown.
Daphne Guinness, 2011
There are no words for Daphne Guinness in this intricately feathered Alexander McQueen masterpiece. Oh, wait, yes, there are: iconic, stunning, perfection.
Dakota Fanning, 2011
Dakota Fanning was a literal garden party in a flower-emblazoned Valentino.
Doutzen Kroes, 2010
Doutzen Kroes was basically a fairytale princess in this tulle Zac Posen stunner.
Blake Lively, 2008
Blake Lively chose this gorgeous Ralph Lauren mermaid gown for her Met Gala debut.
Cate Blanchett, 2007
Cate Blancett was a fringed dream in this golden Balenciaga gown.
Nicole Kidman, 2003
The 2003 theme was Goddess, and that's exactly what Nicole Kidman was channeling in this sparkling Tom Ford for Gucci.