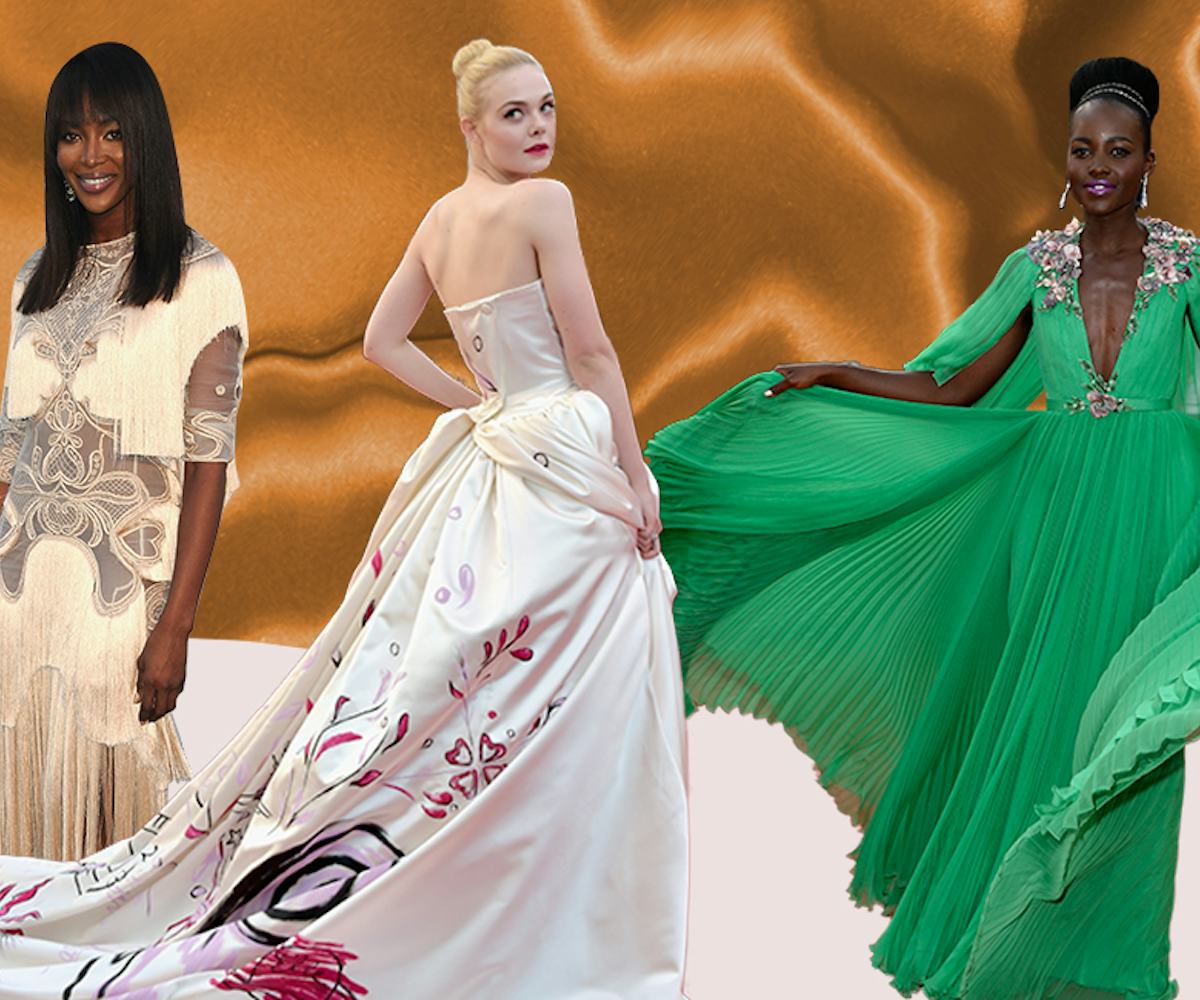 The Most Iconic Looks Of All Time From The Cannes Film Festival
Sartorial stunners from the annual French film festival
Cannes Film Festival kicks off tomorrow in France, which means for the next 12 days we'll be seeing a whole lot of action on the red carpet.
As most of the stars in attendance have a number of events to attend over the course of the festival, from formal premieres to more casual photo calls and press conferences, this means we'll get a full array of fashion, from ball gowns to daytime frocks.
While there are bound to be some noteworthy sartorial moments at this year's festival (as there are each year), we wanted to take a look back at some of the greatest looks of all time, starting from last year and dating back all the way to the 1950s. From a hand-painted Vivienne Westwood gown to checkered Vans sneakers to gowns fit for a princess (worn by a princess), these looks are all notable moments in fashion history.
Below, the most iconic looks in the history of Cannes Film Festival.
Lupita Nyong'o, 2015
There may be nothing more iconic than Lupita Nyong'o's whimsical emerald green Gucci gown.
Marion Cotillard, 2014
Marion Cotillard wore the most magical Dior frock to the premiere of Two Days, One Night back in 2014.
Carey Mulligan, 2013
Have you seen anything more stunning than this minimalist Vionnet gown worn by Carey Mulligan in 2013?
Naomi Campbell, 2011
Naomi Campbell went full-on fringe in 2011 with this elegant Givenchy gown.
Milla Jovovich, 2005
Honestly, is anything cuter than Milla Jovovich snapping pics of paps in this nude Chloe frock?
Princess Diana, 1987
In true princess fashion, Princess Di attended the film premiere of The Whales of August in the most stunning Catherine Walker gown, inspired by Grace Kelly's gown in To Catch A Thief.
Jane Birkin, 1974
Jane Birkin brings the OG basket bag to the red carpet in 1974.
Catherine Deneuve, 1966
French icon Catherine Deneuve made a case for sequined stripes on the carpet back in 1966.
Sophia Loren, 1959
Sophia Loren hung out of a window waving to fans in a belted sheath dress.
Brigitte Bardot, 1956
Brigitte Bardot casually ran across the beach during the film festival in a fitted black gown, making us rethink our beach day look.
Elle Fanning, 2017
Last year, Elle Fanning took our breath away in this incredible hand-painted gown by Vivienne Westwood.
Rihanna, 2017
Curious as to what launched tiny sunglasses into a mega-trend? Forget the Hadid sisters, it was Rihanna on the red carpet at last year's film festival in a pair of custom Andy Wolf sunnies.
Kristin Stewart, 2016
The queen of Cannes Casual, Kristen Stewart stepped out in checkerboard sneakers and cropped white tee—breaking the red carpet rules like a true badass.
Kristin Stewart, 2016
Of course, she did step it up for the premiere of her film Café Society, wearing head-to-toe Chanel.
Soko, 2016
Soko brought elegant teenage angst to the red carpet with this Victorian-style sheer black gown paired with tartan socks and chunky platform heels.