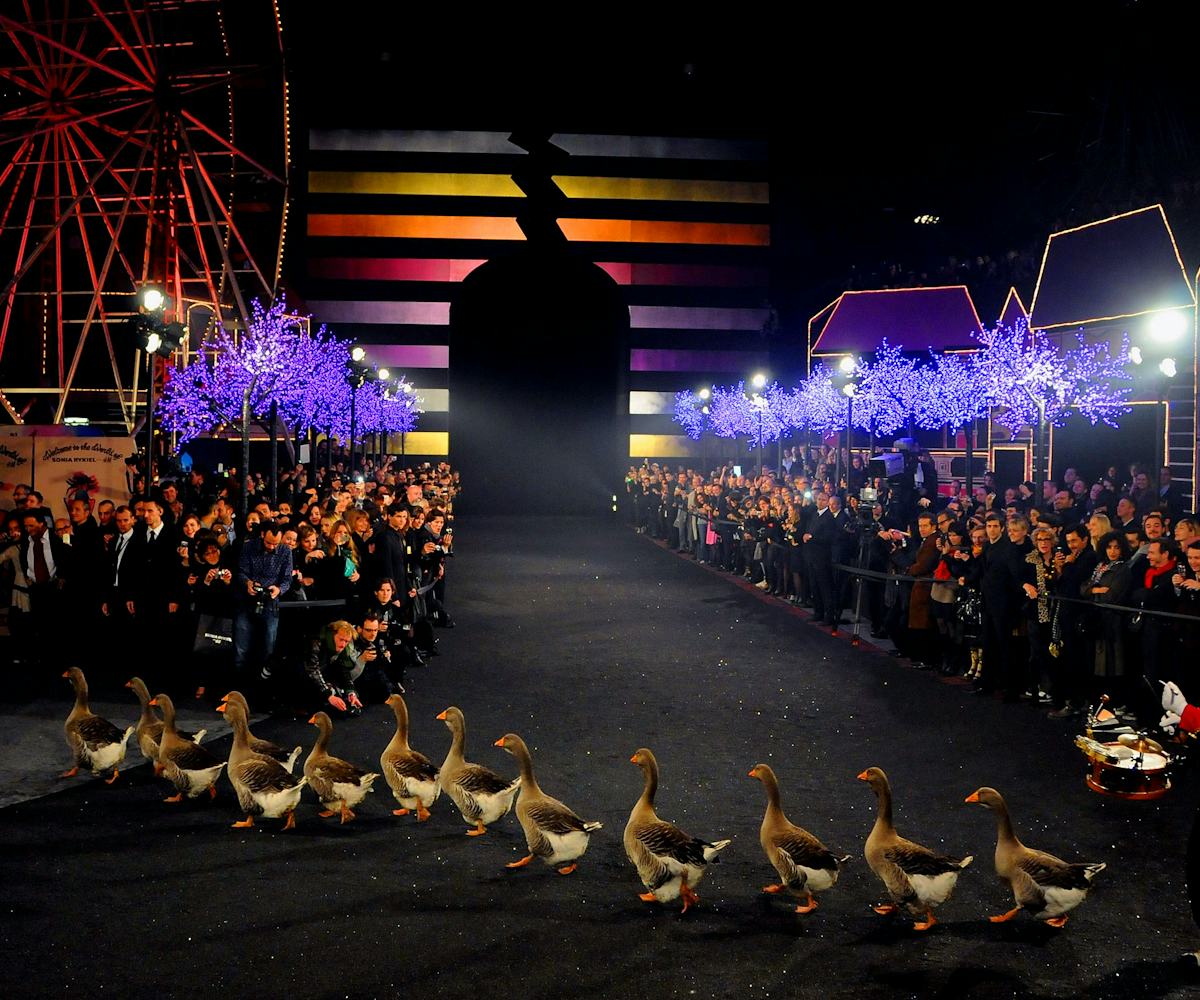 Photo by Pascal Le Segretain / Getty Images
14 Of The Most Memorable Fashion Shows Of All Time
New York Fashion Week is officially here, kicking off what's known in the industry as fashion month, a preview of all the fashion and trends that will be upon us come spring 2017. With visions at times so creative they can't be contained, it's not unusual for designers to ditch the traditional runways for settings far more extravagant.
By taking shows to places far-flung—whether literally to a different country on the other side of the world or more metaphysically to a different era, sometimes even into the future—designers have created collections that have lived on in our minds long after the season ended. From the over-the-top sets dreamt up by Karl Lagerfeld (while both at Fendi and Chanel) to theatrical art masterpieces that were Alexander's McQueen's pièces de résistance (a tradition that Sarah Burton has fortunately carried on) and the lavish worlds created by Marc Jacobs (for both his eponymous line and Louis Vuitton), there have been many stunning visual experiences that are more similar to performance art than fashion shows.
With that in mind, we're taking a look back at some of the most iconic runway moments. Click through the gallery below to see 14 of our favorites.
Versace Fall 1991
There is no show more representative of the '90s than Versace's Fall 1991, if only for the finale during which Gianni Versace sent supermodel powerhouses—Linda Evangelista, Cindy Crawford, Naomi Campbell, and Christy Turlington—down the runway. Arm in arm and lip-synching to George Michael's "Freedom! '90," the quartet recreated the iconic David Fincher–directed video they'd all starred in. 
Perry Ellis Spring 1993
Inspired by the music scene in Seattle and the counter-culture of the '90s, this now-iconic collection actually got Marc Jacobs fired from Perry Ellis in '92, though it also won him the 1992 CFDA Womenswear Designer of the Year award and pretty much made his career. It's also credited for introducing the influence of grunge in high fashion. Years later, this collection is still imitated by many, with grunge having made a comeback in recent years.
Alexander McQueen Spring 1999
Always a visionary and a standout showman, Alexander McQueen had two robots—that took several weeks to program—spray-paint an all-white dress worn by model Shalom Harlow as she rotated on a circular platform during his 1999 spring show. A true piece of art (even featured at the Costume Institute's "Savage Beauty" exhibit in 2011), this dress and collection showcase to this day how McQueen was always years ahead of his time with his use of unexpected use of technology and inventiveness in high fashion.
Fendi Fall/Winter 2007
There has been no locale as spectacular as the one Fendi selected for its Fall/Winter 2007 collection. After spending a year planning and preparing the show with the Chinese government and at an estimated cost of $10 million, the house sent almost a 100 models down what might be the longest catwalk in the history: the Great Wall of China.
Pierre Cardin Spring/Summer 2008
To celebrate launching his collection 30 years prior, Pierre Cardin took to the Whistling Sand Mountain on the outskirts of Dunhuang in China to showcase his 2007 collection. With models appearing from behind the dunes and marching down desert sand, the French fashion house unveiled a collection of 200 dresses along the scenic Silk Road.
Sonia Rykiel for H&M 2009
In addition to lingerie-wearing models swinging from chandeliers, driving a horse float, and lounging on silk-covered mattresses, the late Sonia Rykiel's show for her collaboration with H&M featured a flock of geese parading down the runway. Held at the Grand Palais in Paris, the show came complete with an illuminated Eiffel Tower sculpture and a Ferris wheel. Need we say more?
Moncler Grenoble Fall 2011
In 2011, a group of Moncler-clad models took over Grand Central Station in Manhattan in a coordinated flash mob to present the new collection. As attendees gathered on balconies and on the main concourse of the station, unaware commuters caught a glance of the show set up to a mash-up of songs ranging from Duck Sauce's "Barbra Streisand" and Janelle Monáe's "Tightrope" to Barbra Streisand's "People" and Prince's "Let's Go Crazy."
Thierry Mugler Fall 2011
In a cinematic turn of events, creative director Nicola Formichetti enlisted the help of Lady Gaga for his womenswear debut collection for Thierry Mugler. After modeling several looks, she closed the show in a white bodysuit, maxi skirt, oversized hat, and sky-high platforms by sultrily dancing her way down a runway made to resemble a grand cathedral nave.
Marc Jacobs Fall/Winter 2012
Only Marc Jacobs could take Oliver Twist-inspired garb and make a sartorial statement out of it. Oversize jackets, Mad Hatter-esque hats, pilgrim shoes, and heaps of button and metal hardware took over Marc Jacobs' fall runway in the chicest way. Created by Jacobs' friend and artist Rachel Feinstein, the outrageous set was made out of construction paper and featured a fountain, adding to the Seuss-ian vibes of the collection.
Saint Laurent Fall 2013
Hedi Slimane's second show for Saint Laurent was one of the most polarizing shows that came out that season. While some fashion critics hailed Slimane for adding a breath of fresh air to the traditionally classic house, others—most notably Cathy Horyn's who has long had a feud with Slimane said, "Without the label attached to them, Mr. Slimane's grunge dresses wouldn't attract interest—because they're not special," in her New York Times review—were not fans.
Whether you love or hate the collection, one thing was clear: Grunge was back in a major way.
Louis Vuitton Spring 2014
A true maestro when it comes to show-stopping catwalk performances, Marc Jacobs ended his tenure at the iconic French label by paying tribute to shows of the past with lavish backdrops in the form of escalators, carousels, a fountain, and a train station. Dedicated to women who have inspired him during his time in Paris (including Coco Chanel and Miuccia Prada), it was a fitting and downright emotional finale to the end of an era, with looks that would have made his muses proud.
Givenchy Spring/ Summer 2016
Staged at the National September 11 Memorial and coinciding with the 14th anniversary of 9/11, Givenchy's Spring/Summer 2016 was a contemplative affair complete with Marina Abramović performance pieces and reflections on the lives lost that day. After the attendees spent an hour watching the sunset, taking everything in, Riccardo Tisci presented the audience with one of his best collections to date. It was truly worth the wait.
Zac Posen Fall 2016
For his show last season, Zac Posen cast predominantly black models to send down the runway, as a commentary on the overwhelming whiteness of most fashion designers' runways. The result was an important and powerful statement, one worthy of the massive industry and public applause it got. It will be interesting to see what Posen and other designers do about this problem moving forward.
Chanel Resort 2017
It's hard to pick just one Chanel show, given how memorable Karl Lagerfeld's reign has been, with lavish setups staged everywhere from casinos and supermarkets to street protests and dreamy carousels. Earlier this spring, Lagerfeld approached the resort show with his most radical idea yet and flew the fashion crowd to the streets of Cuba, which had only recently opened up to American tourists. Guests were treated to a weekend of activities in Havana and Fidel Castro's grandson even walked the runway.
The collection was bright, lively, and festive—just like the atmosphere surrounding the thawing of international relations.