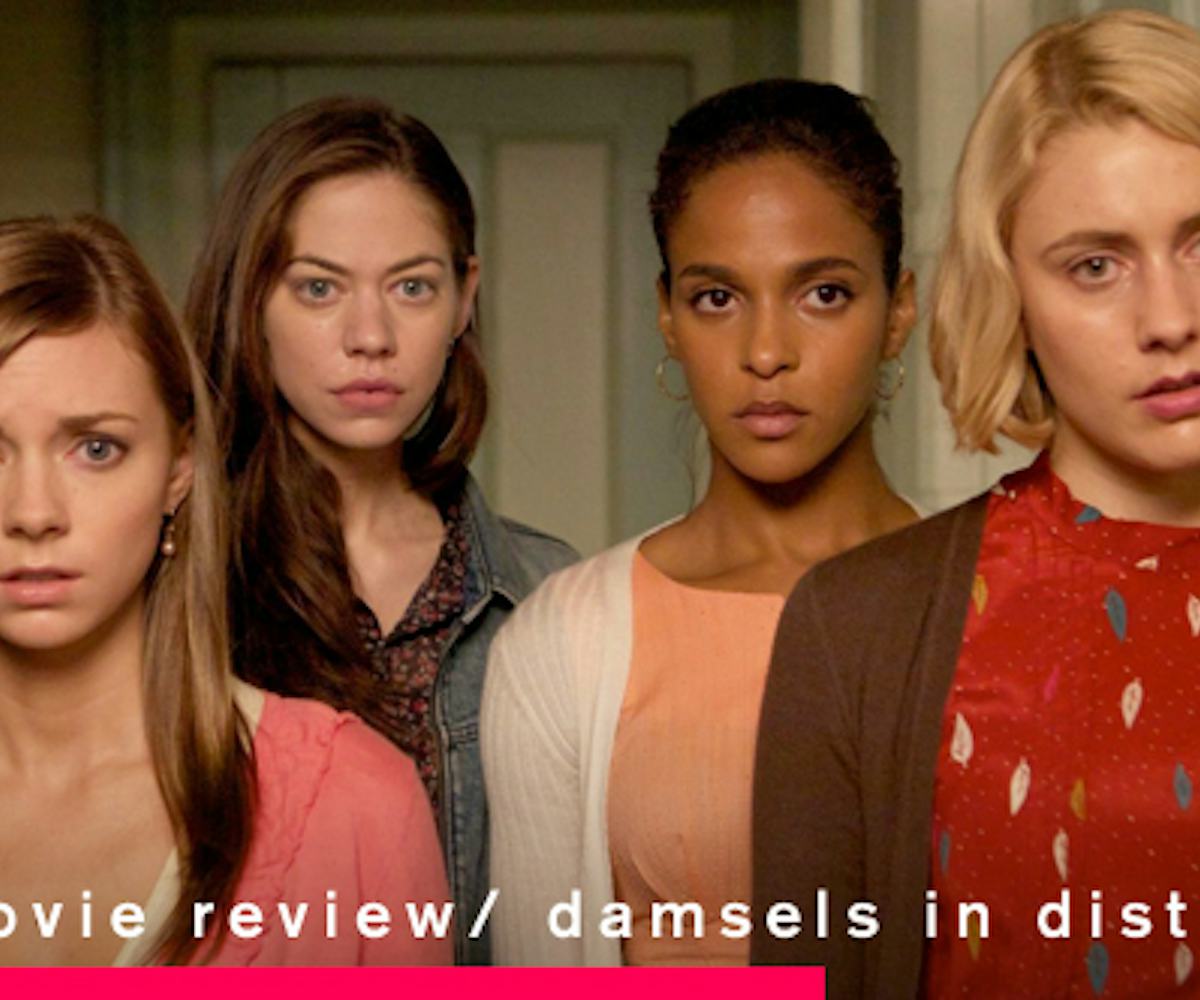 movie review: damsels in distress
greta gerwig is out to save the world in whit stillman's crazy new comedy.
On paper it might seem tough to relate to Damsels in Distress. We're not sure when it's set, the dialogue isn't at all how we talk in real life, and the plot is just out-there enough to make us wonder if we've missed something along the way. But this far-fetchedness is exactly what makes Whit Stillman's new comedy so great. The director is known for equally eccentric films like The Last Days of Disco and Metropolitan, but this time around he's taking his well-bred cast of characters back to college.
Greta Gerwig stars as Violet, one of the four "damsels" in the film whose mission is to help others....but just not in the ways that you'd think. She runs the school Suicide Prevention Center and teaches tap lessons to "severely depressed students" as a means of therapy, but her most important goal is to convert the meathead guys of her college into gentlemen by- how else?- dating them. When Violet gets unexpectedly dumped by her dumb jock boyfriend, she falls into a downward spiral and her friends (the other "damsels" in the story), have to help her return to normal.
With co-stars like Analeigh Tipton (as the new girl whom the others take under their wing), Aubrey Plaza, Adam Brody, and more, the film reads like a cool kids' club of Hollywood up-and-comers. But the real anchor in the film is Gerwig, who plays Violet's strange delusion, pretension, and downright ridiculousness with enough comedic smirk that we can't help but still love her.
Borrowing qualities from Heathers, Mean Girls, and Election, this film cleverly takes these Hollywood high school movies and twists them inside out. So if you're the daydreaming type, grab your best friend and see Damsels in Distress...we can all use a break from reality for an afternoon.
Opens tomorrow nationwide.