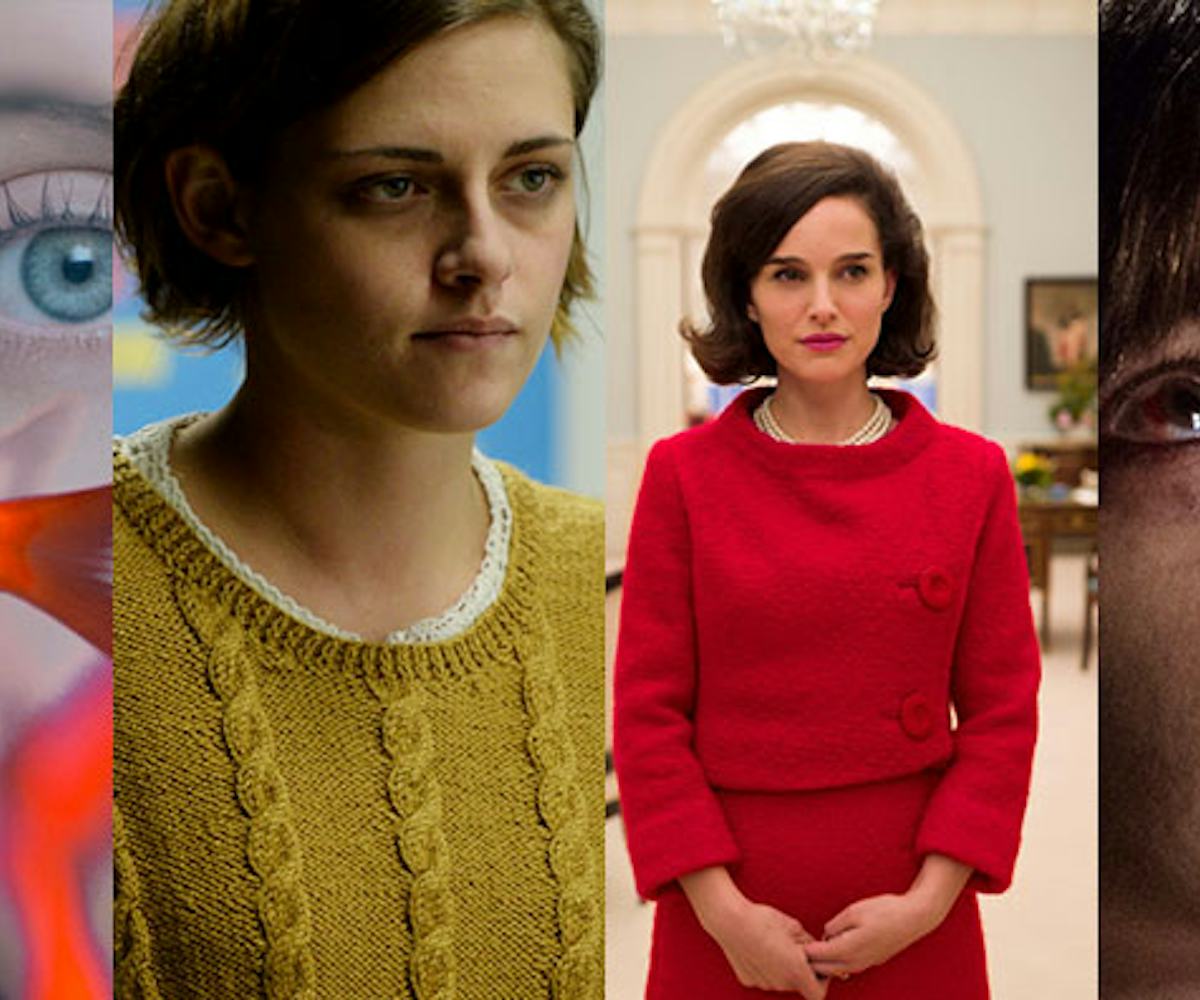 Photos courtesy of TIFF
8 Movies At The Toronto Film Festival Worth Paying Attention To
Over the next 10 days, some of the biggest stars around will descend on the pristine city of Toronto for one of the movie industry's marquee events. The Toronto Film Festival—or TIFF, as it's known colloquially—has become the unofficial starting gun for awards season, the forum where studios typically show off their prestige projects for the first time, and where the Hollywood hype machine kicks into high gear.
The festival opens tomorrow, with the opening gala for Denzel Washington and Chris Pratt's high-octane Western remake The Magnificent Seven, but afterward will settle into more typical festival fare, with headier, auteur-driven works dotting the program. Here, we choose eight potentially great movies—in a festival that will undoubtedly be full of them—that are worth your attention. 
Una
In one of her three movies at the festival, Rooney Mara plays the title character, a woman who confronts the man who sexually abused her 15 years after the fact only to discover that he is not the person she remembers. That man, her neighbor at the time, is played by Ben Mendelsohn, rapidly emerging as one of the most consistent character actors in Hollywood. The movie, based on David Harrower's stage play, "Blackbird"(he also adapted it for the screen), is by all accounts heavy, unflinching, and an emotional sucker punch. When it screened recently at the Telluride Film Festival, audiences left feeling winded. We mean that in a good way.
The Bad Batch
With 2014's effortlessly cool vampire flick A Girl Walks Home Alone at Night, Ana Lily Amirpour announced herself as a breath of fresh air in a movie landscape with far too few original voices, and even less of them female. With her black-and-white parable, she combined pulp genres—mashing up noir, horror, and Western elements seamlessly—with the gusto of Quentin Tarantino. Like most successful first-time directors, Amirpour's follow-up is packed with a starrier cast, this one led by Suki Waterhouse as a lone girl left for dead in the desert by a dystopian American society that sees her as somehow unacceptable (hence the movie's title). Before long, she's captured by cannibals, setting the movie's haywire plot in motion. Jim Carrey, Jason Momoa, and Keanu Reeves all show up in what on the surface looks like a flashy action-horror but, thanks to its director, has enough brains to match the blood.
Colossal
So get this: Colossal begins like any other Anne Hathaway vehicle might. She plays an untamed party girl who, after getting thrown out by her boyfriend (Dan Stevens), returns to her hometown and reconnects with a childhood friend played by Jason Sudeikis. Normally, after a series of stop-starts, the two of them would fall in love and she'd learn the folly of her ways. But in this movie, directed by Spanish visionary Nacho Vigalondo, she wakes up one morning to discover that a giant monster is rampaging through South Korea and that she is somehow connected to it. We shit you not.
A United Kingdom
In 2013, Amma Asante turned heads with Belle, a stirring period drama that examined racial politics and tensions in 18th century England through the eyes of an interracial girl growing up in the British aristocracy. With A United Kingdom, she turns her focus to the mid-20th century, retelling the powerful true story of Seretse Khama and Ruth Williams, an African prince and white English noblewoman who fell in love and married against the tumultuous backdrop of Botswana's fight for independence from the British Empire. The movie is anchored by its two leading actors, David Oyelowo and Rosamund Pike, who should both be in the conversation come Oscar time.
Jackie
The days following the assassination of President John F. Kennedy were some of the saddest and most chaotic this country has ever faced. But no one could have felt those emotions more deeply than the president's wife, Jacqueline Kennedy, which is why Natalie Portman took a big risk when she signed on to play the First Lady in this movie depicting the aftermath of her husband's murder. But according to reactions out of the Venice Film Festival, where the movie had its world premiere, Portman more than pulls it off, delivering what some are calling the best performance of her career.
Certain Women
The films of Kelly Reichardt are small but soulful; quiet, yet leaving a deep impact. She is undoubtedly one of the current masters of American cinema. Her fruitful creative partnership with Michelle Williams—together they've made Meek's Cutoff and Wendy and Lucy—continues with this triptych of stories that revolve around independent and steely women as they navigate deceptively critical moments in their lives. Laura Dern, Kristen Stewart, and newcomer Lily Gladstone also star in these three narratives—based on Maile Meloy's collection "Both Ways Is the Only Way I Want It"—set underneath the big Montana sky.
Carrie Pilby
We know very little about this movie, except that it stars Bel Powley as a misanthropic teenager on a path of self-discovery. The last time that happened we got the refreshing The Diary of a Teenage Girl, which made Powley an instant star. This time around, she plays the title character, a Harvard grad living on her own in New York, who's almost too bright for her own good—she dislikes just about everyone. When her therapist (Nathan Lane) gives her a five-point plan to live a normal life, Carrie does her best to take his advice. 
The Secret Scripture
This Ireland-set period romance has the chance to become this year's Brooklyn, which won audiences over at last year's festival on its way to a Best Picture nomination at the Oscars. The movie opens from the perspective of an elderly woman (Vanessa Redgrave) in a mental institution, recalling her story to a psychiatrist (Eric Bana). In flashbacks, Redgrave's character, now played by Rooney Mara (who was once attached to star in Brooklyn before the role went to Saoirse Ronan), falls in love with a fighter pilot (Jack Reynor), while a priest (Theo James) falls in love with her. The results are tragic.