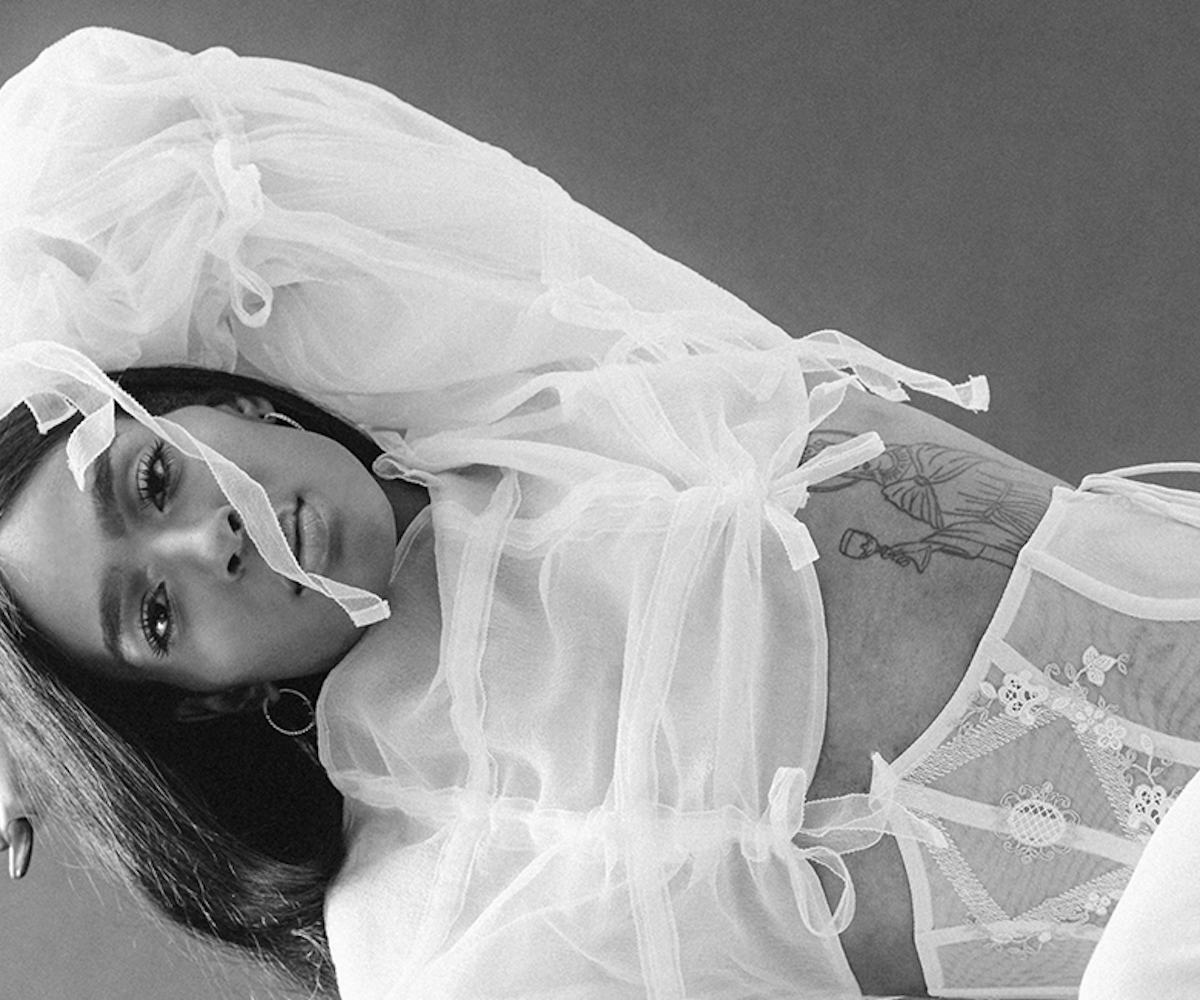 Photo by Elvin Tavarez
It's Ms. Boogie's World, We're Just Living In It
"I'll always be that girl"
"I feel like I've been given the opportunity to redevelop as an artist," Ms. Boogie, the Brooklyn-based rapper, told NYLON over burgers in downtown Manhattan in late July. "Many people are stuck with their paths when they try to reinvent themselves, but now I feel like I get to call myself an artist again from scratch." And now, in the studio teasing out her new sound, having made an appearance on the remix to Kelela's single "LMK" with Princess Nokia, CupcakKe, and Junglepussy, Brooklyn's prettiest princess is doing just that, with a renewed vigor and slightly altered outlook on her artistry.
Having come to the forefront of culture back in 2014 with the track and visual for "Body," off her debut album Allure ("that was really a record about body ownership; I was saying just because I surrendered my body to you for whatever length of time because we're having sex doesn't mean that you own it"), Boogie has logged over half a decade in the entertainment industry. And while that archive includes other acclaimed projects like the 2015-released mixtape My H.O.E. and the 2017-released Jesus Loves Me Too, after releasing a statement in May publicly coming out as a trans woman, Boogie has, for the most part, parted ways with her past work.
"It's on the internet," she says of her discography while eating a fry. "Whoever downloaded it in its prime… it means to them whatever it means to them, but for me, clearly, it's a part of my life that I've moved on from."
That moving on was first evidenced in her track, "Morphin Time," which she has described as being about stepping into her comfort zone. "I'm very aware of my responsibilities as a person of my nature on this Earth. So it's always been important for me to redefine rules and common phrases along the way," the Dominican performer said. "Casually speaking, it's always been stepping out of your comfort zone in order to pass a plateau or something, but, for me, I feel that it's about stepping into my comfort zone which is my womanhood or my femme queen antics."
Ballroom culture, a community Boogie has been a part of since at least age 15 (she recently appeared at a mini-ball in Brooklyn and walked face), plays a large part in Boogie's influences—including calling herself a "femme queen," which is ballroom parlance for being a trans woman. Boogie says, "I see myself on that screen" when conversation turns to shows like Pose and My House. That influence is most clear on "Morphin Time" when she uses the community's verbiage: "Last time it was butch queen performance, now it's femme queen performance," referencing her transition from a feminine gay man to a trans woman. Elsewhere she raps "female figure with that finger on the trigger," a nod to the ballroom concept of a  "female figure," an all-encompassing category for those who identify as female in some way.
But the ballroom influence also turns up in Boogie's desire to be upfront and direct about topics others might skirt around or talk about metaphorically. "Being literal has always been a big part of my work because I want to make sure that people don't get it twisted or aren't any more confused about our walk of life," Boogie said, referring to the community from which she came. "So I need to be very blunt about things: Like, yes, we craft, or we used to craft, though we may not craft anymore because we're in positions of power. Yes, we are trying our best to break through stigmas of sex work, and also raw sex in a safe way, but that shit just feels good. Yes, I'm a woman, and I use my dick; all of those things, I need to be really real about because these are things that are [happening], but we still haven't found the cadence to project those points of view into mainstream."
This kind of straight-talking, categorized as vulgar or inappropriate by some, also falls within the no-holds-barred, reportage-style history of rap as a genre. If hip-hop is "CNN for black people," then the black queer community's discourse is a part of this canon as well. Boogie has no issues with beating that path for trans women and educating the masses along the way.
"Part of my mission statement has always been my transparency so I can sort of educate people along my way and create this revolving door of inspiration and knowledge," Boogie explained. Recently that has included educating fans and press about how to refer to her; it has also meant challenging producers she's worked with before, who are more sonically married to her archive than helping her find her new sound.
"Quite frankly, I don't know anyone who has transitioned publicly (a) in hip-hop or (b) in entertainment. It's very sensitive and a very fragile experience because you want to hold on to what you've garnered, but you also want to gain a new experience, a new moment. So I'm learning as I go and am bringing people along the way."
Even still, certain things will never change: "With my lyrical content, I'll always be that girl."
Welcome to Ms. Boogie's comfort zone.