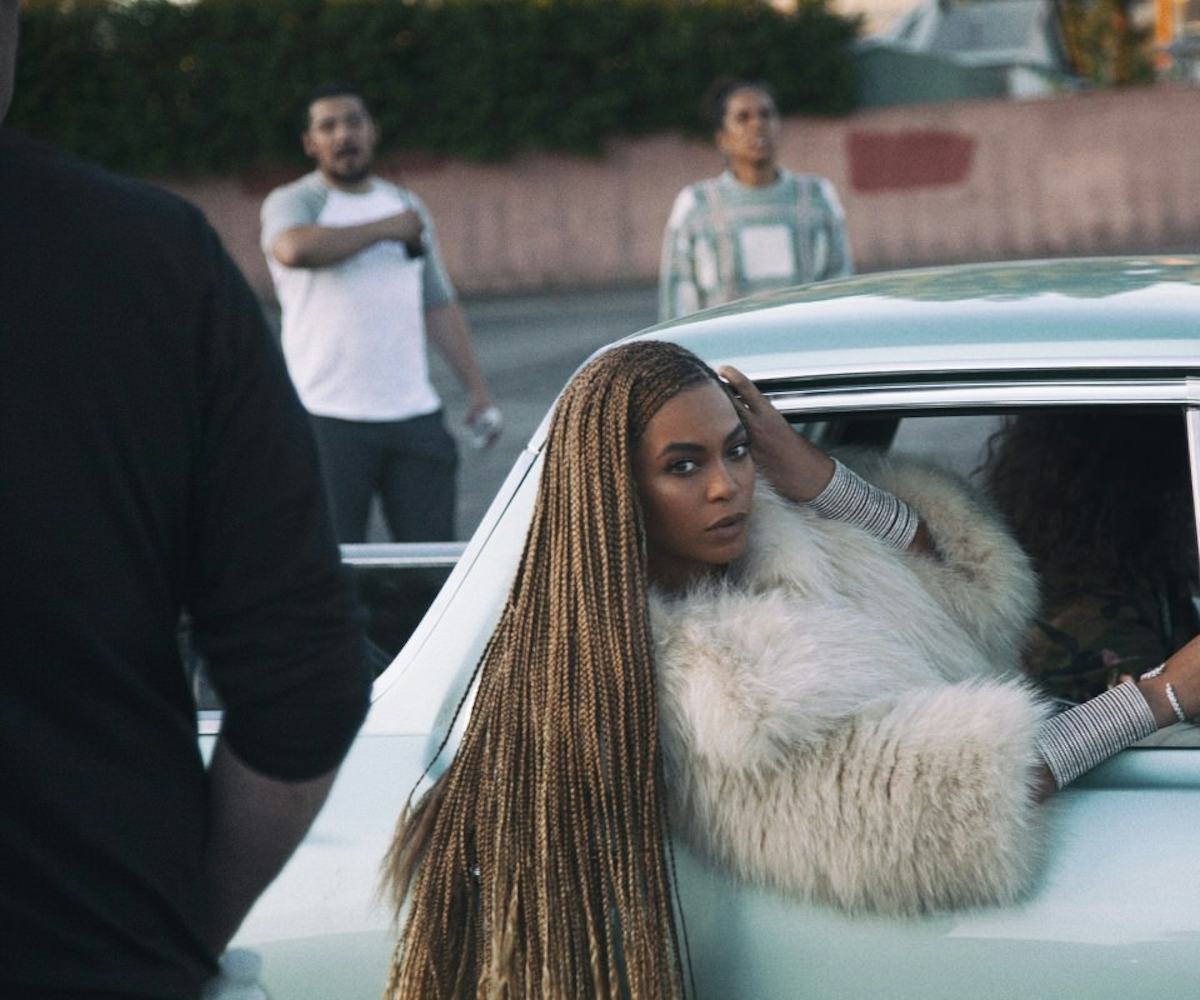 Photo courtesy of Beyonce
This Year's MTV Video Music Awards Will Be Another Coronation For Beyoncé
She leads with 11 nominations
The MTV Video Music Awards have never been the most accurate barometer of what's happening in the world—unless bickering pop stars and too much cleavage suddenly become pressing social issues. But on Tuesday, MTV announced this year's crop of nominees, and what do you know, there's some substance to go along with all that glitter.
It comes courtesy of Beyoncé, whose magnum opus Lemonade earned the singer a whopping 11 nominations, including 6 for her divisive "Formation" video, which will compete for Video of The Year against Adele's "Hello," Drake's "Hotline Bling," Justin Bieber's "Sorry," and Kanye West's "Famous."
While most of her competition stayed safely within the realms of music video banality (except maybe Kanye, whose attempt at boundary pushing felt forced), Beyoncé's video bravely explored her black heritage, commented on racial tensions in America, and featured one of the most killer dance routines of the year. It was the perfect piece of pop culture ephemera mixed with biting social commentary, something only Queen Bey herself can pull off. 
Beyoncé's clips for "Sorry," "Hold Up," and "Freedom," also earned nominations, cementing Lemonade's place as one of the most important artistic statements of the year. While Drake, Ariana Grande, Adele, and Kanye West will all look to take home major hardware after picking up multiple nominations themselves, the night will ultimately belong to Beyoncé.
The 2016 MTV Video Music Awards will air from Madison Square Garden on August 28 at 9pm, and fans can vote for all the awards here. 
Check out the full list of nominees below:
VIDEO OF THE YEAR
Adele – "Hello"
Beyoncé – "Formation"
Drake – "Hotline Bling"
Justin Bieber – "Sorry"
Kanye West – "Famous"                                      
FEMALE VIDEO
Adele – "Hello"
Beyoncé – "Hold Up"
Sia – "Cheap Thrills"
Ariana Grande – "Into You"
Rihanna ft. Drake – "Work" (short version)
MALE VIDEO
Drake – "Hotline Bling"
Bryson Tiller – "Don't"
Calvin Harris featuring Rihanna – "This Is What You Came For"
Kanye West – "Famous"
The Weeknd – "Can't Feel My Face"
COLLABORATION
Beyoncé featuring Kendrick Lamar – "Freedom"
Fifth Harmony featuring Ty Dolla Sign – "Work From Home"
Ariana Grande featuring Lil Wayne – "Let Me Love You"
Calvin Harris featuring Rihanna – "This Is What You Came For"
Rihanna featuring Drake – "Work" (short version)
HIP HOP VIDEO
Drake – "Hotline Bling"
Desiigner – "Panda"
Bryson Tiller – "Don't"
Chance the Rapper – "Angels"
2 Chainz – "Watch Out"
POP VIDEO
Adele – "Hello"
Beyoncé – "Formation"
Justin Bieber – "Sorry"
Alessia Cara – "Wild Things"
Ariana Grande – "Into You"
ROCK VIDEO
All Time Low – "Missing You"
Coldplay – "Adventure of a Lifetime"
Fall Out Boy featuring Demi Lovato – "Irresistible"
twenty one pilots – "Heathens"
Panic! At the Disco – "Victorious"
ELECTRONIC VIDEO
Calvin Harris & Disciples – "How Deep Is Your Love"
99 Souls featuring Destiny's Child & Brandy – "The Girl Is Mine"
Mike Posner – "I Took a Pill in Ibiza"
Afrojack – "SummerThing!"
The Chainsmokers featuring Daya – "Don't Let Me Down"
BREAKTHROUGH LONG FORM VIDEO
Florence + The Machine – "The Odyssey"
Beyoncé – "Lemonade"
Justin Bieber – "Purpose: The Movement"
Chris Brown – "Royalty"
Troye Sivan – "Blue Neighbourhood Trilogy"
NEW ARTIST
Bryson Tiller
Desiigner
Zara Larsson
Lukas Graham
DNCE
ART DIRECTION
Beyoncé – "Hold Up"
Fergie – "M.I.L.F. $"
Drake – "Hotline Bling"
David Bowie – "Blackstar"
Adele – "Hello"
CHOREOGRAPHY
Beyoncé – "Formation"
Missy Elliott featuring Pharrell – "WTF (Where They From)"
Beyoncé – "Sorry"
FKA Twigs – "M3LL155X"
Florence + the Machine – "Delilah"
DIRECTION
Beyoncé – "Formation"
Coldplay – "Up&Up"
Adele – "Hello"
David Bowie – "Lazarus"
Tame Impala – "The Less I Know the Better"
CINEMATOGRAPHY
Beyoncé – "Formation"
Adele – "Hello"
David Bowie – "Lazarus"
Alesso – "I Wanna Know"
Ariana Grande – "Into You"
EDITING
Beyoncé – "Formation"
Adele – "Hello"
Fergie – "M.I.L.F. $"
David Bowie – "Lazarus"
Ariana Grande – "Into You"
VISUAL EFFECTS
Coldplay – "Up&Up"
FKA Twigs – "M3LL155X"
Adele – "Send My Love (To Your New Lover)"
The Weeknd – "Can't Feel My Face"
Zayn – "Pillowtalk"