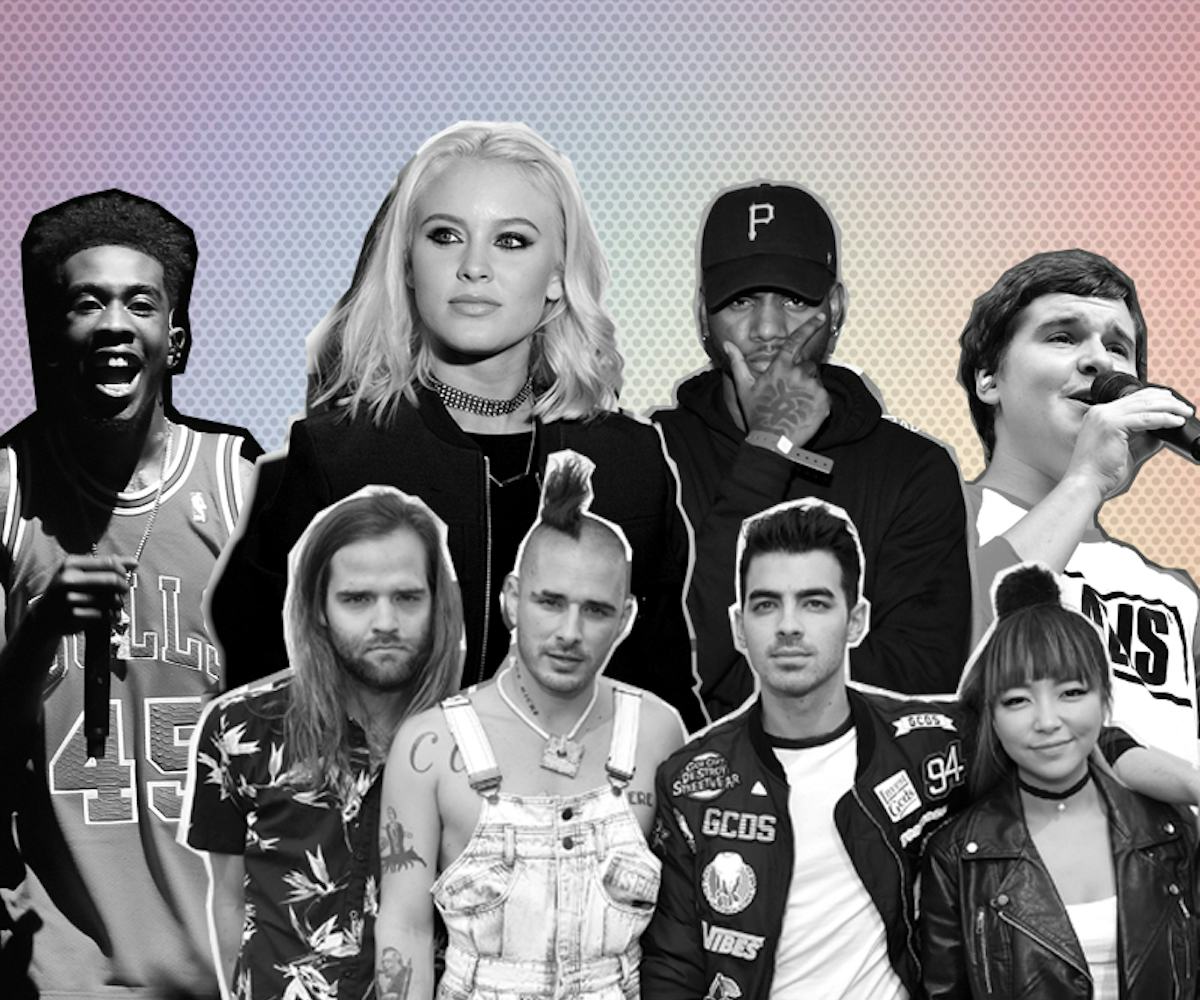 Get To Know MTV's 2016 Roster Of VMA New Artists
Fresh beats, future legends
Since its introduction in 1984, the MTV VMA for Best New Artist has sought to introduce the world to the freshest of the fresh faces. Lady Gaga, 50 Cent, Justin Bieber, Nirvana, Alicia Keys, and One Direction have all taken home the coveted moon man. Last year, Fetty Wap's "Trap Queen" earned him top billing. Like most awards, it adds a necessary boost to a young artist's career and brings them out of critics' circles and into the public's. This year, MTV nominated a healthy mix of burgeoning Top 40 darlings and industry favorites. It's validating seeing artists you've championed since they broke onto the scene be up for one of the bigger awards of the VMAs. Ahead, get to know the five artists whose names you'll soon be seeing everywhere.
The MTV Video Music Awards air Sunday, August 28, at 9pm EST.
Who: Desiigner
Best Known For: "Panda," which Kanye West basically made his own on The Life of Pablo.
Sounds Like: Future if Future were turned waaaaay up.
19-year-old Desiigner (real name: Sidney Royel Selby III) went from enigmatic hip-hop maestro to a bona fide force of nature. His song "Panda" exploded and continues to make waves. He's caught the attention of Kanye West, which basically means he's set for life. Desiigner is ready to take over the world. The real question: Is the world ready for him?
Who: Zara Larsson
Best Known For: "Never Forget You"
Sounds Like: The most delicious pop music this side of 2016
Larsson is on the fast track for pop stardom. Not only does she hail from the land of pop (Sweden), she's managed to become the go-to vocalist for top DJs and other pop acts. Larsson is one name you won't soon forget.
Who: Bryson Tiller
Best Known For: "Don't"
Sounds Like: Kehlani's edge with Jeremih's smoothness 
Lonely hearts found solace in Tiller's TRAPSOUL project. With its emo-tinged lyrics spun over productions you can sway and grind to, he's found an equation that sets him apart from his peers. You turn up to Tiller to feel something, not forget something.
Who: Lukas Graham
Best Known For: "7 Years"
Sounds Like: a delightful mix of nostalgic pop and Jason Mraz swag
Contrary to popular belief, Lukas Graham is actually a band and not one man named Lukas Graham. The Danish band has been around since 2011, but only started making waves on the American charts this year. Its feel-good bops put the band in a world all their own that is showing no signs of bringing anyone down.
Who: DNCE
Best Known For: "Cake By The Ocean"
Sounds Like: Your hyperactive friend you love to death despite their bull in a china shop tendencies.
What does "Cake By The Ocean" mean? Exactly what you think it means and that's a-okay. Joe Jonas and his new band are a ball of fun, free of pretention, and down to do whatever.