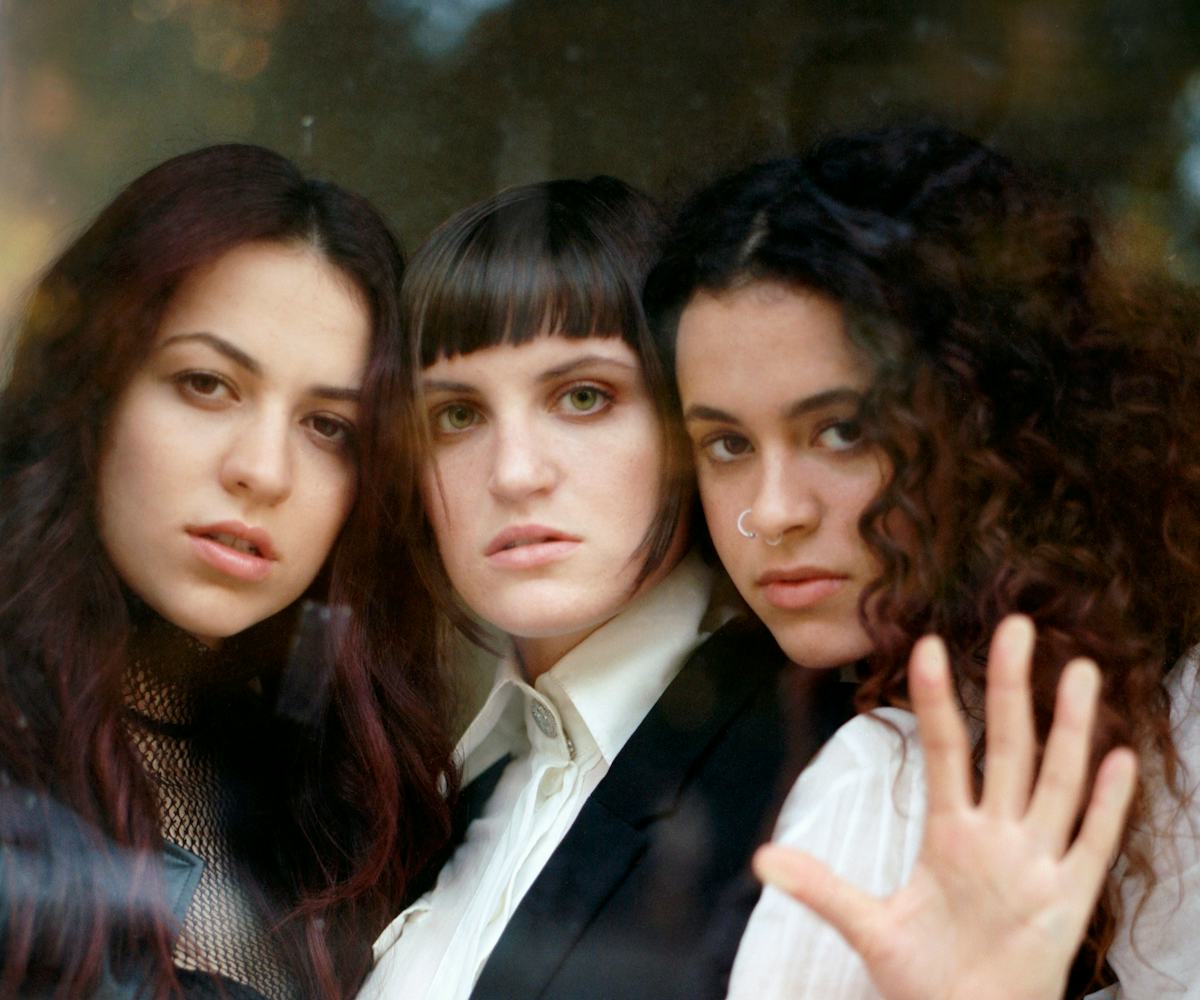 Photographed by Michael Bailey-Gates. Styled by Liz Rundbaken.
Pop Band Muna Fills Us In On Their Debut Album
The following feature appears in the February 2017 issue of NYLON.
"Slang and bang." It's a phrase that comes up quite often in conversation with Katie Gavin, Naomi McPherson, and Josette Maskin—collectively known as moody pop band MUNA. As we tuck into our dinner at a dimly lit Italian joint on the Lower East Side of Manhattan, I ask the L.A.-based trio about the meaning behind the catchphrase.
"We usually say 'slang and bang' right before we go onstage," explains lead vocalist Gavin of their pre-show ritual, which also involves them huddling together, sports-team-style. "'Slang' for us is kind of like 'schlep,' because we're our own roadies right now. We're in a dirty, dirty van and we load everything up at night. Doing that quickly, doing that hardcore, that's slanging. And 'bang' is when you do the show and you're just like, 'Ahh! Slang and bang!'" Lead guitarist Maskin jumps in to elaborate: "That's what that means. Getting it done from start to finish, killing it."
Showing as much exuberance for the cheese and risotto before us as they do for one another's talents ("You're so good at it," Maskin says to McPherson, gushing over her production skills), the three bandmates have a refreshing camaraderie that proves their dedication to staying true to themselves. That infallibility is exactly why they made the conscious decision to write and produce all of their own music, even after signing to a major label. Their debut album, About U, which lands this month, is no exception.
"Do you know what I would boil it down to?" Gavin asks her bandmates with regard to their creative independence. "That we're all really smart. You just know when you do it yourself that it's going to be better." McPherson adds, "It's like when you're doing a group project in school. You can sit back and slack and let everyone else take up the extra weight, or you can just do it, and I've always just done it," she says. "We know what we want it to sound like." Gavin jumps back in: "It also comes from personal experience. When I was younger, people wanted to produce my music, and I remember feeling it wasn't right, but I didn't feel like I could articulate what I wanted in a way that was going to be respected. So it's a very futile, helpless feeling, and I didn't want to do that again." 
Talking over one another, they explain that they create a safe space when working together that allows them to give each other feedback instead of seeking input from outside the group. "Girls aren't taught that they can do that," says Maskin. "This is hard to do, and I don't know if I would have enough conviction on my own to really have a vision for everything that I wanted, because there are just so many people in your ear every day telling you what's right or what's wrong. It's so wonderful that we have each other. If one of us feels weak, the others are strong." 
That empowerment comes through in their music, catchy pop with a big soul that somehow sounds simultaneously delicate and strong, due to Gavin's smooth, soothing voice singing sweet melodies that are charged with a plethora of emotions, and juxtaposed with powerful guitar riffs. Take "Loudspeaker," for example. At first, you'll want to sing along, feeling the beat move through your body. But then you listen a little closer, and the lyrics will break your heart: "What you've done to me/ I've seen many a friend be silenced/ Thinking nobody would believe them." Gavin actually wrote the song about her experience with sexual assault. "It becomes this meta thing, where I have to prove myself again and again by being strong enough to be like, 'Yeah, this song is about something that happened,' and being brave enough to talk about it every time," she says. "I've healed, so it's not traumatic at this point."
"It is kind of an angry song, but the focus isn't on the perpetrator," Gavin continues. "It's supposed to be more of a love song about myself. It's like, 'Every time I love myself it hurts your feelings.' Talking about this stuff is an act of revolution in that it makes you stronger every time you do it, and it's a way you can fight against those powers. Even now, for women, what we're doing is validating each other and saying, 'What you felt is really not crazy; I understand what's happened to you.' That building of solidarity is what I was looking for when I was writing that song."
MUNA are often categorized as a queer band or a girl band. Gavin, who identifies as bisexual, resents being compartmentalized. "Because how do you know, homie?" she says. "You don't know how I feel today." McPherson, on the other hand, has learned to embrace the latter phrase. She remembers not liking female singers as a tween, despite being a musician herself. "It's so internalized," she says. "You feel like men are the only ones who can do it and do it well. And then someone changes your life. Stevie Nicks changed my life when I heard 'Edge of Seventeen.' I was 11 years old. And if it takes us being called a girl band to change someone's mind, I'm down."
For her part, Maskin hopes that MUNA being pegged as a queer band can expand the horizons of aspiring musicians who aren't exposed to people with identities that defy societal norms. "I want them to know that they could do that, too," she says. "And also that sexuality and gender are fluid things. Growing up, being a girl was so difficult for me because I thought being a girl meant one thing. I feel more proud to be a woman because of being in this band." 
From left, on Maskin: coat by Moussy, shirt by Ellery, bra by Calvin Klein Underwear; on Gavin: vest by Boss by Hugo Boss, shirt by Chanel; on McPherson: bralette by Phelan, top by 3.1 Phillip Lim. Hair: Matthew Tuozzoli at Atelier Management using Bumble and Bumble. Makeup: Hiro Yonemoto at Atelier Management using Diorskin Nude.