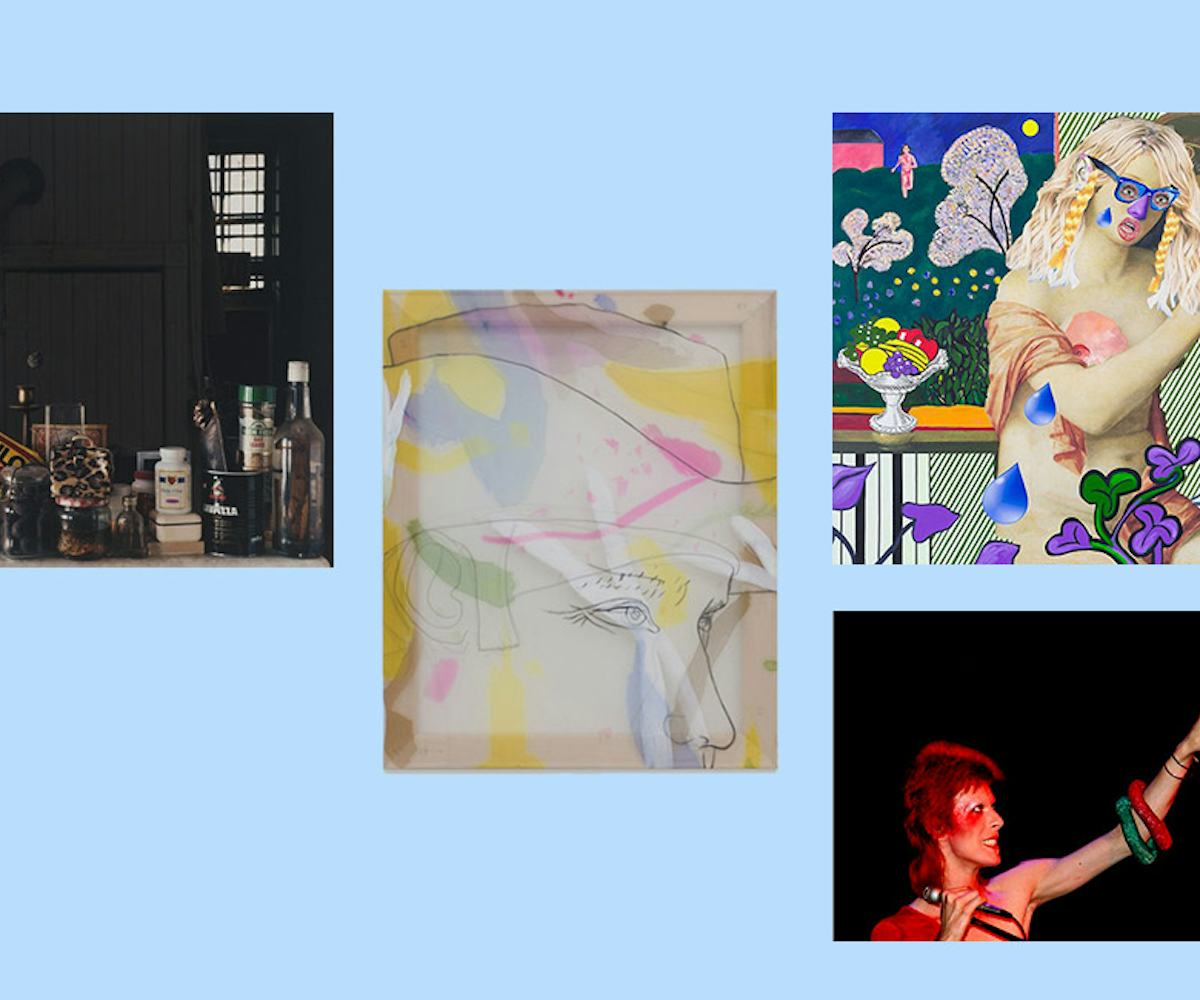 A Guide To All The Best Museum And Gallery Openings This Winter
You'll want to leave your bed for these
Leaving the comfort of your warm and cozy bed during the winter is practically impossible, unless it's, well, absolutely necessary. Needless to say, this loss of motivation to go outside when the cold weather hits, means our overall motivation to go out takes a hit, too. I'll be the first to admit that I'm especially stubborn when it comes to going out in the winter. Leave my expanse of hot chocolate, fuzzy socks, and blankets to go spend money at a bar? No, thanks.
But while staying home is, obviously, the more comfortable choice, it's time we change that mentality—because this winter, a ton of exciting new exhibitions are opening all over the country. I know, I know—that means you'll have to leave your comfy couch and your fireplace behind for a bit. But do it for the culture!
We're living in a time that makes it impossible to ignore the insanity that is our political sphere, and because of this, so many artists are using different creative mediums to comment on or try to understand what is happening and why. And you'll be glad you went to experience it. 
I believe very strongly that visiting museums is the perfect activity for the winter weather. You can use that time to hang out with friends, talk about what you see and how you interpret the work, and, more importantly, change up your routine. You could honestly spend hours in some of these places, and not have to pay as much as you might by going to a bar for the same amount of time. If you're so inclined, you might go to an exhibit's opening and get some feedback from the artist(s) themselves, usually with the added bonus of some complimentary wine. 
Wondering where to start? Don't worry, we've rounded up all the best openings for you, so you don't have to guess. Now, you just have to grab your coat and go. 
Check out the season's best museum openings, all over the country, below. 
NEW YORK CITY
New Museum, Nathaniel Mellors: Progressive Rocks, on view from February 6—April 15
Mellors writes, directs, and edits his video installations, which critique common TV and film tropes. This time, he's added works of sculpture to the mix.
Leslie-Lohman Center for Gay and Lesbian Art, Leonard Fink: Out for the Camera, on view from January 24—August 5
Fink's work is not super well-known, and that's a shame. He worked to document the queer community in New York City during his lifetime, from pride parades to the scenes in the West Village and Chelsea.
CHICAGO
Chicago Museum of Contemporary Art, Three Figures in a Room, on view from December 23—May 20
Paul Pfeiffer manipulates footage of sports and music events to draw our attention to the absurd and often violent nature of the media that we consume. Three Figures in a Room focuses on the 2015 boxing match between Floyd Mayweather Jr. and Manny Pacquiao.
Chicago Museum of Contemporary Art, Chicago Works: Paul Heyer, on view from January 16—July 1
It was impossible to choose just one of these exhibits opening at the Museum of Contemporary Art. In Heyer's first solo exhibition, he has created a multisensory dreamscape inspired by the raves and club culture that exist within the LGBTQ community and which he often participates in. 
BALTIMORE
Baltimore Museum of Art, Spencer Finch: Moon Dust, on view from February 21, 2018—February 16, 2025
This light installation uses over 100 chandeliers to form a meticulous representation of the atomic makeup of moon dust collected during Apollo 17's trip to the moon. If you don't make it here this year, don't fret—you'll have the chance to see it for the next seven years.
PITTSBURGH
Wood Street Galleries, Ryoichi Kurokawa: Unfold.alt and Constrained Surface, and Ryoichi Kurokawa and Novi_sad: Sirens, on view from January 28—April 8
Both of these works serve to bring an artistic understanding to subjects considered more scientific, showing that there isn't actually that much of a difference between these fields which are considered so distinct.
BOSTON
Museum of Fine Art, (un)expected families, on view from December 9—June 7 
This collection of images, taken by various photographers over the past century, attempts to unpack the meaning of the word "family." We can have many families at once, nor do we have to be born into them. 
CLEVELAND
The Cleveland Museum of Art, Graphic Discontent: German Expression on Paper, on view from January 14—May 20
This exhibit focuses on the impact of graphic art styles during the European Expressionist movement in the early 1900s, showing it to be a method which encapsulated Expressionists' emotional spontaneity. Truly the "angsty teen" of art phases.
Spaces Gallery, Mahwish Chishty: Naming The Dead, on view from January 26—March 23
Chishty takes inspiration from traditional Pakistani folk culture and places it in conversation with the current political attitudes in the U.S. surrounding war and our troubled relationship with Pakistan.
NASHVILLE
Zeitgeist, States of Matter, on view from January 6—February 24
This show features the work of nine female artists working within sculpture, all aiming to show the changing states of matter. This move was made in order to call attention to the "malleability and hybridity of the female form."
NEW ORLEANS
Arthur Roger Gallery, Robert Mapplethorpe and George Dureau, on view from January 6—February 17
Two photographers who mainly stuck to black-and-white, both of whom drew influence from the human body, are placed in dialogue. Here's your excuse to see some Mapplethorpe pieces in person before the new biopic on his life comes out. 
ATLANTA
Atlanta Contemporary, Sable Elyse Smith: How We Tell Stories to Children, on view from January 11—February 4
This video centers around a conversation between Smith and her father, an incarcerated black man. While listening to their emotional dialogue, you can't help but reject the horror stories we tell our children of criminals.
HOUSTON
Houston Center for Photography, Robert Frank: Books and Films, 1947-2017, on view from December 8—January 5 
Frank is credited as the inventor of street photography, using what was a new invention at the time to uncover the beauty in what was previously seen as too everyday to warrant documentation. 
Houston Center for Contemporary Art, Light Charmer: Neon and Plasma in Action, on view from February 9—May 13
As you probably already know, neon signs are making a major comeback. What you may not be so aware of is the fact that artists have long been experimenting with this medium, so be prepared to experience more than just your average, Instagram-worthy slogan. 
MIAMI
Rubell Family Collection, Allison Zuckerman: Stranger in Paradise, on view from December 6—August 25 
Zuckerman's works are pastiches, drawing inspiration from historical paintings and internet/meme culture. Placing these two vastly different forms in conversation with one another results in some truly unique work.
David Castillo Gallery, Christina Quarles: Baby, I Want Yew To Know All Tha Folks I Am, on view from December 4—January 31
As you can probably tell by the title, Quarles is not so interested in following rules—of grammar or of art. This collection of paintings defies our understandings of what the human body is capable of.
KANSAS CITY, KANSAS
Nelson-Atkins Museum of Art, Eugene Richards: The Run-On of Time, on view from December 9—April 15 
Remember that Robert Frank exhibit above? Here's one of the artists he influenced—Eugene Richards, an incredibly revered documentary photographer. Richards' work captures the complexities of the average American and the struggles of the impoverished from all over the world. 
SEATTLE
Frye Museum, Tavares Strachan: Always, Sometimes, Never, on view from January 27—April 15
Strachan's conceptual art will be displayed surrounded by (and sometimes immersed within) pools of water to evoke Seattle's history, which has been shaped by its waterways and rainfall.
Seattle Art Museum, Sondra Perry: Eclogue For [in]HABITABILITY, on view from December 8—July 1
Perry is interested in deconstructing and critiquing dominant representation in media, and does so with performance and technology-based work that forces the audience to see differently.
Museum of Pop Culture, Bowie By Mick Rock, on view now through March 11
Mick Rock was David Bowie's personal photographer between 1972 and 1973, and this collection shows Rock's careful documentation of the musician's life during his performing heyday, and will also include rare performance footage (!!!) and Rock's photos of other icons, like Freddie Mercury and Debbie Harry.
PORTLAND, OREGON
Portland Art Museum, Fazal Sheikh: Common Ground, on view from February 24—May 20
Sheikh used his power as a photographer to give a voice to the voiceless, in hopes to challenge our understanding of human rights.
Upfor Gallery, Michelle Grabner, Anne Crumpacker: Gingham/ Enso, on view from December 6—January 13
Both Grabner and Crumpacker are interested in the (arguably misguided) distinction between fine art and craft.
LOS ANGELES
LACMA, A Universal History of Infamy: Those of This America, on view from January 27—October 6
This collection draws from works of Latino artists, writers, and activists and seeks to show that art is rife with potential for initiating resistance and political action.
MOCA Pacific Design Center, Welcome to the Dollhouse, on view from January 20—April 8
Domesticity is inherently seen as a feminine space, maybe because we have historically been forced into this sphere. Works from this collection show artists attempting to document or critique this space.
SAN FRANCISCO
Museum of African Diaspora, Simone Bailey: Let There Be Darkness, on view from December 6—March 4
When we say that we're bringing attention to a particular issue, we often say we're "shedding light" on it. Bailey, instead, uses darkness as a liberating tool to call attention to and break free from the systematic wrongs that are endured by black Americans today.
Fraenkel Gallery, Art & Vinyl, on view from January 4—March 3
You can't always judge a book by its cover, but in this exhibit, you can certainly judge an album by its artwork. This collection showcases over 70 years of art created to accompany a record, whether it be printed on the sleeve or painted directly onto the vinyl itself.
PHOENIX
Phoenix Art Museum, The Logic of the Copy, on view from December 2—April 22
We now live amongst a media landscape so visual that we might not even be able to comprehend a time when photography was not so integrated into our culture. This exhibition can serve as your crash course in the history of photography's inclusion in print media.
ALBUQUERQUE
516 Arts, The US-Mexico Border: Place, Imagination, and Possibility, on view from January 27—April 14
A border does not have to be liminal space that signifies a separation of "us" and "them," it can actually be much more. Creatives from across disciplines prove this in their work by transcending the borders of their defined fields.