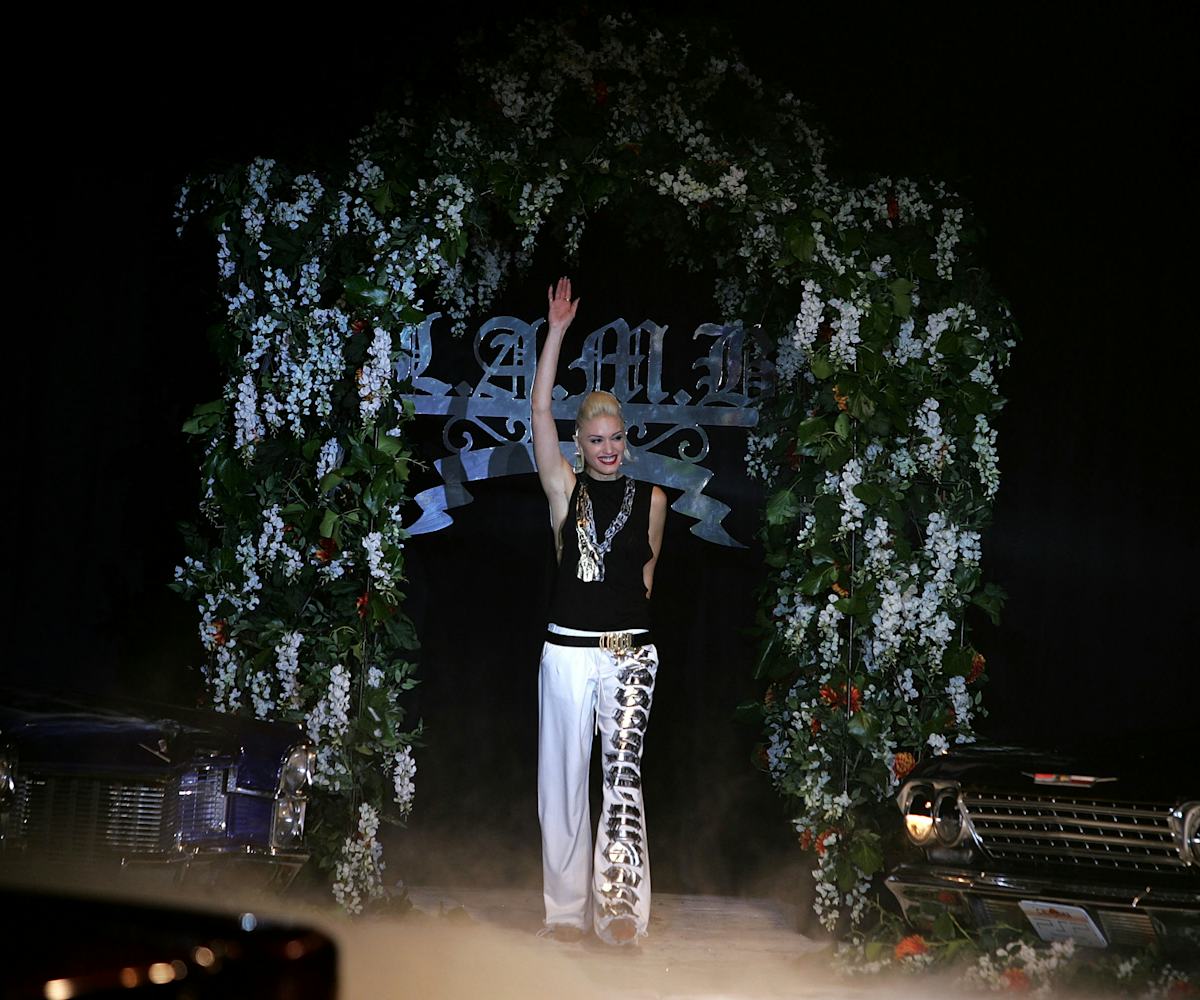 Photo by Mark Mainz / Getty Images
8 musician-run fashion lines that defined the aughts
turn of the century style.
Not too long ago, we lived in a world where halter tops and flared jeans ruled both the streets and the runways. Rhinestone embellishments were beloved by the style-savvy and pop music was in its prime, with plenty of music-video looks that (admittedly) we'd still wear today. And even better—our favorite musicians debuted their own fashion lines to help us look our flyest long before Kanye tackled Adidas.
Sometimes we get a little nostalgic about aughts trends (who among us can resist the classic 00's bandana top and velour sweatsuit?) so we're sad to see the demise of many #iconic fashion lines run by the pop and R&B stars of the turn of the century. Still, we prefer to smile because it happened instead of crying because it's over.
These eight musician-run clothing lines will always define the aughts for us—and we look forward to the day we can truly consider them "vintage."
J.Lo by Jennifer Lopez (2001)The same year she released her second studio album, Jennifer Lopez achieved her childhood dream of designing her own fashion line. With mini skirts, camisoles, and colorful crop tops, the collection was definitively early 00's. Initially started under the company Sweetface Fashions, Lopez eventually dropped the line in 2007 to start a new line, JustSweet, which was also eventually closed. That doesn't mean that J.Lo has abandoned her love of a fashion, though—the singer still has her own line at Kohl's.
Fetish by Eve (2003) Launched in autumn of 2003, Fetish was Eve's trendy clothing line featuring activewear, denim, and separates—meaning low-rise jeans and tracks suits galore. The rapper and actor eventually closed the line in 2009 because of disagreements with its many partners, but she has since expressed a desire to return to fashion. This time, however, she says her look would be simpler, focusing on her own personal style instead of trends that prove to become outdated faster than we realize.
Apple Bottoms by Nelly (2003) Though rendered immortal by the lyrics of Flo Rida's 2008 jam "Apple Bottom Jeans," this clothing brand by Nelly was actually started back in 2003. With the tagline, "Apples come in all shapes and sizes," the brand became popular among celebs like Fergie and even Oprah, and still exists today, offering denim, separates, and dresses that flatter all women.
L.A.M.B. by Gwen Stefani (2003) Sharing a name with her debut Grammy-nominated album Love. Angel. Music. Baby., Gwen Stefani's fashion line proved that musicians could make clothes that actually look pretty great. With a higher price point than most other musician-headed fashion brands, L.A.M.B. still shows at fashion week (after a brief hiatus from 2011 to 2014) and has given the No Doubt singer a respected position in the fashion world. In the aughts especially, Stefani's clothes defined her signature Harajuku-inspired style that made her a serious 00's fashion icon.
Mblem by Mandy Moore (2005) A collection of t-shirts is as basic as it gets, but then-21-year-old Mandy Moore started her collection, Mblem, with a definitive purpose: to provide other women with long torsos with shirts that actually fit. The 5'9 singer's collection of colorful tops was frequently sported by the singer herself. The brand eventually grew to sell knitwear of all types, but closed shop in 2009. 
House of Deréon by Beyoncé (2006) As she sings in her 2008 single, Yoncé needs someone who will "hold me tighter than my Deréon jeans"—though unfortunately this brand has had its run. Started with her mother (and Destiny's Child stylist) Tina Knowles, the House of Deréon went on hiatus in 2012 with no real announcement of closing or failure. While some Deréon products can still be purchased online, the fashion line has not made any moves in the past three years. Although Queen Bey may be ***flawless, it's safe to say that this fashion endeavor was not her most successful venture.
dvb by Victoria Beckham (2007) Though she hadn't been on the stage since 2000, Victoria Beckham was still Posh Spice to us when she launched her denim line, dvb. While today we're mesmerized by the Spice Girl's gorgeous dresses from her Victoria Beckham line, her 2007 foray into fashion was very...2007. Not that we blame her: This was a time when skinny jeans were new and exciting, and back-pocket embellishments were a sign of luxury. We live. We learn. And Beckham has grown to be a much more established and accomplished designer since.
Abbey Dawn by Avril Lavigne (2008) By 2008, Avril Lavigne may have given up her tomboy-grunge aesthetics in favor of something pinker and blonder—but that doesn't mean that the Canadian pop star ever forgot the importance of plaid skirts. Launching her fashion line Abbey Dawn, the singer designed her glitter-splattered version of punk rock and even showed off her creations at NYFW a few times (Kylie Jenner walked the Spring 2013 show!). However, the brand has remained mum the past two years, as Lavigne herself has stayed relatively out of the spotlight.