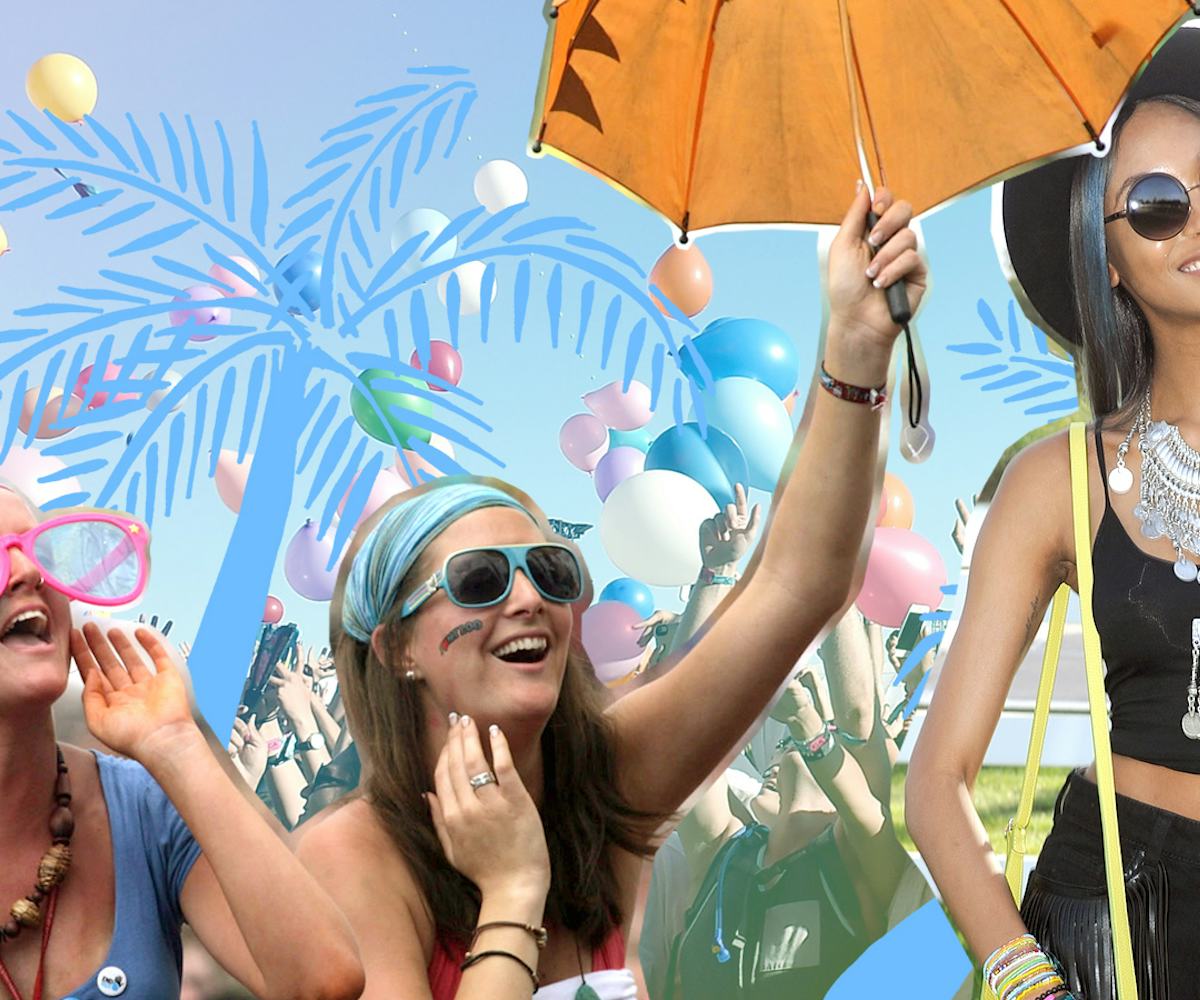 30 Music Festivals For 30 Types Of People
Consult this before buying that three-day pass
Hey, have you heard? It's festival season! It's when the crop tops come out, the bank accounts deplete, and the time you spend surrounded by other music fans bopping to a song you semi-know is increased.
It's the best time of the year for many—us included. And as festivals increase in popularity, so does the sheer number of ones to choose from. Have you ever taken the time to research how many there are? I have! And it's a lot. Enough to give me a lot of anxiety. We're talking at least 100-plus, and that's just in the U.S. All to say, it's hard to weed through, even for the most frequent festival attendee. 
To help out a bit, we identified which festival would be right for whom, ahead. We narrowed it down to 30 to choose from, but if your heart desires more options, check out this site.  
Coachella
The arrival of Coachella is typically the signifier that festival season has arrived. And kids, the most notable festival around is officially in full swing (and sold out).
For: The person who has yet to go to CoachellaWhere and When: Indio, California; April 14-16, April 21-23Acts: Lady Gaga, Kendrick Lamar, Radiohead, Bon Iver, Father John Misty, Future
New Orleans Jazz & Heritage Festival
If you're going to go to a jazz festival, it better be in New Orleans. This particular one has been around since 1970, and its roster of artists is one of the longest on the list.
For: The person who likes their Stevie Wonder with a side of Lorde
Where and When: New Orleans, LA; April 28-May 7
Acts: Maroon 5, Kings Of Leon, Usher and The Roots, Stevie Wonder, Lorde, Alabama Shakes
Fyre Festival
We say this in all seriousness: Fyre sounds in-fucking-sane. For one, it takes place in the Bahamas. For two, as Fashionista has pointed out, a slew of models have, strangely, been promoting it. For three, packages start at $1,500. For four, it's a festival... on an island. This year is its first, so, stay tuned to see if it lives up to its very large hype. 
For: The person looking to festival in paradiseWhere and When: TheBahamas; April 28-30, May 5-7Acts: G.O.O.D Music, Disclosure, Major Lazer, Kaytranada, Rae Sremmurd
Rolling Loud Fest
If you don't like hip-hop, steer clear of Miami the first weekend of May. Rolling Loud is only in its third year, but it's already booking major names like Lil Wayne, Future, and Kendrick Lamar, along with up-and-comers like Topaz Jones and Denzel Curry.
For: The person who can't make it to Coachella to see KendrickWhere and When: Miami, FL; May 5-7Acts: Kendrick Lamar, Future, Lil Wayne, Young Thug, A$AP Rocky, Travis Scott, Mac Miller
Beale Street Music Festival
Memphis in May International Festival is another name for the Beale Street Music Festival and, as you can tell from the name, there's a strong emphasis on the city. As its website explains, it's far more than its events; it's also a not-for-profit organization that helps contribute to the economic growth of the community and helps build up Memphis heritage and international relationships. So, go support a good cause with some super diverse music to choose from.
For: The person looking for an eclectic sonic mixWhere and When: Memphis, TN; May 5-7Acts: Kings Of Leon, Snoop Dogg, Sum 41, Jill Scott, Tori Kelly, Ludacris, MGMT
Form Acrosanti
Along with musical performances, this year, Form Arcosanti will also include an activation for Planned Parenthood, a screening of Across the Line, and "cultural programming" curated by Solange's Saint Heron.
For: The people looking to get more than just a good time out of a festival
Where and When: Arcosanti, Arizona; May 12-14
Acts: James Blake, Solange, Skrillex, Noname, How To Dress Well, Kelela
Shaky Knees Music Festival
As Consequence of Sound explains, Shaky Knees has grown from indie to all grown up over the years. But no matter how big it's gotten, it still has a quaint hometown vibe about it.
For: The person looking for the festival experience minus the festival mania
Where and When: Atlanta, Georgia; May 13-15
Acts: The XX, LCD Soundsystem, Phoenix, The Shins, Third Eye Blind
Moogfest
The focus of this year's Moogfest is protest. Seeing as it takes place in North Carolina, it seems particularly fitting. The event is often referred to as a festival for nerds and, in addition to performances from conscious artists like Talib Kweli and Mykki Blanco, also explores themes of technology and futurism.
For: The person looking to nerd outWhere and When: Durham, NC; May 18-21Acts: Talib Kweli, Flying Lotus, Animal Collective, Mykki Blanco
Hangout Music Fest
It's a festival on the beach. Meaning it should be a no-brainer.
For: The person who wants to party MTV spring break styleWhere and When: Gulf Shores, AL; May 19-21Acts: Mumford & Sons, Frank Ocean, Weezer, Charli XCX, Shaggy
Boston Calling
On top of having, what Billboard referred to as a "lineup festival dreams are made of," this year's Boston Calling will include a comedy component hosted by Hannibal Buress and a film experience curated by Natalie Portman.
For: The person who likes a good New England laugh Where and When: Boston, MA; May 26-28Acts: Tool, Mumford & Sons, Chance The Rapper, Weezer, Danny Brown
Bottlerock Napa Valley
Prefer a chilled glass of wine with your swayable music? As opposed to, say, a 24-oz. can of beer with your heavy beats? Bottlerock may just be for you.
For: The aspiring sommelier in need of Memorial Day plansWhere and When: Napa Valley, CA; May 26-28Acts: Foo Fighters, Maroon 5, Modest Mouse, Band of Horses, Andra Day
Neon Desert
We've got Migos and Nelly on the same lineup here. Things will get interesting.
For: The person interested in getting bad and bougee down southWhere and When: El Paso, TX; May 27-28Acts: Foster The People, Allesso, Migos, Nelly, LIl Uzi Vert, Khalid
Soundset Festival
Lauryn Hill is one of the main performers of this year's Soundset festival. This might be the perfect setting to see the notoriously late-to-the-stage singer as, this way, you can check out other acts until she decides to show up.
For: The hip-hop headWhere and When: Saint Paul, MN; May 28Acts: Gucci Mane, Lauryn Hill, T.I., Pusha T, D.R.A.M.
CMA Festival
Country fans, we know you're out there and we haven't forgotten about you. Neither has your genre because it looks like there are a bunch of festivals catered specifically for y'all. We're not all that well-versed, but the lineup for the CMA's festival appears to be one of the best.
For: The country lover hidden in all—well, most—of us
Where and When: Nashville, TN; June 8-11
Acts: Kenny Rogers, Luke Bryan, Miranda Lambert, Blake Shelton, Keith Urban
Mysteryland
Men and women have been traveling to Bethel Woods, New York, for Mysteryland for more than two decades. It's the world's longest-running electronic music festival, and this year's lineup features a rare Die Antwoord performance. While you're there, visit the Museum at Bethel Woods, which includes the historic Woodstock festival field.
For: The person who wants to see Die Antwoord in concert in the U.S.Where and When: Bethel Woods, NY; June 9-12Acts: G-Eazy, Major Lazor, Die Antwoord, Porter Robinson, Duke Dumont
Firefly
Firefly categorizes itself as a fan-curated festival. They release a talent survey each summer for interested attendees, which helps dictate who they're going to book. Can't be mad at that.
For: The person looking for a reason to visit Delaware
Where and When: Dover, DE; June 15-18Acts: Bob Dylan, The Weeknd, Twenty One Pilots, Kesha
Electric Forest
Electric Forest isn't called Electric Forest for fun. No, it actually takes place in an actual forest in Michigan. Which means you'll probably be camping, seeing as its the perfect setting. Don't worry, there are showers.
For: The person still very much into electronic music Where and When: Rothbury, MI; June 22-25, June 29-July 2Acts: Flume, Dillon Francis, Bassnectar, A-Trak, Odesza, The String Cheese Incident, Lotus
Summerfest
Rumor has it Summerfest is the largest music festival in the world. It takes place over 11 days, includes over 800 acts on 11 stages, and brings 900,000 fans from near and far.
For: The person not afraid of crowds Where and When: Milwaukee, WI; June 28-July 2, July 4-July 9Acts: Red Hot Chili Peppers, Pink, Big Sean, Bob Dylan, Alessia Cara, Hanson
Capitol Hill Block Party
You won't find big (like Chance The Rapper big) name artists on this lineup. Instead, Capitol Hill Block Party is bringing out some of the underdogs that you'll hear about more and more in the coming months.
For: The person looking to bear witness to the next best thing in music
Where and When: Seattle, WA; July 21-23
Acts: Thundercat, NoName, Mura Masa, Cherry Glazerr, Jai Wolf, Lizzo, Angel Olsen
Panorama Festival
Both Panorama and Governor's Ball take place on the very-annoying-to-get-to Randall's Island in New York City. If you're one of many who only wants to make that trek once this summer, we say go with Panorama, if only because the idea of a live Frank Ocean performance entices us. They're both aces, though!
For: The person only willing to visit Randall's Island onceWhere and When: Randall's Island Park, New York; July 28-30Acts: Frank Ocean, Solange, Tame Impala, Alt-J, Nine Inch Nails, A Tribe Called Quest
FYF Fest
Missy Elliott and Björk potentially sharing the same stage? This is something you want to witness in person.
For: The person who's missed Missy Elliott as much as we've missed Missy ElliottWhere and When: Los Angeles, CA; July 21-23Acts: Missy Elliott, Björk, Frank Ocean, Nine Inch Nails, Erykah Badu, Iggy Pop, Kehlani
Mo Pop Festival
Sometimes less is more when it comes to festivals and the lineups. Mo Pop is an example of such a case.
For: The person who enjoys curated musicWhere and When: Detroit, MI; July 29-30Acts: Alt-J, Foster The People, Run The Jewels, Solange, Phantogram
Lollapalooza
Did you know Lolla started in '91? We didn't either until just now. This year's festival will bring up memories from around that era, too, with an appearance from Blink-182, The Killers, and other throwback artists.
For: The person looking to get nostalgicWhere and When: Chicago, IL; August 3-6Acts: Muse, The Killers, Blink-182, Chance The Rapper, Lorde
Afropunk
Afropunk has grown tremendously since it started as a free-to-the-public festival 12 years ago. It's still as great and as black as ever, just with a much larger crowd.
For: The person interested in good music and remaining woke Where and When: Brooklyn, New York; August 26-27Acts: Sampha, Thundercat, SZA, Michael Kiwanuka, Willow Smith
Made In America
America is a lot different from the America that we knew when this festival was first created by Jay Z. We're curious to see if the new presidency shifts its overall dynamic.
For: The person still holding onto some semblance of patriotism Where and When: Philadelphia, PA; September 2-3Acts: TBA 
Ohana Festival
Haim is slated to come out with music this year. Hopefully, before the summer because their music always lent itself well to warmer weather. If they do, this is one of the few places you'll be able to see said music performed live.
For: The person hoping to see Haim, Jack Johnson, and Fiona Apple in one place
Where and When: Dana Point, CA; September 8-10
Acts: Social Distortion, Jack Johnson, Pixies, Ray LaMontagne, Fiona Apple
Kaboo
Kaboo isn't a regular festival, it's a cool festival. No, seriously, it categorizes itself as an "entertainment and arts experience." In addition to music, you can experience comedy, cuisine, art, and craft libations. 
For: The person looking for more than just music when they come to a festival
Where and When: San Diego, CA; September 15-17
Acts: Ice Cube, Alanis Morissette, Kesha, T-Pain, Red Hot Chili Peppers
Life Is Beautiful
Life is beautiful, and we feel strongly that your festival experience should be, too. Read up on why we love this particular one here.
For: The person looking to squeeze in one more festival before season's end
Where and When: Las Vegas, NV; September 22-24
Acts: TBA
Pilgrimage Music & Cultural Festival
Tennessee native Justin Timberlake is not only headlining this year's Pilgrimage festival, he also produces the event. It's described as a "rootsy" happening, and Timberlake might be the only name you recognize on the lineup, but one of the best parts of a festival is discovering new tunes.
For: The person hoping to see a hometown performance from a former *NSYNC member
Where and When: Franklin, TN; September 23-24Acts: Justin Timberlake, Valerie June, Mavis Staples, The Avett Brothers, Ryan Adams 
III Points
Last year's III points festival brought us... a lot, including Mars virtual reality activations and a makeshift nail salon that played porn while you waited. It's an experience, to say the least, one that everyone should partake in at least once.
For: The person looking for a trippy good timeWhere and When: Miami, Florida; October 13-15Acts: TBA