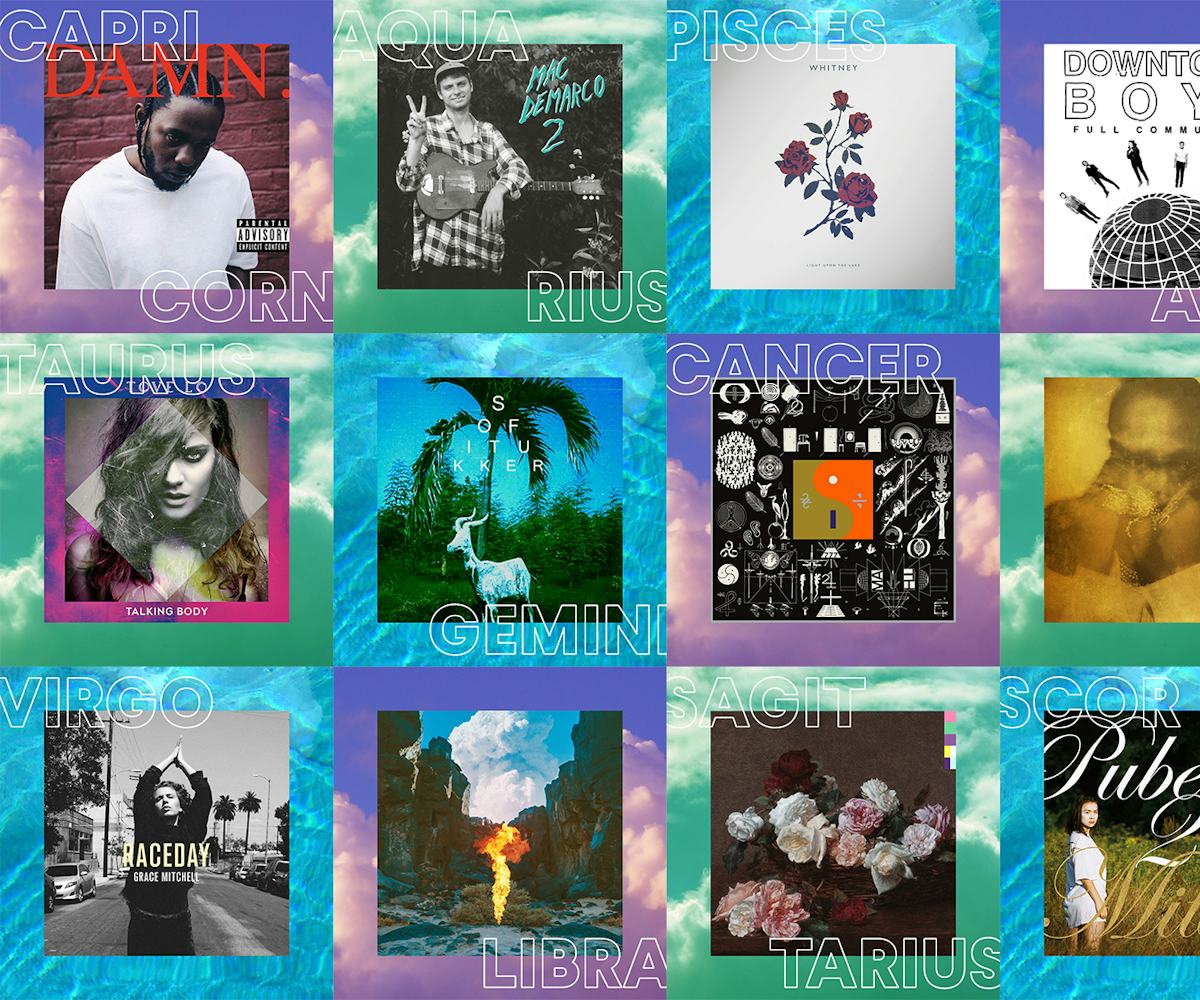 Festival Musicians You'll Love, Based On Your Astrological Sign
Your Coachella horoscopes are here
It's officially festival season, meaning that hundreds of your favorite (and soon-to-be-favorite) musicians are playing all over the country, just begging you to partake in their offered sonic goodwill. But since you can't possibly listen to them all (though you can certainly try), we thought we'd narrow down your options by presenting the best musical acts at Coachella, all based on your zodiac sign. Read on to see what the stars have in store for your ears at this year's Coachella.
Aries:
Your 2017 Coachella Anthem: Downtown Boys, "Wave of History"
Determined and action-ready, you'll rarely encounter an Aries chilling on the sidelines. Tap into your fiery nature and jump in the pit! Future Islands, Downtown Boys, and Shannon and The Clams will feed that need, so dive right in.
Your 2017 Coachella Anthem: Tove Lo, "Talking Body" 
Linked to Venus, the planet of lOooOoOoove, Team Taurus appreciates ALL beautiful things (which can sometimes lead to a bit of hedonism… how fun!). You've met your match with wild child Tove Lo; when she flashes the crowd during her set, you'll probably flash her right back.
Gemini:
Your 2017 Coachella Anthem: SOFI TUKKER, "Drinkee" 
The symbolic twins of the zodiac—and we're not talking about Beyoncé's twins. WAIT: Just imagine a world where Beyoncé ACTUALLY performed at Coachella… Glistening in the moonlight, she gives birth on stage to two beautiful babies who *SPICY TWIST* turn out to be French electronic duo Daft Punk!!! A super group is formed, history is made, Donald Trump is no longer president… It would be the only time using #TWINNING would be cool. Fan fiction aside, check out these other amazing dynamic duos that are actually performing like Sweatshop Boys, The Lemon Twigs, and SOFI TUKKER. 
Your 2017 Coachella Anthem: Bon Iver, "33 'God'" 
You're ruled by the moon, making your emotions shifty like the tides; you catch those feels, and you catch 'em fast. So catch you outside (literally, because it's a music festival), swaying solo to Bon Iver. Dare I say you might get a little Father John Misty-eyed? Sorry, I'll stop.
Leo:
Your 2017 Coachella Anthem: Future, "Mask Off"
King/queen of the zodiac jungle, you pretty much own any situation you walk into and you respect others that do the same. Focus on fellow power players like Future, The XX, and Empire of The Sun. 
Virgo:
Your 2017 Coachella Anthem: Grace Mitchell, "NoLo"
An earth sign fully grounded and living for the details, NOTHING gets past Virgo. Use that razor-sharp focus and hone in on the finer print for the more up-and-coming side of the lineup. Get down front early for future headliners Grace Mitchell, HONNE, and Whitney. 
Libra:
Your 2017 Coachella Anthem: Bonobo, "Kerala"
Libra's symbolic scale truly represents their need for balance and harmony; at their core, they hate confrontation and just want everyone to have a great time. Talk about the ideal festival partner in crime, ammirite?? Put those inherent awesome vibes to good use by dancing your face off to acts like Bonobo and Justice. 
Your 2017 Coachella Anthem: Mitski, "Your Best American Girl"
Just like your fellow water signs, you're ruled by your emotions; but more than the others, you're driven by a craving for honesty. What I'm saying, Scorpio, is that you keep it REAL. So seek out other "truthers" (the good kind!), such as Mitski, Skepta, and Lorde, because, just like you, they tell it like it is. 
Your 2017 Coachella Anthem: New Order, "Blue Monday"
With Jupiter, the largest planet in the solar system, as your ruler, you refuse to be boxed in; "don't box me bro!" is maybe something you might say… maybe. Anyway, with your magical mix of open-mindedness and love of travel, you should try a bit of everything! Get lit with Travis Scott, lose your mind to King Gizzard & the Lizard Wizard (also try saying that one three times fast), or dance to legends New Order. The world is your oyster.
Capricorn:
Your 2017 Coachella Anthem: Kendrick Lamar, "Humble" 
Practical, responsible, driven, you only strive for excellence, so you're more inclined to go for the gold and focus your energy on headliners Radiohead, Lady Gaga and Kendrick Lamar. But please, for the love of god/Lamar, be humble… also, drink water! (Lamar didn't mention this but I'm sure he would agree, it's hot out there.) 
Aquarius:
Your 2017 Coachella Anthem: Mac Demarco, "My Kind Of Woman"
As the forward thinkers of the zodiac, you gravitate toward fellow eccentrics and independent spirits like yourself. Lady Gaga obviously leads the pack in that regard, but you should definitely check out your fellow weirdos Mac Demarco and Devendra Banhart.
Your 2017 Coachella Anthem: Whitney, "No Woman"
Introspective and sensitive, you'd probably be happiest daydreaming alone in your room, buuuuut now you find yourself at a music festival surrounded by thousands of people. What do you do? Break away and catch the vibes with your fuzzy friends Whitney, that's what!