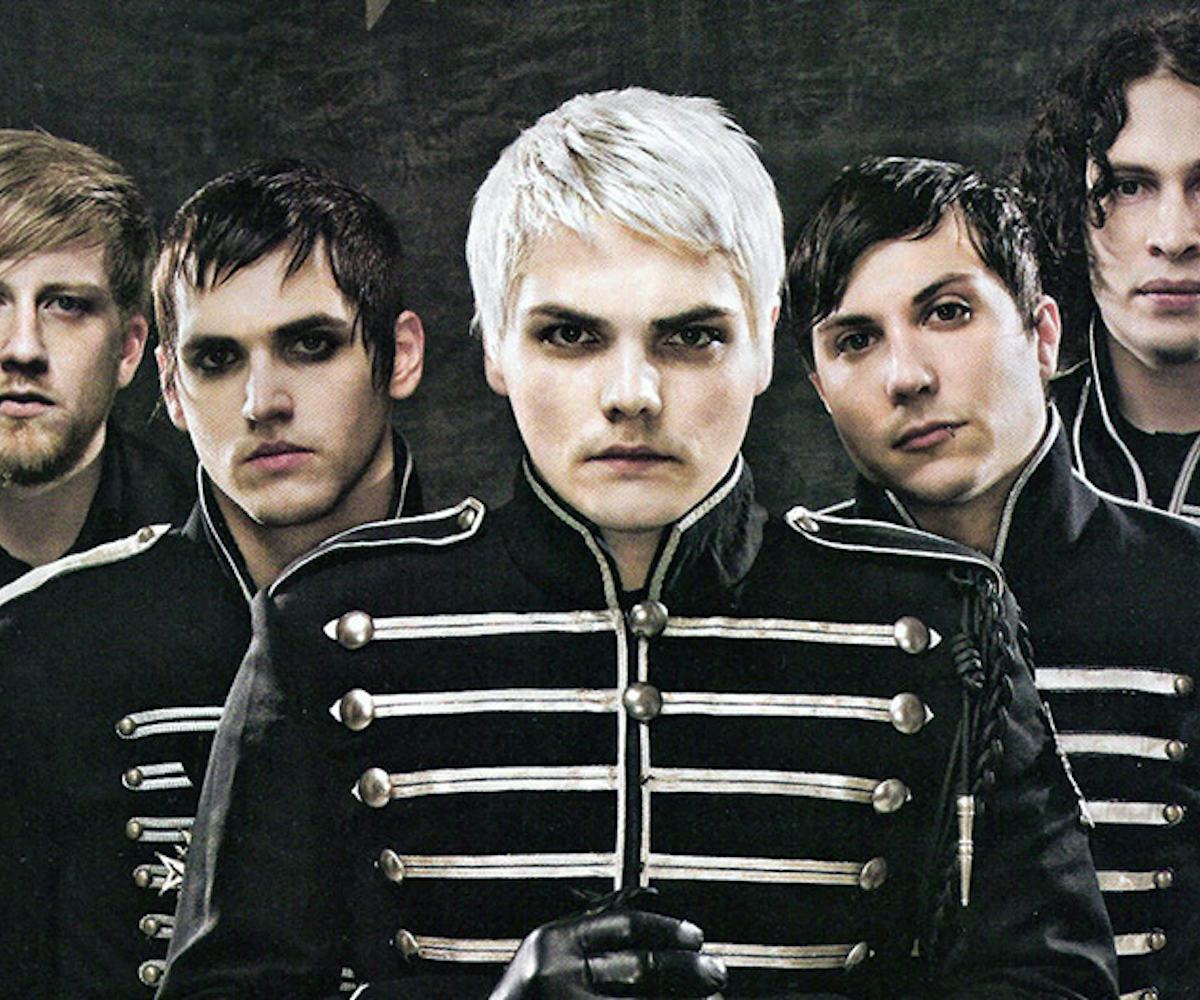 Photo courtesy of My Chemical Romance
The Enduring Legacy Of My Chemical Romance's 'The Black Parade'
Here are your front row tickets to the penitence ball
Once an emo kid, always an emo kid. The rise of pop-punk and its eyeliner-inclined sibling paralleled the rise of Myspace and the teenage urge for connection and validation. As a human that was a teen during that time, searching for connection and validation through basic HTML code and Picasa-edited selfies, pop-punk became the most immediate outlet for frustration and apathy. Fueled by Ramen acts like Paramore and Panic! at the Disco kept life fresh and colorful; Underoath was just a tad bit too aggressive; The Used tapped into teenage angst; My Chemical Romance embodied and packaged it with a jet-black and smokey-eyed wink.
Their sophomore album, Three Cheers for Sweet Revenge, shot them to fame, but their third album, The Black Parade, made them pillars of their generation. The sprawling, 14-song deep album turns 10 today, on October 23. My Chemical Romance is no longer, but The Black Parade marches on because it still sounds like nothing else. Though Three Cheers for Sweet Revenge played out like a graphic novel, with a solid beginning, middle, and end, The Black Parade took the idea of a concept album and exploited it for the digital age. The band's members traded their black button-downs and red ties for gothic military garb, and lead singer Gerard Way's newly-bleached hair heightened their ghostly aesthetic. "When I grow up, I want to be nothing at all!" Way sang on the album's opener, giving thousands of lost souls a new rallying cry.
What follows is a rock opera as ambitious as any post-Queen rock opera could be. It was a critical success; Rolling Stone praised the band for its unabashed rock leanings, giving it four out of five stars. The album spawned cynical anthems, like "Teenagers" and its title track. It's Way's theatrics, however, and how they fearlessly charged ahead of the rich orchestrations that made The Black Parade so goddamn timeless. Our post-ironic culture bawks at seriously listening to bands like MCR, but we all know our teenage taste in music stays with us, whether we like it or not. I, for one, wear my love for the band on my sleeve. My Chemical Romance—The Black Parade specifically—was my antidepressant before I was put on antidepressants. What's more, Gerard Way's showmanship gave my closeted soul space to come out as The Black Parade era carried with it an air of flamboyance and gothic glam that captivated me. (The fact that it was unacceptable for me to wear anything from Hot Topic made my escape into MCR's universe that much more addictive.) Side note: Why "Mama" was never a single baffles me because, ahem, Liza Minnelli, and the composition and delivery of it all begs to be turned into a mini-movie music video. Had visual albums been a thing a decade ago, you best believe The Black Parade would have made for an epic one. 
The Black Parade is an album of resilience, fate, and pride. "We wanted to make a record you could pass down," MCR's guitarist Ray Toro said back in 2006. And they did. They really did. My Chemical Romance made it okay to be angry. My Chemical Romance made it okay to be sad. And, in a world that increasingly favors the bold, My Chemical Romance's The Black Parade made it okay to be over the top. Now, like the album's title track asks us to do, we carry on.