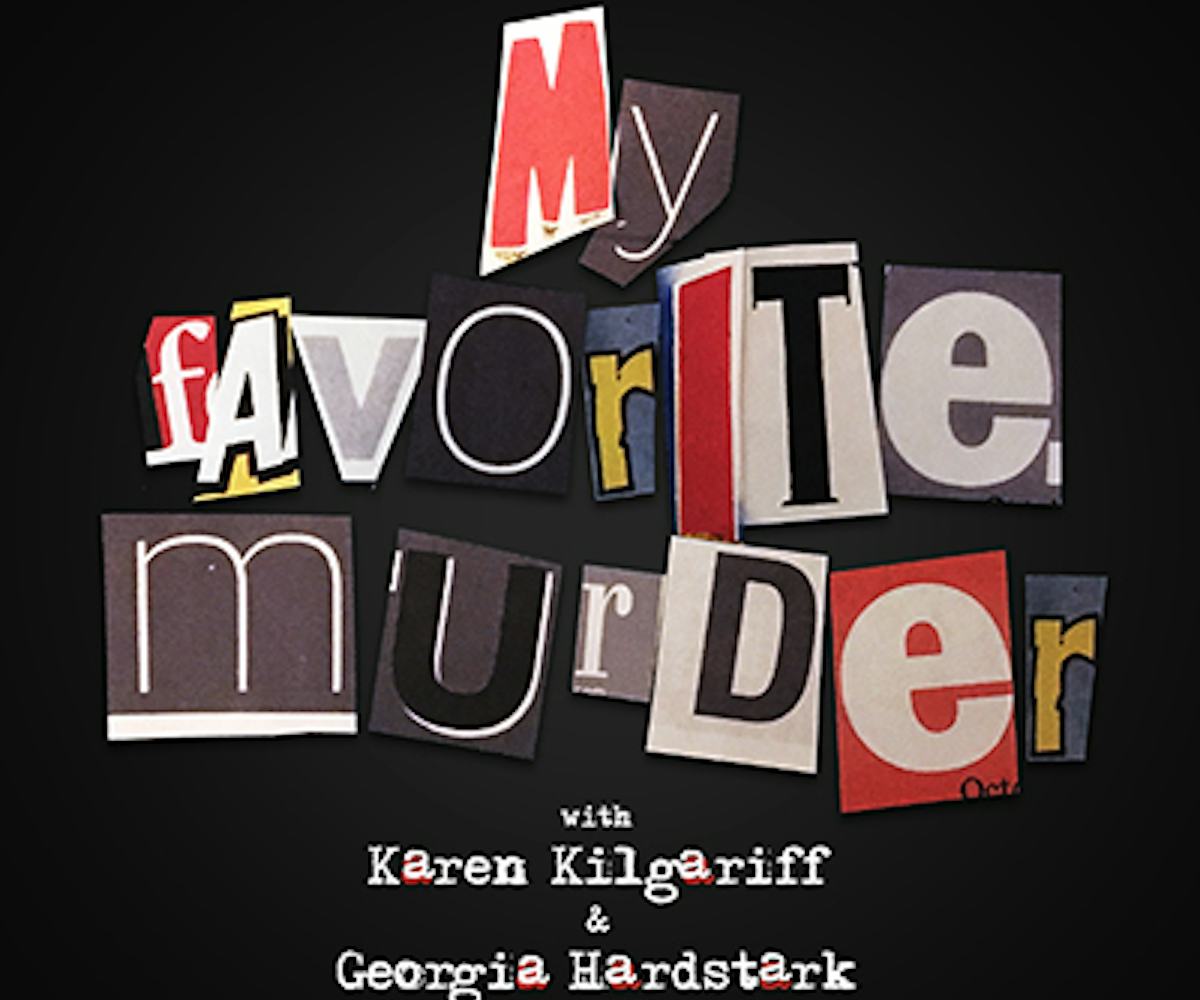 My Favorite Murder Is The Ultimate True Crime-Lovers Podcast
Stay sexy, don't get murdered
Some of us are just morbid. It's who we are. However, crime-buff comediennes Georgia Hardstark and Karen Kilgariff, hosts of the podcast My Favorite Murder, are truly next-level. Their irreverent smash hit crime-comedy (crim-e-dy!) tackles our taboo fascination with murder and serial killers in non-filtered back-and-forth snarky enough to rival Daria and Jane. With My Favorite Murder, TV writer Kilgariff and YouTube personality Hardstark have created a new dialogue for true crime that is hilarious, brutally honest, and totally addicting. Fans call themselves "murderinos," and if you enjoy falling asleep to repeats of Forensic Files or catching up on yesterday's obits, it's only a matter of time before you become one too.
Over the past year, My Favorite Murder has grown into a legitimate social media phenomenon thanks to an active Facebook fan page. Members regularly upload their own hometown murder stories and all kinds of crafts (including tattoos) inspired by the show's beloved tagline, "Stay Sexy, Don't Get Murdered." Not only that but "murderinos" all over the country are using the platform to meet up and indulge in candid true-crime conversation with other die-hard MFM fans.
"I'm a John Wayne Gacy girl at heart," admits Kilgariff as we chat from L.A., where she and Hardstark record weekly episodes from Hardstark's living room for an audience consisting of Hardstark's two cats.
"JonBenet will always have a special place for me," counters Hardstark in the signature inappropriate banter that's made the show into such a scream. Tuning in while Kilgariff and Hardstark dive into different murders every week on the show feels a little bit like reading Playboy for the articles. Don't be surprised to find yourself looking for an excuse as to why you can't stop listening.
So maybe making fun of Gacy's shitty prison art or the East Area Killer for having a micropenis isn't your thing and that's fine. For the 68,000 card-carrying murderinos, though, the show's unique tone strikes a strangely perfect balance. By insisting that true crime can be so terrifying that's it's actually kind of funny, Hardstark and Kilgariff inadvertently created the liveliest place to dish about death.
We caught up with the sardonic BFFs who are currently hard at work developing their cult-worshipped podcast into a string of sold-out live shows starting this December at the Bell House in New York City. But for those who prefer to keep their morbid side under wraps, you can binge the whole first season in private via Feral Audio.
So let's start at the beginning. How did the two of you first meet and discover your mutual true-crime obsession?Georgia Hardstark: Karen and I first met at a Halloween party. Once we figured out how much we had in common, namely true crime and our love of Brené Brown, we decided to meet for lunch. That lasted five hours and many cups of coffee. After a few of those hangs, the idea for the podcast materialized and those long conversations are now what you hear weekly on My Favorite Murder.
It's definitely not your typical true crime podcast. In your opinion, what sets My Favorite Murder apart from other popular crime-related podcasts like Serial or Criminal?Karen Kilgariff: I think fans of true crime are so used to having these cases presented to them in a serious, even morose way. But since we don't pretend to be experts or reporters, we get to have a real conversation and genuine reactions.
What do you have to say to people who call My Favorite Murder insensitive?GH: You can't control what happens, but you can control how you react and process all the fucked-up things in the world, and my natural reaction is bemused fascination. I think a lot of people feel that way, but don't feel like it's acceptable to find humor in really dark things.
Did you ever predict My Favorite Murder becoming such a hit?KK: I think the taboo in our culture is anyone talking about death at all. We've been raised to stay on the surface, make small talk about TV shows and the weather. It takes a lot of guts to bring up the Night Stalker [serial killer Richard Ramirez] in the middle of a dinner party. A lot of people just can't deal with it. But it's so fun when you find the ones who can.
Would you call MFW a feminist podcast?KK: It's definitely feminist.  
GH: While I wouldn't say the podcast itself has a purposely feminist angle, I tend to have a pretty lady-positive attitude, so it's only natural for that to come through. I hate the idea of society deciding it's not okay to be interested in something because it's dark, or letting other people decide what's acceptable to be fascinated by, especially based on gender. Women can't help but empathize, but that makes us such a uniquely compassionate group.
You have a massive online fan base! Your facebook group alone has 63,000 subscribers and counting. How has this die-hard community of murderinos affected the show?GH: The listeners have been a huge part of the show since day one. Maybe you wouldn't expect it with murder podcast, but they're overwhelmingly awesome and supportive—with us and with each other. And now that we're doing live shows and meeting them in person, we've learned they're also extremely normal. It's all very heartwarming, yet murder-based.
Our listeners have been a dream since day one. The best feedback we've received is from one of the victims of a crime we covered named Jennifer Morey. She survived a horrible attack that Karen talked about, and a week after the episode aired, she emailed to thank us for telling her story.
I've seen some of the insane crafts people have made out of the the show's catchphrase, "Stay Sexy, Don't Get Murdered," from pillows to tattoos. Do you have any favorites?KK: Someone did a hand-drawn picture of the guy looking for turtles near the creek where the cops searched for Chandra Levy. It perfectly captured his pathos, bad luck, and love of turtles. I think of it once a week.
GH: Oh god, they're so amazing. I love the crafts that I'm terrible at; embroidery, drawing, graphic design… I'm bad at pretty much everything aside from nail art. We've started seeing some tattoos pop up which is just mind-blowing and makes my maternal instincts want to scold the tattooed, but really I'm just giddy about it.
What are some must-watch TV crime shows to get into after binging all of MFM?KK: I can always dig into a Forensic Files. A Crime to Remember is flawless and Autopsy is upsetting in a good way. And god bless Unsolved Mysteries.
GH: I'd listen to Bill Kurtis read a fast food menu, so anything he narrates I'll watch. I also love Cold Justice with Kelly Siegler and Yolanda McClary. Those are two badass women.