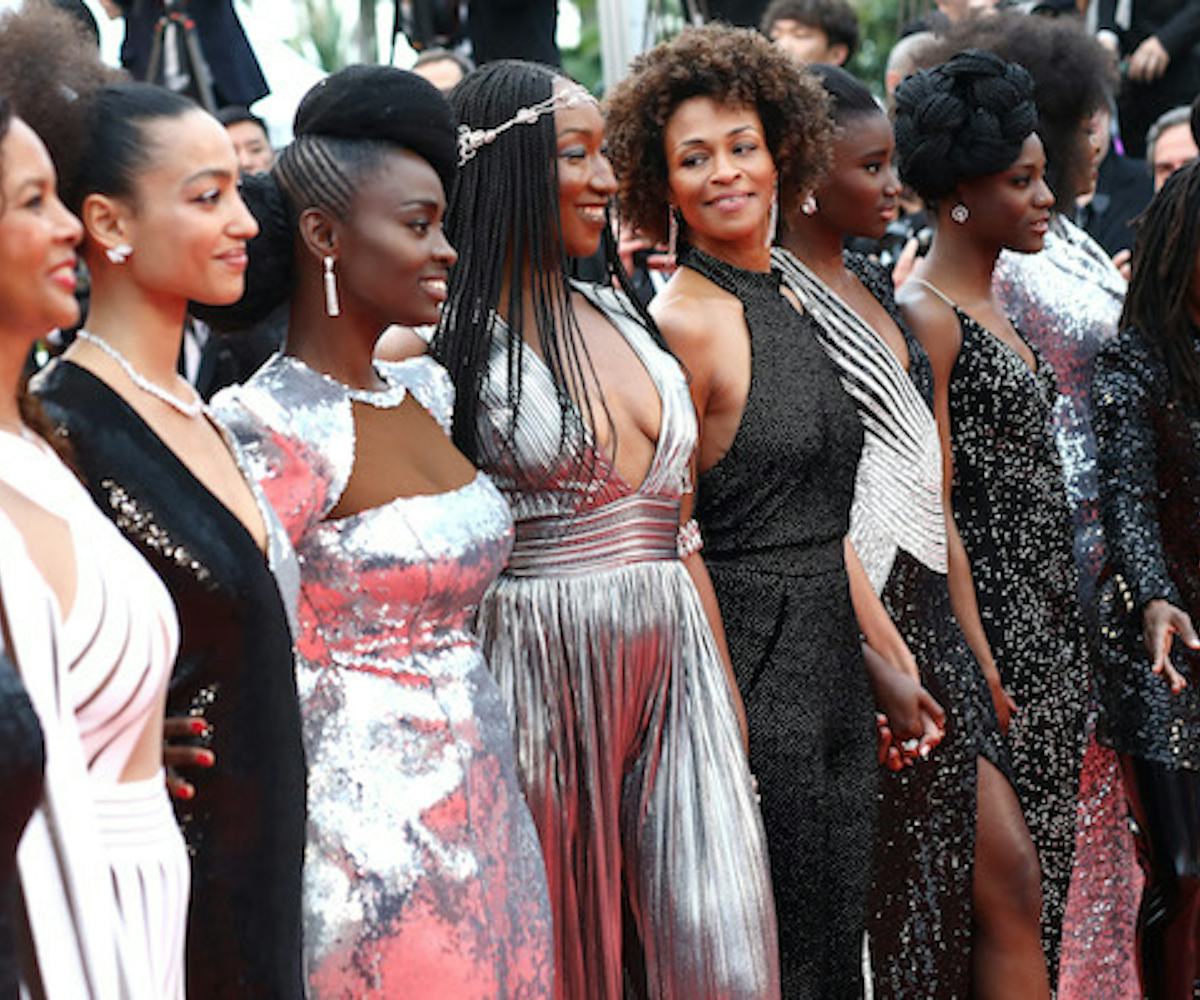 Photo by John Phillips/Getty Images
The Actresses Of 'My Profession Is Not Black' Took A Stand Together In Balmain
Earlier today in France, a new documentary named My Profession Is Not Black, based on the book of the same name, made its premiere at the Cannes Film Festival. Bound to make waves, this doc shows what 16 actresses, including its director Aïssa Maïga, have faced as women of color working in France's film industry, from sexism to racism.
Before the screening even began, however, these actresses chose to make red carpet history. In a moment of solidarity, they stopped to stand together at the top of the red carpet steps—the same steps where Cate Blanchett and a group of female filmmakers protested the festival's lack of female representation just days before—in a sea of ornate silver and black gowns and getups. All were custom-made Balmain pieces from designer Olivier Rousteing's Fall 2018 collection.
Photo by Pascal Le Segretain/Getty Images
While this is an iconic display of sartorial excellence, there's a lot more to it than that. Rousteing currently serves as the only black French designer at the helm of a major fashion house, so being given the honor to dress a group of powerful black women was not a task he took lightly.
In an interview with Vogue before the premiere, he said, "I was adopted by a white family. People used to ask my parents how they could adopt a black kid and they would call me a bastard to my face, so I've seen racism; I've experienced it," going on to explain that he not only experienced racism as a child but later in his career in fashion, too. He went on to say, "Fashion is all about being modern, but sometimes, it's not so avant-garde. I think if I were white, some of my design choices might have been taken in a different way. It's easy for the industry to judge, and some of my choices, let's say, would have been judged in a different way."
The designs worn by each actress were noticeably different from the other, a result of his desire to portray that "being sexy and being glamorous is not for one kind of body type or personality." He later explained that "all of these women are different and some wanted to be very sexy and others wanted to be more covered up. It was about what they wanted and all I asked of them was, 'What is the gown of your dreams?'"
The result? Quite an impactful moment for Cannes, the red carpet, and black women everywhere.