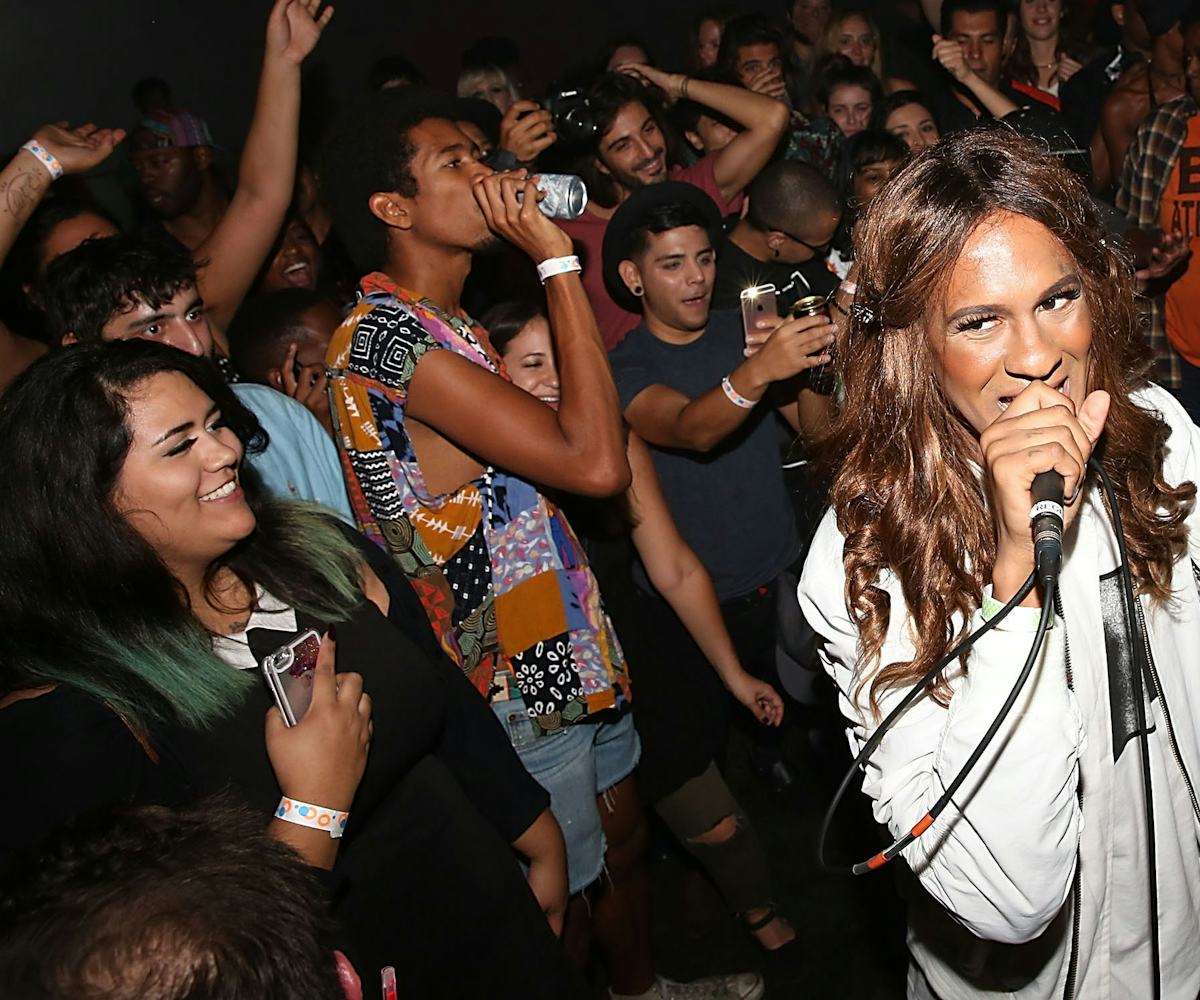 Photo by Joe Scarnici/Getty Images
Mykki Blanco Tells Us Why He Feels Tokenized By amFAR
And about not receiving a "formal seat at the table"
Last night, celebrities and artists descended upon the red carpet at amfAR's glamorous New York Gala at Cipriani Wall Street. The annual event, which serves as the unofficial kickoff to New York Fashion Week, appeared to be all smiles and featured a performance by Halsey. However, artist and activist Mykki Blanco said he was hurt with how the organization (which he's worked with in the past) overlooked him once again.  
Taking to social media, Blanco called out amfAR for what he believed to be an exploitative use of his art and image yesterday. Earlier in the afternoon, the official amfAR account posted a tweet in honor of National Black HIV/AIDS Awareness Day that included a video feature on him. Blanco, who has openly talked about being HIV-positive and the stigma associated with it, retweeted the post and wrote, "It would be awesome if you would book me to perform at one of your Galas like you do so many HIV negative pop stars instead of continually using me as a token." He continued by noting the nature of their timing, writing, "I'm one of the only actively working openly HIV+ Undetectable artists in the world. You all have never even INVITED me to a Gala. Why am I tip-toeing around my non-exist business relationship with you." Blanco also posted screenshots of the thread on his Instagram.
The video, which is part of the organization's #EPICVOICES series—a spotlight feature for "influential members of the LGBTQ and HIV/AIDS" to "reenergize the response to HIV among Millennial and LGBT communities"—appears to have since been removed from amfAR's YouTube channel. However, Blanco is still upset not only by the way this all was handled but how it seems to be symptomatic of a larger problem when it comes to being tokenized as an openly HIV-positive artist. In an email to NYLON, he wrote, "HIV artists who work with these people, who are artists and musicians, can't participle in the upper echelons of their organization," and talked further about how deeply hurtful the lack of acknowledgment was. Blanco included the letter his team sent to the organization about how "he is worthy of, at the very least, an invitation to be present as a guest at the most prestigious flagship American event which amfAR organizes, and especially when it falls on a day like National Black HIV/AIDS Awareness Day." NYLON also received a statement from amfAR, which can be found at the bottom of this post.
But first, we caught up with Blanco to get his thoughts.
How did amfAR approach you for this particular video they tweeted about?
I began working with amfAR for a W magazine-produced music video I did as part of a PSA for National Youth HIV/Aids Awareness Day. The project and song had a lot to do with fighting HIV stigma, and partnering with amfAR was a suggestion that I welcomed. AmfAR provided a script, and I added to the overall [creative] direction of my music video. That was the first time we worked together before the #EPICVOICES Campaign. It made sense to work with them, and it was an enjoyable experience. They expressed that they needed to connect with a younger audience, that we needed to change the old-fashioned dialogue surrounding HIV/AIDS. I thought it would be a chance for me to use my platform and voice to amplify issues related to living healthily with HIV. 
In the video, you talked extensively about how we need to do something that doesn't make people run away from the HIV/AIDS discussion, and I know, for a lot of your fans, your music and activism have played a big role in how they approach this topic. If that's the case, why do you think organizations like amfAR continue to book HIV-negative stars instead of you? 
I understand the aspect of fundraising, I understand why working with notable people, famous people, and rich people matters. But what I have noticed, as well, is that an organization like amfAR will gladly and without any qualms work with people who represent their target market—people of color, transgender people, artists and activists who are HIV-positive—as an end to a means, for promotional material. [They are] the "face" of their campaigns, but these same people are ghettoized away from the high-profile events and glamorous galas. AmfAR doesn't have to book me to perform at one of their events just because I am one of the only young, openly HIV-positive artists and entertainers in the United States, and the world period, but to host a gala in New York City and not invite me, yet write a tweet mentioning what an "epic" artist I am as promo material for them, [is hurtful]. I've been working with them for a year, and it's just become clear that they were sending the not-so-subtle message that, "Mykki Blanco isn't good enough to be a part of our entire pedigree, but he has a great image to chalk up when we need a token." 
There are many different forms of tokenization, but how would you say it manifests itself for you in particular? 
Black people are tokenized all the time. Queer people are tokenized all the time. I don't like playing the "Oppression Olympics," and I don't like the idea that somehow I've done something trivial by "calling out" amfAR. This isn't about a call out. If you noticed what I wrote on Twitter and shared on Instagram, my feelings were, and are, hurt. On top of that, I am disgusted. Do I think I will work with amfAR after this? No, I wouldn't want to, and because of what I've said online, I'm sure they don't want to work with me. But goddamnit, if I have to wake up and live in a world where Donald Trump is our president, who and [what] the hell am I keeping face for? Who in the hell am I pretending for? 
You also mentioned this particular incident being rooted in classism and celebrity politics. Could you elaborate? 
You have a young HIV-positive artist like myself, who is creatively relevant, that you can include in these events. I get they have a tradition of catering to a celebrity clientele to raise money, but why not also actually include HIV-positive people who are relevant to the industry? It's an HIV/AIDS awareness gala, not the Met Ball, not Cannes. The whole thing just feels dated in a way. And if you're reading this and thinking, Well, Mykki Blanco is just angry for not being included, you're right. Because think about it. Of the [many] people involved with this whole thing, I should definitely be included, and my exclusion points to the empty celebrification of HIV/AIDS in the public arena. It's also an extension of why "new" dialogues around HIV stay so stale. Negative "allies" who really could give a shit don't know anyone who's positive and have no real connection to the fight to end HIV/AIDS.
It just sucks when you realize someone is willing to make you a "face" for their activism, because of your relevance and work, but you're not rich or powerful enough to eat with them.
Read amfAR's full statement below:
amfAR's annual efforts on National Black HIV/AIDS Awareness Day are intended to draw attention to the racial disparities that continue to be a hallmark of the AIDS epidemic. Mykki Blanco's courageous and unique journey of coming out as HIV-positive in 2015 is why amfAR asked Mykki to be a part of our "Epic Voices" public awareness campaign. amfAR greatly appreciates Mykki's willingness to support our initiative and we have been actively in discussions with Mykki's representatives for several weeks to continue and deepen our working relationship, including at some of our 2018 Galas. Mykki is an inspiration to many in the LGBTQ and HIV/AIDS communities and it is because of personal stories like Mykki's that we remain determined to continue our work of finding a cure for the millions of people living with HIV today.  
Read Mykki Blanco's full letter to amfAR below:
It is very disheartening (to put it most lightly) for Mykki to see all of the various people (many with absolutely zero or very little connection to making the fight against the HIV disease or working to advance the level of equality for HIV-positive people) who are present there at this Gala in NYC yesterday and being touted across the social channels of amfAR and posted up on all the various news outlets - lots of wealth and celebrity, lots of models and actors, many of whom just seeming to take advantage of a red carpet opportunity to be seen at a big event just ahead of fashion week, just another social event for publicity and networking on the calendar for them. And on the day of this event, it's National Black HIV/AIDS Awareness Day, and Mykki gets included in a tweet to show that amfAR has something relevant to share for the theme of this particular awareness day because it recently made a video with a Black artist living with HIV - it communicated that he was a token to prop up because he checks the box for some awareness day but then is not worthy to be extended an invitation to be present as a guest at the big event that night.
We are not proposing that Mykki is yet deserving of the kind of recognition for which honors/awards are being given for decades of contributions to the fight against HIV. But, we are communicating that we do very strongly believe he is worthy of, at the very least, an invitation to be present as a guest at the most prestigious flagship American event which amfAR organizes, and especially when it falls on a day like National Black HIV/AIDS Awareness Day.
When you talk about prominent Black HIV+ people currently active in the arts... in the field of music, how many are there apart from Mykki Blanco?
Surely, one would presume that there may be others who are thriving in the field of music today who are HIV+ but then the vast vast vast majority of them are not public with this disclosure and thereby are complicit in the silence around the reality of this disease. Take a look at this link and scroll down to the Music section - https://en.wikipedia.org/wiki/List_of_HIV-positive_people - there are 70 names in total of people in music who disclosed they were HIV-positive; and apart from Mykki Blanco and 9 others, all of them are dead. And of these 10 names, two of them are Black - Mykki Blanco and Billy Newton Davis. 
And who else today (of any gender, sexual orientation, ethnicity, HIV status) other than Mykki is making music - that is widely covered and consumed - which addresses the topic of the reality of living with this disease? Not a lot of names that come to mind, right?
While Mykki may not yet be yielding mainstream commercial success on the level of major pop stars, he legitimately is the sole manifestation of the state of visibility for people publicly living with HIV and still thriving as a relevant prominent Black music artist today in 2018.