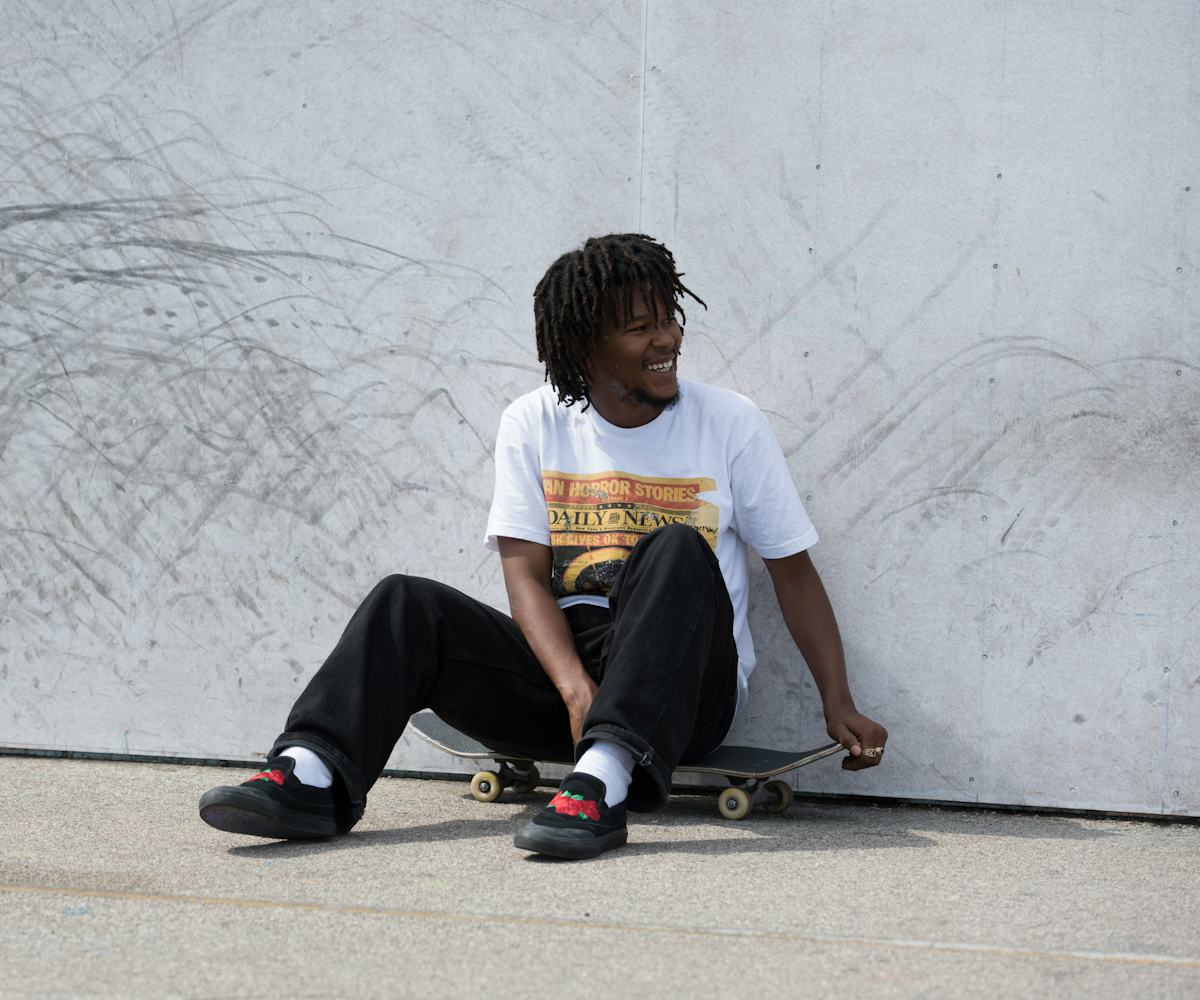 Skateboarder Na-Kel Smith On His Adidas Skateboarding Collab And Building A Brand
"Pay attention to detail. Plan big. Never limit yourself."
Right now, no name is more important in streetwear fashion than Na-Kel Smith. As a professional skater and hell-raiser, the Los Angeles native has built a relevant brand around his antics while infusing skate culture with hip-hop and high fashion. He's gone viral, collaborated with numerous apparel brands (including Adidas Skateboarding and Hardies Hardware), and teamed up with Odd Future's Earl Sweatshirt, under the moniker Hog Slaughta Boyz, to produce an artillery of shock-drop bangers. His newest design for Adidas, The Matchcourt Slip, is an affordable suede loafer emblazoned with leather accents, three vibrant roses, and a vulcanized outsole, the skateboarder's third collaboration with the company to date. We recently spoke to Smith about his design process and the methodologies that go into building a successful brand.
How did you first come on board with Adidas?
I had just left a shoe company I was skating for and I was kind of just doing my own thing. We had a meeting, and here we are. 
How have you used such an established brand to further your own image? 
Luckily, Adidas has a bigger platform, there are more branches and more resources. It makes it a lot easier to bring my ideas to life. I also get to wear stuff that I like, and I can get stuff like Alexander Wang Adidas gear and Yeezy stuff.
When did you first realize that skateboarding could be a vehicle into other industries like fashion? 
I have a lot of great friends around me that help me believe in myself and are great people to watch and take notes on. I try to treat myself like a musician, kind of. I've seen a lot of rappers and singers step into the lane of acting and making clothes, and it kinda showed me that anything I want to do is possible no matter what it is. 
Do you have any advice for someone who's just started building their brand? 
Pay attention to detail. Plan big. Never limit yourself. Make what you want. Do research, so you can learn what you like and what you don't like, what publications you would like to associate your brand with, what photographers you want to work with. Get your team right! 
Where did the inspiration for this design come from?  
It came from me wanting some high-end loafers that my financial situation didn't allow me to ever get. They were kinda completely different, but that's where the embroidery on the top of a slip-on came from. It's my third shoe, that's why there are three roses on it. 
In the design process, how do the early conceptions evolve into a finished product? 
I work with the Adidas designers. I like to do a process of elimination of ideas in my head. Then I choose what I like the most. 
What has been the evolution of skateboarding culture in both the mainstream and high fashion/art? 
I guess skateboarding is more on the radar because it's a culture and a true scene like punk or hip-hop was at a time. It's raw. It's full of emotion and style. 
How has footwear contributed to that? 
I think a lot of older skateboarding trends are coming back within skateboarding, like shell toes or shoes that aren't necessarily skateboarding shoes. And a lot of the rappers are catching wind, but I don't know. I think a lot of shit just happens at the same time, but I have been seeing brands make shoes that look "skated" or beat-up for like $500. I used to get made fun of for having fucked-up shoes, but whatever. 
Favorite city to skate in? 
I really like Paris and Los Angeles. I haven't been to New York in a while because I've been so busy at home trying to set up these other moves. It also changes kinda often. 
Favorite shoe you've ever owned? 
I've owned so many pairs of shoes in my life, I can't really answer that. My mom gave me some old, like, '80s- or '90s-era Gazelles that she got from the Beastie Boys a long-ass time ago. I skated the fuck out of those. I kinda wish I didn't, but fuck it. Had to do what I had to do to get where I'm at.  
What do you want as your legacy? 
Honestly, I'm going through some family bullshit right now, so the only thing I can think about is making shit right with my people. I want to own some land so that I can pass it down to my kids and they can pass it down to their kids. That's internal. But external, I want to be a positive role model and spark the flame that sets the fire of passion and creativity into the next young boy's or girl's mind to follow their dreams. I'm still learning what I want as I go along, though. So next time we talk, it might be a little more thought-out.