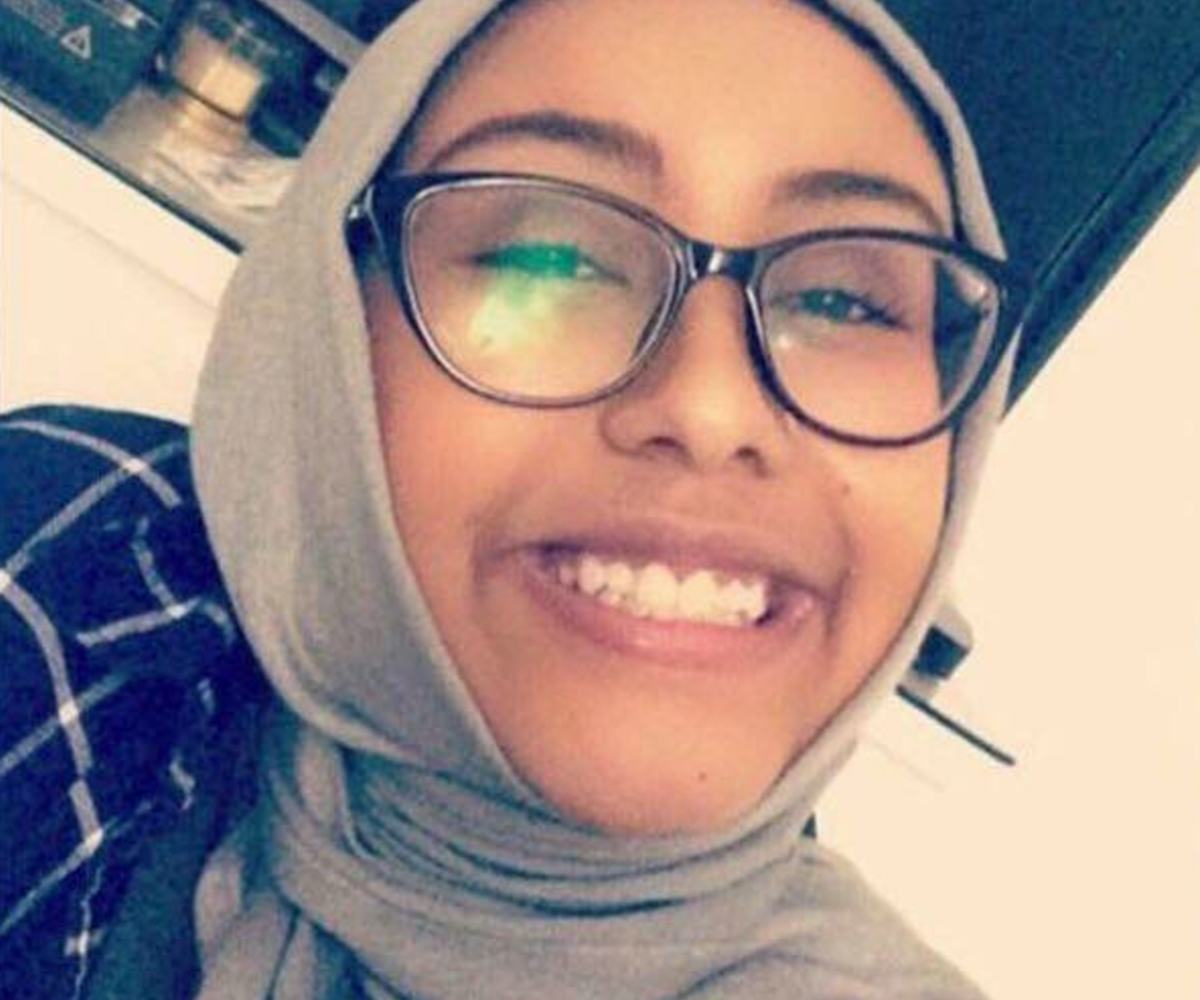 Image via Twitter/ @Beautiful_Lova1
17-Year-Old Muslim Girl Assaulted And Killed After Leaving A Mosque In Virginia
Anti-Muslim hate crimes have risen 600 percent since 2014
Early Sunday morning in Sterling, Virginia, 17-year-old Nabra Hassanen and her friends were walking to the Dulles Area Muslim Society (ADAMS) on their way back from breakfast at IHOP when, reportedly, a man with a baseball bat suddenly emerged from a car and began attacking them. Everyone in the group ran to safety, except for Hassanen, who was captured and then murdered.
"They all dispersed after the incident, and when they met back up they realized she was missing," Deputy Aleksandra Kowalski, a spokesperson for the Loudoun County Sheriff's office, told BuzzFeed. Hassanen's friend posted pictures of her on Twitter after she went missing, asking people to be on the lookout. 
"Our detectives are fairly certain that it is her," Fairfax police spokesperson Tawny Wright told BuzzFeed after officers found the body of a woman they believed to be Hassanen in a pond around 3pm Sunday. "But the Chief Medical Examiner still needs to conduct an autopsy to confirm the identity." A baseball bat was located near the scene.
Not long after the body was found, 22-two-year-old Darwin Martinez Torres was arrested and charged with murder.
Hassanen and her friends were observing Ramadan, a holy month during which Muslims fast from dawn to sunset. The co-chair of ADAMS, Shoyeb Hassan, explained that during the last 10 days of Ramadan, the mosque offers extra prayers at midnight and 2am. Members usually go to the nearby McDonald's or IHOP to eat before they start fasting again at sunrise. This is what Hassanen and her friends were on the way from doing, dressed in abayas, a traditional full-length dress many Muslim women wear, when they were attacked. 
According to The Washington Post, the murder isn't currently being investigated as a hate crime, with no explanation from the officials released yet.
Rizwan Jaka, ADAMS board member, released a statement on behalf of ADAMS, saying "We are devastated and heartbroken as our community undergoes and processes this traumatic event. It is a time for us to come together to pray and care for our youth."
Hassanen's murder occurred just a day before a van plowed into a group of pedestrians outside of a mosque in North London early Monday morning. Those injured were worshippers, leaving the mosque after Ramadan prayers, according to the Associated Press. Great Britain's terrorist alert has been intensified to "severe." 
Witnesses at the Finsbury Park Mosque said the driver of the van got out of the car, after killing one person and injuring 10, and shouted "I want to kill Muslims," before onlookers pinned him to the ground. 
According to a prominent American Muslim civil liberties group, the Council on American-Islamic Relation (CAIR), there's been a nearly 600 percent rise in hate crimes targeting Muslims over the past three years. Last month, the organization released a report called "The Empowerment of Hate," in which it recorded more than 2,200 "anti-Muslim bias incidents" in 2016, a 57 percent increase from just the year prior. Of the 2,200 incidents last year, there were 260 anti-Muslim hate crimes, a 44 percent rise from 2015.
"This report shows not only that anti-Muslim bias incidents have increased sharply, but also that there is a disturbing trend toward the increasing use of violence against American Muslims and those perceived to be Muslim," said Corey Saylor, the director of CAIR's department that monitors and combats Islamophobia and co-author of the report.
CAIR attributes this uptick in violence against Muslims to "dangerous political rhetoric combined with deeply negative views of Islam and Muslims throughout 2016," according to the report. "This brew, mixed with the erroneous placement of collective blame on every individual Muslim for the acts of a noxious few, contributed to a significant and distressing rise in incidents of Islamophobic bias incidents."