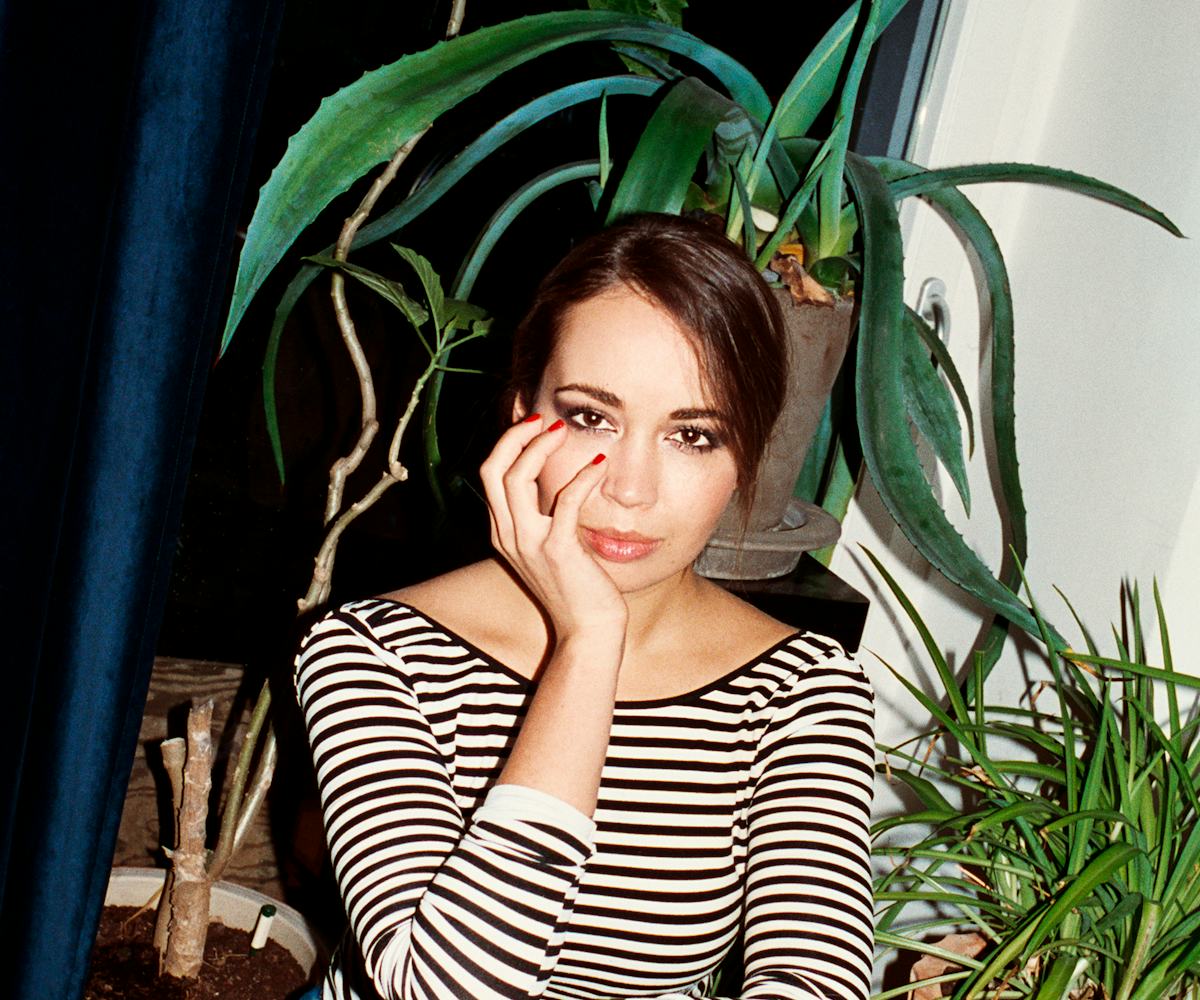 Photographed by Mads Teglers.
Nadine Sierra Is The New Face Of Opera
The following feature appears in the April 2016 issue of NYLON.
In the rarefied world of opera, 27-year-old soprano wunderkind Nadine Sierra is bringing audiences to their feet and breaking age-old traditions, causing this classical art form's international community to sit up and listen. After a remarkable 2015-2016 season—which saw her debut at the Opéra National de Paris, receive a thunderous standing ovation at the Metropolitan Opera, and make history at Italy's La Scala—it would seem that Sierra is poised for superstardom. Following in the footsteps of centuries' worth of greats might seem like pretty lofty heights for a self-described Disney kid from southern Florida, but Sierra is taking it all in stride. Here, we catch up with her over the phone from Italy to find out what it's like to be opera's next big thing.
How did you get into opera? 
I was very interested in taking voice lessons from the time I was six years old. I wouldn't stop singing around the house—I was totally enamored with Disney's The Little Mermaid. When I was 10 my mom introduced me to opera through a VHS tape that she had gotten from the library. It was a 1982 production of La Bohème. I loved it so much that I kept the tape—we never returned it [laughs]. I don't know, something about it just kind of spoke my language.
So how did you go from Disney to opera?
Kamal Khan, who has been my coach since I was 13 years old, was working with the Palm Beach Opera at that time. He said, "You should really expand your understanding of what it is to be in an opera, as opposed to just listening and watching. I know you're young so maybe you'd like to join the opera chorus." I was 14 at this point, going into high school.
You were the youngest person by far, I imagine?
Oh yeah, I was the youngest choruser there. My first day at rehearsal, I actually had no idea what was going on. The ladies sitting next to me in the soprano section helped me learn my music, and if I got lost they would tell me what to do. The people at Palm Beach Opera really embraced me in a way that allowed me to learn. I did that throughout my high school years as my after-school activity.
Recently, there have been some struggles in the opera world, with places like New York City Opera closing. I think some people might attribute that to the lack of superstar talent. It would seem from your trajectory that you're sort of the art form's great new hope. Do you feel this pressure?
I think it's mostly the pressure that I put on myself, because I'm a perfectionist and it's something I've trained for since I was so young. But when I met my colleagues at the Met, all of that pressure went away. And at La Scala, too—when I came here I was very nervous, because I thought, "What if I'm not good enough? What if I sound too American and they boo me?" Because at La Scala, audiences don't—
They don't fuck around.
They really don't! So all of these things went through my head. But then I was immediately reminded that this was where I belong. This was what I was born to do. This was what I'd worked so hard for.
It's great to be a young person in such a classical art. In a way it reminds me of Roberto Bolle's ascension in ballet. People were looking for that ballet superstar and he really brought a younger interest to classical arts. Do you find that since you've been performing there have been more younger girls who are now expressing interest in opera?
Oh, for sure! So for instance, my younger sister Melanie is 21, and ever since she was in high school her friends would come to my shows because Melanie would invite them. She still does that now. Sometimes I offer free tickets to Melanie's friends and then they extend one of their free tickets to one of their friends and the grapevine just keeps going on and on. And it's funny, the response that I hear from them is, "I didn't know that opera was this entertaining! I didn't realize!" And I have all of these different girls and guys contacting me through Facebook or Twitter or Instagram, asking me for tips on how to get to the next step as a performer.
How have the Met and La Scala compared?
I think with the Met the biggest difference is that I felt like an American singing in an American house and there was a level of familiarity and comfort in that. At La Scala, these are people who grew up with opera. Opera was born here. These people are just so well informed about their art form—it does belong to them, in a way. So as this 27-year-old American newbie [coming in to perform an opera] by the most beloved composer alongside an Italian tenor who is very well-known and an Italian baritone who is a legend, I was thinking, "Oh god, every little thing that I do [the audience is going to notice]." In the first act when I sang, you could hear a pin drop. I don't know how I got through it. 
Well, you more than got through it, let's be clear about that. The first night that you performed this Italian opera by the most beloved Italian composer, Giuseppe Verdi, at the most famous Italian opera house, they gave a standing ovation encore. They actually wouldn't stop applauding and made you perform again after the curtain fell, which almost never happens. If I'm correct, the last time that happened at a Verdi opera was 1988. Did you understand the magnitude of what was going on in that instant? 
It did take a few people to tell me that this was a historical moment for La Scala, for me to actually realize, "Wow, that's kind of the most amazing thing that has ever happened to me in my life." 
Outside of opera, what's on your playlist? 
My go-to would be Adele. She's so fabulous. I am obsessed with Jennifer Hudson, too. I love her because she reminds me of Whitney Houston, who was always everything I wanted to be. If I could change my voice into a different kind of voice, it would be hers.
You know, you and Adele are the same age. Maybe you guys could do a little collab?
Oh my god, I would die.